Redpath is a multinational, full-service underground mining contractor.
Its service portfolio includes shaft sinking, raise boring, mine development, contract mining, raise mining, underground construction, engineering and speciality services.
Redpath also designs and manufactures the Redbore family of raise drills, including the world's largest proven capacity raise drill, the Redbore 100. The company has a record of safe, low-cost, on-time project delivery that exceeds current standards and provides a higher level of service.
Global mining expertise driving innovation in challenging conditions
Six decades of experience have positioned Redpath as a leader in the global metal mining sector. The company draws upon expertise from across the world and many disciplines, including in-house engineering and technical services teams. Redpath uses innovative, state-of-the-art solutions to conquer tough challenges in diverse environments.
Redpath used the Tunnel Boring Machine (TBM) at an excavating project in Queensland, Australia.
Redpath meets the demands for ventilation raises, production shafts, pilots for slashed and raised shafts, manways, fill raises, ore and waste passes, upream holes for block caves, slot raises and infrastructure holes.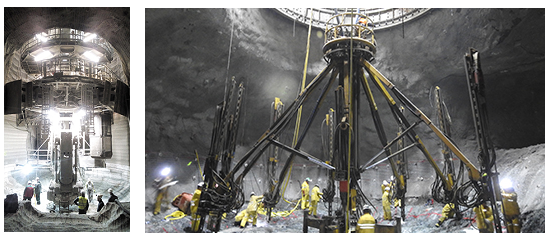 Redpath's in-house engineering teams continuously strive to bring new state-of-the-art sinking applications to the forefront throughout the world, including at the Nezhinsky Mine in Belarus (left) and Oyu Tolgoi LLC, shaft 2, in Mongolia (right).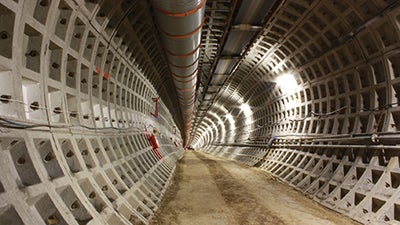 Redpath uses innovative solutions to successfully conquer tough challenges in diverse environments, including the development of a sand tunnel at the re-commissioned Ghaghoo Diamond Mine in Botswana.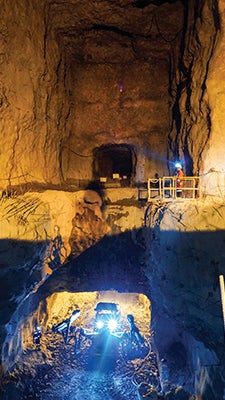 Mass-excavation development in the Grasberg Mineral District in Indonesia involves a combination of lateral and vertical development techniques, due to the complex design and large dimensions.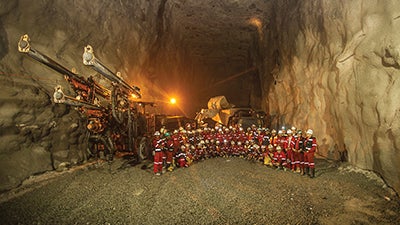 Redpath's mobile and experienced in-house technical experts provide innovative and reliable designs enabling efficient decision-making, project control and value management.
The company has completed complex mine development and construction projects in remote locations, including the Gobi desert and the Arctic, along with high-altitude and tropic regions.
World-class shaft-sinking experience and customised solutions
Recognised as a global leader in shaft sinking, Redpath has dedicated teams around the globe, who design and build shafts and mine infrastructure, as well as provide a full suite of shaft related services including audits, rehabilitation, and infrastructure improvements. Every shaft-sinking project presents challenges, and no two projects are alike. Mining companies and tunnelling contractors demand new ideas and customised solutions and that is what Redpath delivers.
Noteworthy projects include the Nezhinsky Mine in Belarus, involving two freeze shafts and approximately 9,000m of horizontal excavations to be completed, as well as Oyu Tolgoi, Mongolia, Shaft 2, a 10m diameter x 1,400m-deep concrete-lined shaft, including the excavation and construction of five shaft stations.
Record-breaking raise bore contracting and manufacturing with extensive fleet
The Redpath raiseboring manufacturing team has continually innovated to deliver the latest technology and customised designs for more than 40 years. This has resulted in the ever-growing Redbore family of raise drills, featuring the Redbore 30, 30X, 40, 50, 50X, 60UR, 65, 70, 80, 90, 90EX and 100 models. The latter is also known as 'Queen Louise'. With unique power output and compact design, Redpath's raise drills can handle a full range of diameters of raises and depths.
Ground-breaking milestones in 2021 include the longest raise bore hole in the Northern Hemisphere (1,010m, at Macassa Mine, Canada) and the largest raise in the Northern Hemisphere (875m by 6.3m diameter, at Niobec Mine, Canada). Redpath meets the demands for conventional, box-holing (up reaming), down reaming and autonomous reaming.
Mine development applying modern underground fleet and innovative solutions
With hundreds of kilometres excavated globally, Redpath's mine development work includes declines, ramp development, mine infrastructure, exploration and rehabilitation of mines. The company presents innovative solutions for difficult ground conditions such as sand, soft or squeezing ground and water inflows.
The modern contractor fleet consists of more than 250 pieces of major underground mobile equipment, including hydraulic jumbos, mechanised bolters, LHD's up to 17t, trucks up to 55t, and a full complement of mobile support equipment. A thorough knowledge of procurement, logistics and global regulations on international transports, gives Redpath an advantage when mobilising equipment and supplies around the world.
Contract mining from concept to turnkey infrastructure
Clients all over the world commission Redpath to perform production mining services, from engineering and design to complete turnkey operations. Services include construction engineering, planning development, production drilling, blasting, ore haulage, crushing and conveyance to surface for processing.
Redpath can assist with any scope of the project, from beginning to completion.
Mechanised raise mining offering flexibility, speed and economy
With the industry's largest underground raise-mining equipment fleet, Redpath has experience with mechanised raise-mining design, fabrication and operation since 1975.
Experienced management, quality supervision and a highly capable workforce ensure that all project demands are met, including ventilation, ore and/or waste passes, production slot raises and narrow vein mining. Redpath's mechanised raise mining innovations include a battery-operated climber, providing flexibility, speed and economy.
Underground construction, demolition and rehabilitation
Redpath offers a complete range of underground mine construction knowledge and services. These involve mine construction, installation, demolition and rehabilitation for all project sizes and complexities.
The company's experience includes designing and building underground infrastructure, complete ore-handling and conveyance systems, and mechanical and electrical installations such as internal hoists, substations and ventilation systems.
In-house engineering and technical services for enhanced project control and integration
Redpath's globally mobile and experienced technical experts provide innovative and reliable designs with the ability to offer a total mine package.
The company's integrated scheduling systems enable efficient decision-making, project control and value management. Examples of services include 3D comprehensive rendering; site management; supervision; design, managing and construction of crushers, complete hoisting facilities, shaft services, material handling systems, conveyance systems, shaft conveyances and custom sinking set-ups.
Speciality services for civil construction and coal-mining projects
Redpath's mining expertise can be applied in civil construction and coal-mining projects, with some of these services originating in Australia and South Africa.
Conventional drill and blast, and continuous mining methods using road headers or tunnel boring machines (TBMs) may be used for underground civil infrastructure projects, including for roads, railway, water, sewage tunnels and storage caverns.
Experienced and trusted global partner
Redpath has expansive regulatory knowledge, regional expertise and experience in completing culturally and environmentally sensitive projects, ensuring the impact on the surrounding area and local wildlife is minimal.
Approaching 60 years of service, and with 6,000 employees and offices in Canada, the US, Indonesia, Mongolia, Germany, South Africa, Zambia and Australia, Redpath continues to attract clients and employees to its doors, all over the world.
We look forward to your business inquiry. Please use the form to contact us.