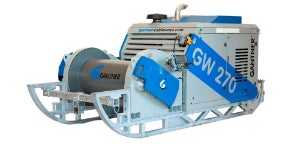 We want to present our brand-new winch GW270. It was developed during the last year with the aim of designing a very versatile winch. It can be applied in very different fields of operation.
It is a state-of-the-art winch with a powerful diesel engine with 278hp and a high-rope capacity of 2,200m. It disposes of numerous safety features and is therefore suitable for material ropeways with passenger transportation.
The control panel disposes of a touch screen and joystick for the perfect control over the winch. Various optional accessories such as spooling devices and circular drive modules are available.