Westmatic specialises in the design and manufacture of automatic bus, truck and train wash systems. The company also manufactures water treatment systems for water recycling applications and water purification applications. Engineered in Scandanavia, Westmatic's large vehicle wash systems are efficient, reliable and environmentally friendly.
Since 1974, Westmatic has installed over 2,000 large vehicle wash systems worldwide. We are dedicated to providing exceptional wash results, minimum maintenance requirements, while maintaining a low cost of operation.
Mining vehicle wash systems
Westmatic's large vehicle wash systems are ideally suited for heavy-duty vehicles that require intense cleaning and decontamination. At Westmatic, we take pride in our highly advanced truck wash equipment and endeavour to maintain your brand's clean image.
Westmatic offers the widest range of mining vehicle wash equipment in the industry. Our product range includes completely friction (brush) truck wash systems, completely touchless truck wash systems and combination (brush and touchless) truck wash systems (hybrid).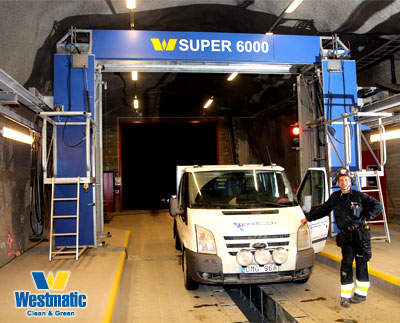 Westmatic's heavy-duty SUPER 6000 mining truck wash system. This system was installed over a mile below the surface. Notice the high-pressure detail wands on the trolley-festoon system.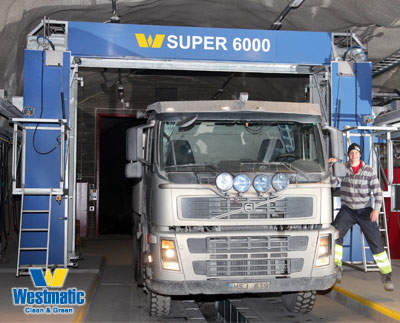 A SUPER 6000 mining truck wash system - Westmatic's vehicle wash systems are extremely versatile, capable of washing various sizes and shapes of vehicles.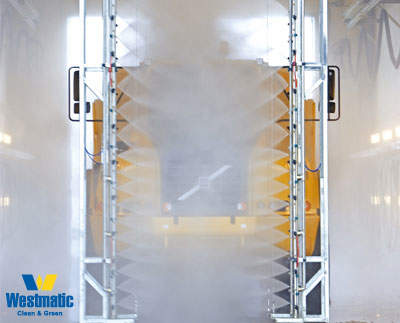 Westmatic's SUPER 6000 mining truck wash system. This system operates at Volvo construction company's head office in Eskilstuna, Sweden.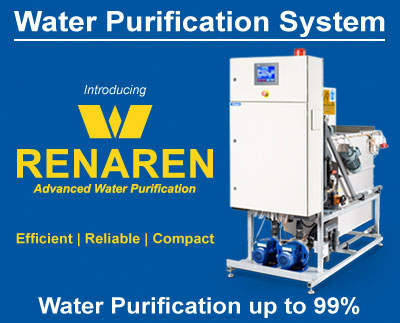 Westmatic's extremely compact water purification system. This system is capable of purifying waste wash water up to 99%.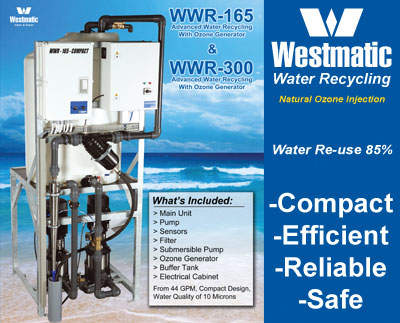 Westmatic's extremely compact water recycling system. This system is capable of recycling wash water up to 85%. Water recycling will help reduce the cost of your washing operation.
Rollover / gantry and drive-through vehicle wash systems
The first step in identifying which mining vehicle wash system best suits your needs, is identifying your sequence of operation and wash schedule demands. To simplify your decision making process, Westmatic offers two different styles of brush, touchless and combination systems.
First is the gantry or rollover vehicle wash system. This system is best described as a 'pull-in and park' style and is ideal for smaller fleets that don't have a demanding vehicle wash schedule. The driver enters the wash bay and parks the vehicle, before the system moves over it and washes it thoroughly. The rollover system is available in a completely brush configuration, or completely touchless.
The second style is a drive-through vehicle wash system. The drive-through is best suited for larger fleets, which need to wash trucks faster, with the driver being guided through the wash process via traffic light. The drive-through system is available in two, four and six-brush configurations, completely touchless, or in combination (brushes and touchless).
Westmatic can even implement a drive-through adaption mode for the rollover system, combining the two systems to give you the benefits of both.
Water recycling and purification treatment systems
Westmatic's water recycling system can increase the efficiency and reduce the cost of your washing operation. By recycling your wash water you can drastically reduce sewer impact fees as well as monthly water bills. Westmatic's water recycling system can re-use up to 85% of your wash water.
Traditional water recycling systems merely mask odours and bacteria by polluting the water with unnatural chemical (perfume) additives. However, our system eliminates odour and bacteria growth in the recycled water by injecting natural ozone (o2).
In applications where wastewater must be purified prior to discharging to the sewer, Westmatic's water purification system is the answer. No chemical additives are needed during the entire purification process. The method is based on electro flocculation, which is a technical combination of electro flotation and electro precipitation. Westmatic's water purification system is so effective that it can reach a purification level of 99%.
High-pressure detail equipment
Westmatic's manual detail wands are ergonomically designed and highly reliable. The wands are manufactured for distributing water, detergent and degreaser, while manual detail equipment is mounted on trolleys as a festoon system, eliminating any tripping hazards and prolonging the life of the high-pressure hoses. Detail equipment is a great option for cleaning hard to reach areas.
Underbody chassis and wheel washing / drying systems
With Westmatic's chassis wash and wheel wash, your fleet of vehicles will receive the ultimate underbody cleaning. The chassis wash system is capable of cleaning with pressures up to 1,200psi at 80gpm. A chassis wash and side spray system delivers complete underbody cleaning with multiple high-pressure spray angles. The side spray adaption is ideal for wheel washing as well as rocker panel cleaning.
Westmatic's dryer systems are extremely effective, yet efficient. Each dryer system is hot dipped, galvanized and custom built as per your needs. The system can be implemented into any Westmatic wash system, ensuring an effective drying result.