With headquarters in Portugal, Vulcal is a specialist in OTR tyres. The company has expanded from its original focus on commerce, alignment and calibration of passenger car tyres.
Vulcal quickly started to broaden its performance area, specialising in the commerce and restoration of trucks tyres, industrial tyres and tyres for civil industry (OTR), including mines, quarries and grounds levelling. We own the biggest European stock of tyres (new/used/retread/casings) of this category.
We deal with tyres from the most established brands in the mining industry, such as Michelin, Bridgestone, Goodyear, Techking, Alliance, Yokohama, Toyo and Belshina. Our constant innovation and thorough understanding of the market make Vulcal a proven service for quality. One of our main strengths is that we provide a unique service at European level, gives us the exclusive ability to answer and assist our clients wherever they are.
ONSITE MINING TYRE SERVICING
We operate an onsite service, meaning that we will assess and repair tyres where customers require. This service consists of the placement of our experts to yards, quarries or mines 24 hours a day, 365 days a year, on fully-equipped trucks, with the goal of a quick service, allowing customers to save time and money.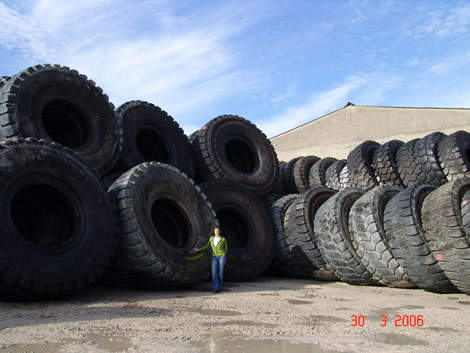 We have the largest stock of OTR casings and used tires in Europe, all with a detailed inventory.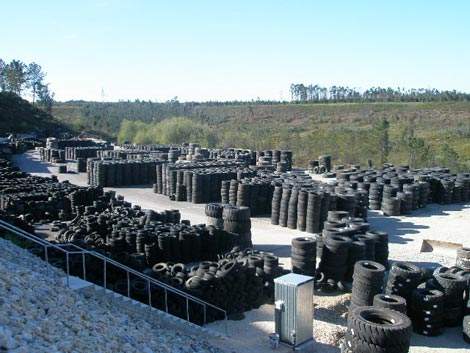 Our technicians have constant training, and are well-prepared to repair and vulcanize tires on trims from 4in to 63in.
OTR CASINGS
We have the largest stock of OTR casings and used tyres in Europe. We buy and sell worldwide, and we can also support you in the logistics. We provide used tyres and casings for trucks and passenger cars. All of our casings and used tires have an inventory, with full details of each tyres serial numbers, the depth tread remaining and condition.
VULCANIZATION SPECIALISTS
Vulcanization consists of the application of heat and pressure to a rubber compound, with the aim of giving form and property to the final product. The exact determination of the method and conditions of vulcanization (time, temperature and pressure), must be made not only aiming the used composition, but also the dimension of the artefact to be made.
OTR VULCANIZATION
Our technicians have constant training, and are well-prepared to repair and vulcanize tyres on trims from 4in to 63in. Vulcanization and the repair of OTR tyres is a science, and there are only a few companies worldwide with the appropriate equipment and know-how to do it. Vulcal is proud to be one of those specialists.
We collect tyres to be repaired from all over the world and ship them back to our customers. We are also able to retread tyres up to 63in in our Brazilian facilities, EcoVulcal. At Vulcal, we offer a flexible service to meet specific tyre requirements.