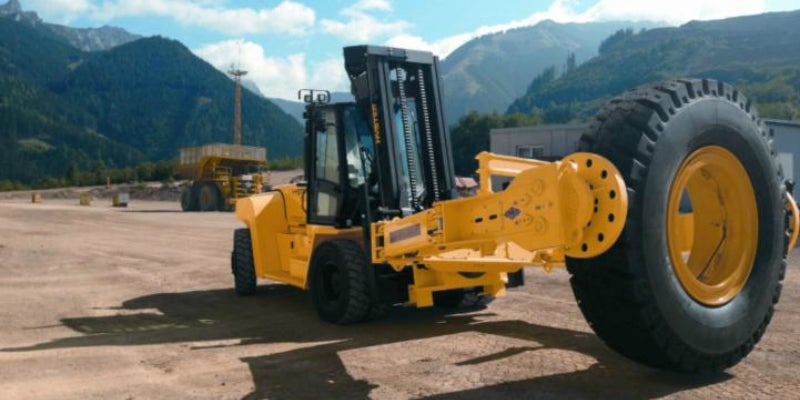 Hyster® is a leading provider of materials handling equipment for the mining industry, including tire handlers for the maintenance of haul trucks.
Hyster also serves as a fleet manager, part supplier, capital procurement specialist and trainer for mining businesses.
Heavy-duty trucks for tough applications
Operations in the mining and construction sectors are open to harsh conditions, including extreme temperatures, dust, dirt, and uneven terrain.
Hyster trucks are designed to easily transport the heavy loads, in the toughest working conditions, with features including: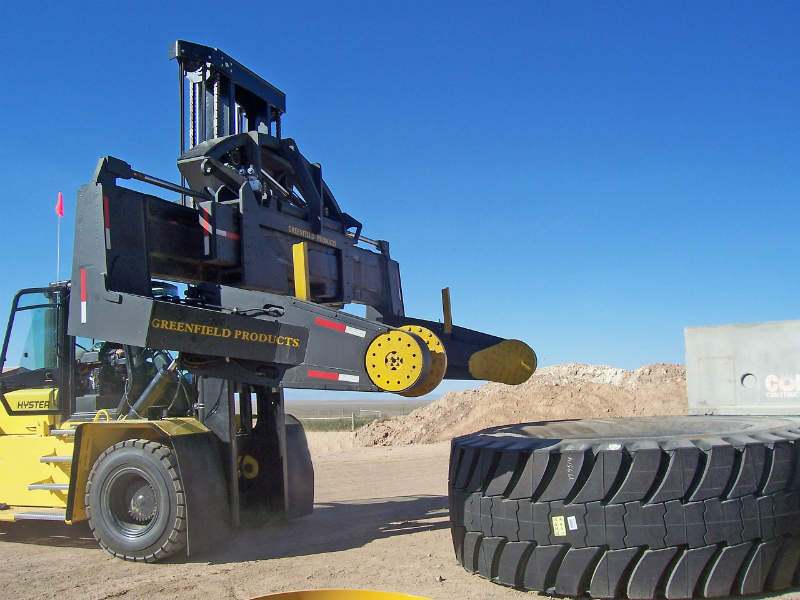 Hyster vehicles are designed for the toughest working conditions in the mining sector.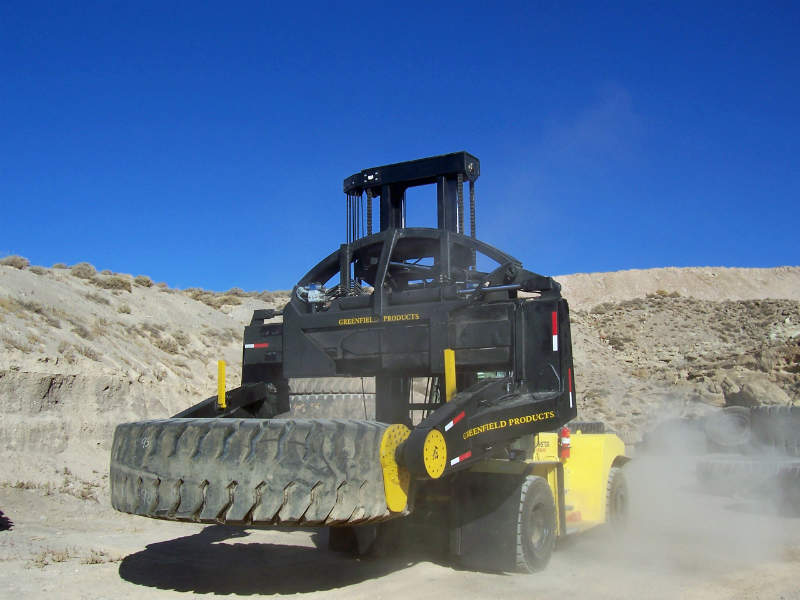 Hyster tire handlers are easily installed and assembled on-site.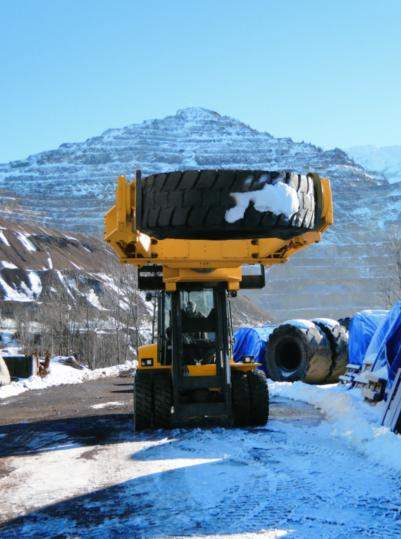 Hyster has manufacturing facilities in 12 locations worldwide, which provide comprehensive support solutions.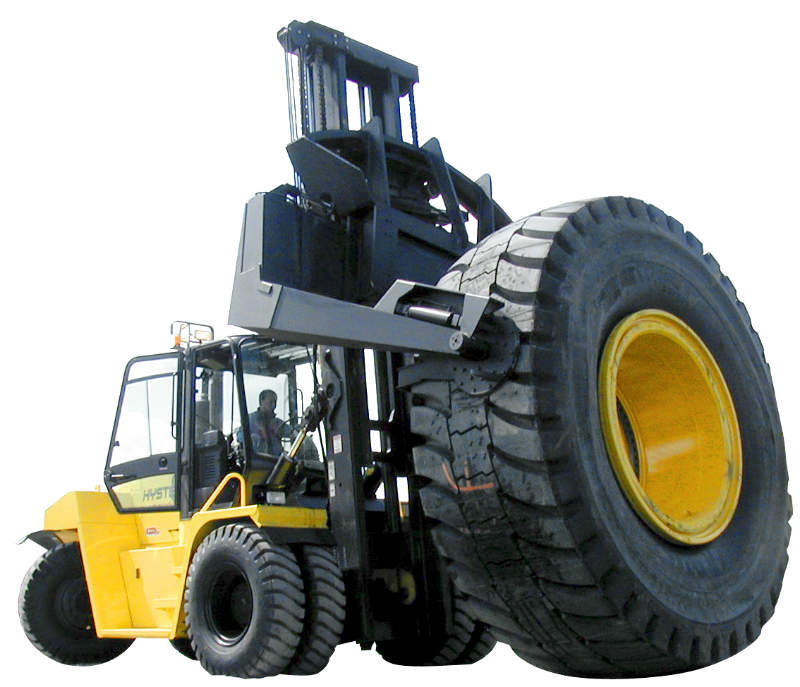 Hyster has a carefully selected network of local distribution partners.
More than 20 models offering both integral attachments for dedicated tire handing, and hang-on quick-connect models for dual-use as tire handlers or other forklift activity
Harmonized powertrains and robust drivelines provide good fuel economy for a lower total cost of ownership
Optimized flow settings with fully calibrated hydraulics for improved tire handler performance
Truck counterweights specifically engineered to deliver full-rated tire handling capacity
Spacious, comfortable cabins with excellent all-around visibility for similar capacity lift trucks, manufactured for similar applications, including excellent rearwards visibility, low cabin noise, and available with air condition and heating
For mining applications a full line of dedicated and dual-use tire handler models are available, from 5,000lb (2,267kg) to 36,000lb (16,330kg) of handling capacity.
Tire handlers for big truck maintenance
Hyster tire handlers provide a fast and cost-effective changeover of giant tires on heavy-duty mining trucks.
For mine operators, maximum uptime of mining equipment is crucial. Hyster tire handlers are designed for excellent all-around visibility of grab pads, fall back arms, tires and wheel assemblies, controllability and manoeuvrability to facilitate efficient tire removal and replacement services the first time around, keeping the haul truck running longer.
These convenient attachments effectively handle tire weights from 210lb (95kg), to entire tire and wheel assemblies weighing up to 36,000lb (16,330kg), with tire diameters ranging from 28in (710mm), up to 164in (4,166mm).
The attachments feature front pads that firmly grip the tire in the required position, both for tire transport and changing, while providing fall back arm protection for the mechanics. There are up to seven easy-to-control hydraulic functions to help accurately position tires, including lifting, tilting, side shifting, clamp / unclamp, body rotation and pad rotation.
Featuring a plug-and-play system, Hyster tire handlers are easily installed and assembled on-site. In addition, mines can choose either a dedicated Hyster tire handler, or a dual-use truck that can quickly disconnect the handling attachment and be replaced with standard forks to operate as a Hyster forklift. This reduces the number of service vehicles in the mining fleet, which also lowers operating costs.
Profitable, fuel saving low emissions
Hyster trucks can help reduce fuel consumption by up to 25% (almost a gallon, or several litres an hour), without loss of performance when compared with previous models.
To meet the Tier 4 Final / Stage IV legislation, and to reduce fuel consumption, the latest Hyster big trucks feature:
Exhaust gas recirculation (EGR)
Diesel oxidation catalysts (DOC)
Selective catalytic reduction (SCR) technologies
In addition to innovative engine technologies, further Hyster performance optimization includes:
On-demand cooling
Load sensing on-demand hydraulics
Revolutions per minute (RPM) management
Hibernate idle
The trucks also feature the ECO-eLo fuel efficiency mode, which can also be used to reduce maximum engine speed.
With engine, transmission and hydraulic protection systems, Hyster ensures excellent reliability in the most challenging operations, and has proven performance results.
Global manufacturing, distribution partners and assistance
Hyster products benefit from the expertise and resources of a global manufacturing organization. Operations in 12 locations worldwide produce quality components and assemble complete trucks for a variety of markets.
The company offers a comprehensive range of equipment, from the largest container handlers and reachstackers, to nearly every type and size of industrial diesel, liquefied petroleum gas (LPG) and electric powered forklift trucks, and special warehousing equipment.
To provide comprehensive solutions support, Hyster has carefully selected a worldwide network of local distribution partners, based on the strength of their customer support capability and outstanding service ethic, to provide expert consultancy and responsive local service and parts supply.
Hyster machines are fully supported in remote mining applications across Europe, Africa and the Americas, and in isolated regions of Mongolia and other parts of Asia.