Tire Monitor System is a direct tire pressure and temperature monitoring system. It has been designed specifically for the off road tire market (OTR) to be used on large vehicles in applications such as mining, quarrying, construction and earthmoving. Because tire pressure is critical to the longevity of the tire and fuel economy TMS is rapidly becoming an essential tool in the equipment used by many companies who manage and service OTR tires. Additionally TMS provides data in real time from each tire to a receiver and display unit mounted in the cab which makes tire maintenance much more efficient.
Tires are an expensive asset to any OTR operation and efficient tire management improves profitability because tire maintenance and repair are a significant part of operating costs. TMS can provide a real-time alert of any potential problems which helps to avoid accelerated wear, improve fuel efficiency and reduce tire failures.
An additional benefit of real-time data being visible to drivers is that they will know whether or not a tire with a slow loss of pressure will complete the shift or not, and if there is sufficient pressure to enable them to drive to a convenient place for tire checking and maintenance.
The TMS Operator Interface is mounted inside the cab and enables the driver to easily see the tire pressure data and alarm status. The tire pressure data for each allocated wheel and any alarm conditions are also displayed and TMS logs the time stamped tire data into its memory which can then be downloaded and analysed at a later date. Key features of the Operator Interface are: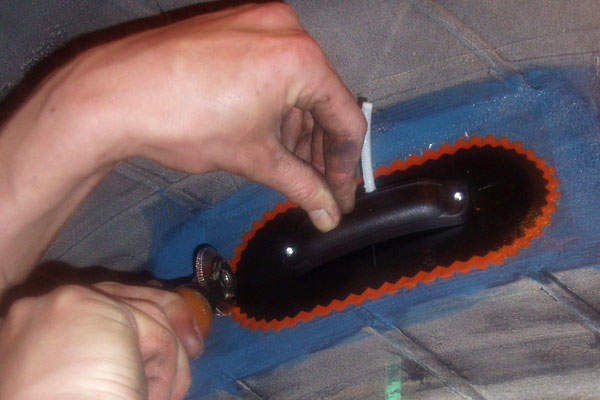 The TMS2 tire pressure and temperature sensor being stitched to the inside of the tire on the sidewall of a 37/25×35 tire (up to 63" tires).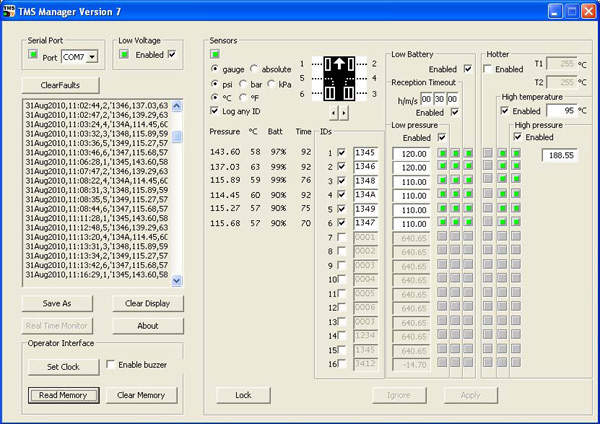 TMS manager. PC application used for system configuration and download logs. Can be configured for 4 wheel loaders, 6 wheel haul trucks and 6 wheel articulated dump trucks.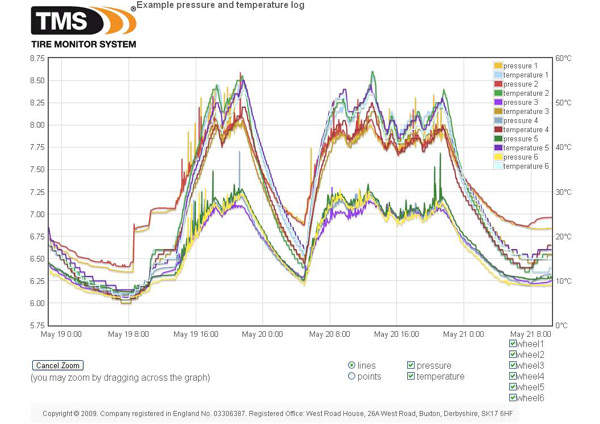 TMS Log Graph Tool. Enabling easy viewing and analysis of tire data.
TMS Operator interface. Cab display unit showing 4 wheel loader configuration.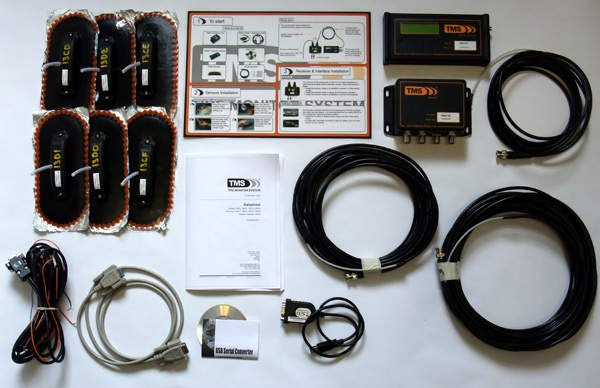 TMS 6-Wheel Kit. Everything needed to gather tire pressure and temperature data.
Displays the status of each tire including pressure
Displays for up to six tires
Logs receptions with a real-time stamp
Supports alarms: low pressure, high pressure, high temperature, low battery and reception timeout
Connects to the TMS receiver
The TMS monitoring system pressure and temperature sensor
The TMS sensor is a small, battery-powered pressure and temperature sensor, which is mounted to each tire using standard tire patch products and patching techniques. The sensor is patched to the inside of the tire on the low flex sidewall and monitors tire pressure and temperature, continuously transmitting data via the wireless transmitter to the TMS receiver. The sensor has the following features:
Pressure range: 6psi to 185psi absolute
Pressure accuracy: +/-2psi up to 150psi, +/-3psi 150psi to 185psi
Temperature measurement range: -25°C to +125°C
Transmissions: every five minutes and on change of pressure
Every sensor has a unique ID code
Transmission frequency: 433.92MHz
Battery life: 4 years typically
The TMS monitoring system receiver
The TMS Receiver is mounted in the vehicle cab and receives and decodes data from the TMS sensors. The receiver is powered by the vehicle supply, 12V/24V, and monitors the data from each sensor reporting any alerts. It is connected to the operator interface. In addition, it has the following features:
Voltage supply: +10VDC to +36VDC
Current consumption: 30mA typically
Fused
Operating temperature: -10°C to +55°C
Up to four BNC terminated antennas can be connected
Configured through TMS manager
Transmission frequency: 433.92MHz
The TMS PC management program V7
TMS Manager, a PC program, enables you to configure the system, set the alarm conditions for each tire and to monitor the results. The system can be configured for up to six wheels and the layout of the wheels can also be selected, this means that the display the driver sees resembles the vehicle they are operating. Configurable parameters are:
Wheel layout to match vehicle
Gauge or absolute pressure
Pressure displayed in psi, bar or kPa
Temperature displayed °C or °F
Low pressure threshold set for each tire
Reception timeout set in hours/minutes/seconds
Low battery
High temperature set global
High pressure set global
Hotter, two temperature thresholds used to indicate an abnormally hot tire
Alarms are:
Low pressure
Reception timeout
Low battery
Hotter
High temperature
High pressure
TMS Manager is used to download the real-time log from the Operator Interface. Our web based Log Graph tool can then be used to view the data.