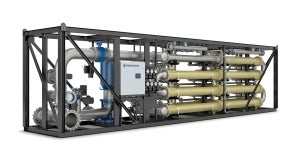 At the forthcoming WEFTEC exhibition in Chicago, US, Pentair will launch its patented flux-enhancing Helix technology, available on all X-Flow tubular membrane modules. Another novelty presented is the X-Flow Compact 75G, a membrane module developed for the most demanding water treatment applications.
Water Environment Federation's Technical Exhibition and Conference (WEFTEC) is the largest annual water quality exhibition in the world. WEFTEC 2015 will be held in Chicago from 26 to 30 September, with the exhibition starting on Monday 28 September.
X-Flow is Pentair's international membrane brand. With X-Flow, Pentair delivers membrane technology to OEM's, partners and contractors through a worldwide network. Pentair engineers proactively support clients with cutting-edge and cost-efficient solutions that are built to cope with the most challenging conditions in water treatment.
Ever since its inception, Pentair has actively pursued innovation through a continuous process of research and development, cooperation and interaction with customers around the world. The new X-Flow Helix technology is a great example of this, as it enables users of heavy-duty membrane technology to improve their operations and reduce operational costs.
Optimised membrane performance
Helix provides the solution to the problem of membrane fouling in high-solids ultrafiltration (UF). Inside the tubular membrane modules, the buildup of insoluble particles results in a cake layer at the membrane wall, which increases energy consumption and decreases overall performance. The common answer is to step up the crossflow speed and energy use, and accept the drop in efficiency and productivity.
Helix introduces continuous turbulence right at the membrane wall, effectively cleaning the membrane at low-crossflow velocities. Depending on the feed water characteristics, Helix can deliver up to 100% extra productivity and lower energy consumption by 50%.
Compact 75G membrane
The Compact 75G, also exhibited at WEFTEC, is the newest addition to the X-Flow Compact product range featuring the new Helix technology. Pentair developed the X-Flow Compact 75G, a glass fibre-reinforced epoxy module with high-mechanical strength and chemical-resistance, for the most demanding applications, including large water treatment plants and produced water treatment in the oil and gas industry.