SEI Industries is an industrial fabric products manufacturer that was first established in 1978. Today, we operate from a 52,000ft² manufacturing facility and employ more than 80 people. Our remote site division produces a number of products including collapsible fuel tanks, also known as pillow tanks or bladder tanks, an aviation transport tank, various fuel transport and storage solutions, and similar systems for water storage and transportation.
Collapsible fuel tanks and water tanks
With 25 years of experience in remote site logistics, SEI is now a world leader in collapsible fuel tanks and water tanks. Although collapsible tanks were first deployed by the military for temporary storage in remote locations, SEI's tanks are now used in operations around the world, for mining companies, oil and gas exploration, remote-site construction projects, helicopter bases and disaster relief operations.
SEI achieved its world-leading reputation by engineering and developing not just one, but three, state-of-the-art collapsible fuel tanks for use in the planet's harshest environments.
Water storage and transportation tanks for harsh mining environments
Whether you're working in an arctic, desert or jungle, SEI's King series is a trio of tanks specifically engineered for the harshest climates on earth. Designed to withstand extreme heat, cold or humidity, these rapidly deployable tanks are 100% RF radio frequency (RF) welded, giving them industry-leading strength and reliability.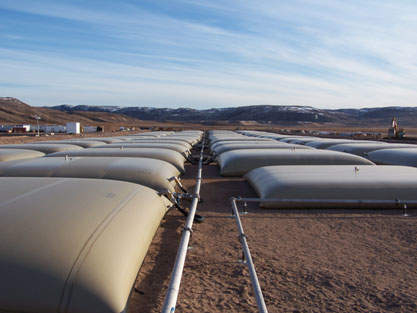 The Arctic King fuel tank system at Nunavut's Baffinland iron ore mine. This was the site of a ten million litre Arctic King fuel storage system.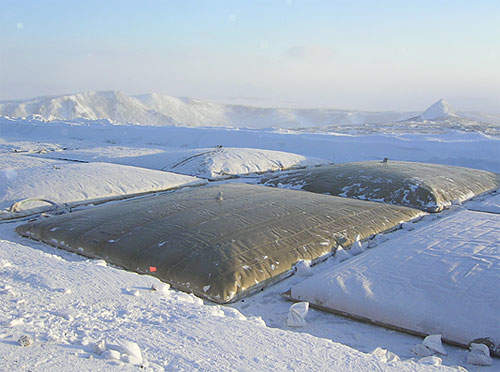 The Arctic King collapsible fuel tanks at Russia's Kinross Kupol Project. This was the scene of a 7.5million litre Arctic King fuel system (deployed in -55°C in two weeks and designed for Siberian winters).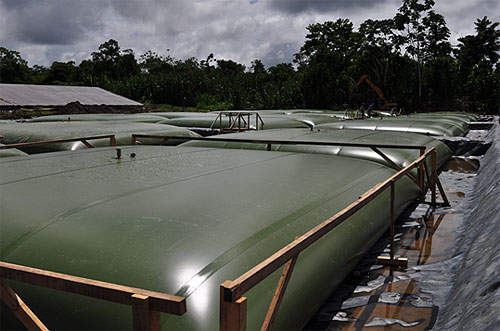 Our Jungle King pillow tank at Peru's Repsol Exploration Nuevo Mundo project received a 2.4million litre Jungle King fuel tank system designed for high temperatures, high-humidity and excessive moisture environments.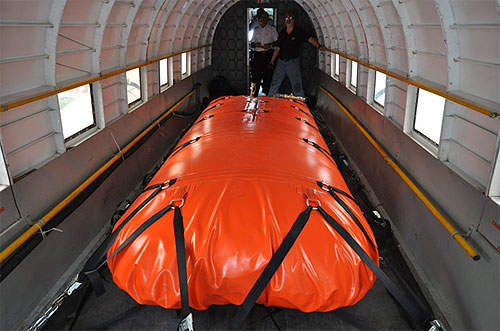 The Bulk Fuel Aviation Transport Tank (BATT) at Columbia's CT Hernandez project made use of the new BATT, flying fuel by fixed wing to a remote jungle base.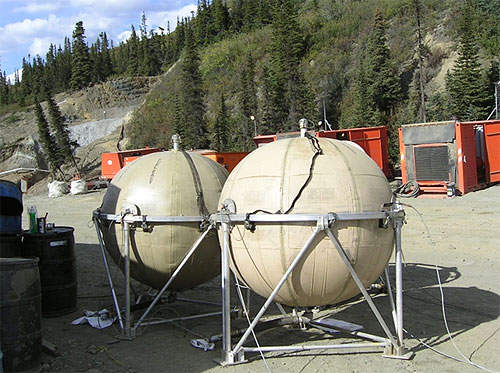 Our Fuel Easy systems at the Yukon's Zinc Camp Wolverine used a Fuel Easy to transport fuel by helicopter to a remote mine site to refuel generators.
SEI also pioneered the Terra Tank – a collapsible fabric tank that is portable, easy to install, and can store potable, grey or black water or chemicals.
Pump systems for fuel transfer complete the SEI line of liquid-handling products.  These self-priming pumping systems are custom designed and assembled according to customer specifications. Filters and hose assemblies are also available.
Collapsible fabric tank for liquid fuel storage
The Arctic King™ collapsible fabric tank is specifically designed for liquid fuel storage in sub-zero climates. Constructed from a proprietary high-durability fabric unique to SEI, the Arctic King has excellent UV and hydrolysis resistance for a longer life expectancy than any other urethane collapsible fabric tank.
With all these features, plus its one-way vent system to handle deep snowfalls, the Arctic King is ideally suited to even the most extreme arctic conditions.
Collapsible pillow tank for desert environments
The Desert King™ collapsible pillow tank was specifically designed for liquid fuel storage in desert environments and is constructed from a fabric exclusive to SEI. It exceeds all quality standards for design, construction and diffusion reduction. These tanks combine portability and versatility with economy and are available in a full range of sizes from 100USG to 30,000USG and larger, if required.
Collapsible pillow tank for hot, humid, wet climates
The Jungle King™ collapsible pillow tank is made from a proprietary fabric that utilizes new encapsulated seam sealing technology specifically designed for liquid fuel storage in hot, humid, wet climates.
The Jungle King has excellent UV and hydrolysis resistance for a longer life expectancy and, with its green camouflage colour and vent system to handle flash rainfalls, it is ideally suited to even the most extreme jungle conditions.
Baffled transportation tank for aircraft
The Bulk Fuel Aviation Transport Tank, BAT Tank™, is the world's first double-walled, aviation-specific, baffled transportation tank. Each tank is designed specifically for the aircraft using it to ensure a precise fit and to maximize the load-carrying capacity of the aircraft.
Collapsible external fuel container for helicopters
The Fuel-Easy™ is a fully collapsible external fuel container for safe and cost-efficient fuel transportation by helicopter. The Fuel-Easy offers the operator greatly increased fuel-hauling capability, easier fuel handling, reduced cost and wastage and the assurance of clean fuel. It's been field-tested in the toughest conditions around the world, from the cold Arctic, to the arid deserts of Africa.
Today, SEI's collapsible tanks are in use from north to south poles and have life spans between five and ten years, depending on the type of application and deployment. To date, no other fabric tank supplier has offered a collapsible fabric fuel tank designed for specific and unique environmental conditions.