On the strength of many pioneering developments, TLT-Turbo have been supplying forward-looking products and solutions to customers and end users for more than 175 years.
More than 60 years ago, powerful one and two-stage axial flow fans with impeller blade adjustment systems were developed to be used in mine ventilation systems, power stations, wind tunnel facilities, tunnel ventilation systems and other fields of application.
Nowadays over 12,000 centrifugal and 3,000 axial flow fans for all field applications are installed worldwide. We provided axial fans, with an impeller diameter ranging from 1.8m to 5.3m and a power consumption of 500kW to 13,500kW, as well as centrifugal fans, with an impeller diameter of up to 5m and a maximum power consumption of 8,000kW.
We will assist you in the selection, planning and calculation of the suitable fans, components and systems. With our experience we come up with the ideal solution. We will accompany you through all project phases, from the first contact through the installation and commissioning phase and later we will assist you with our worldwide operating service team.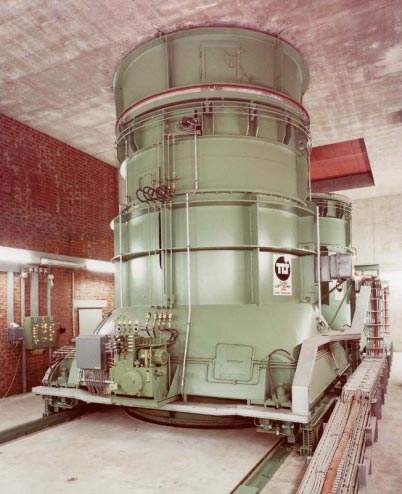 Axial mine ventilation fan, vertically arranged and removable.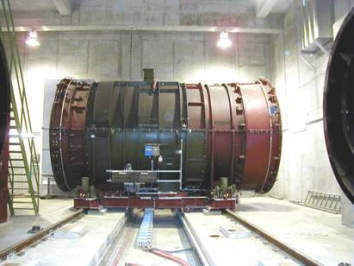 Removable axial mine fans with motor inside the fan hub and with blade adjustment system.
Axial fan with a power consumption of 13,5 MW.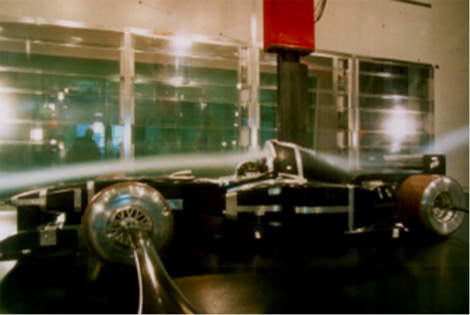 Formula 1 – wind tunnel.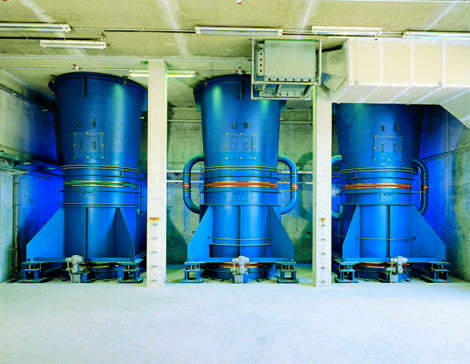 Axial Flow fans for the "Bad Godesberg" road tunnel (2 km length).
MAIN MINE VENTILATION FANS
TLT provides today an extensive range of solutions for mine ventilation axial and radial fan arrangements, tailor-made and innovative, working as exhaust ventilation or in pressing ventilation mode, arranged horizontally or vertically and both, above or underground. TLT will assist you in the selection, planning and calculation of the most suitable solution.
Control and monitoring system:
The operation of mine fans requires a well-engineered and well-established control and monitoring system. TLT provides such individual customized solutions, considering our knowledge and experiences and technical norms and legal guidelines.
Sound Protection:
Besides the necessity of high-efficient, economically-optimized fans, low noise emissions are just as important. TLT has its own department for planning, design and construction for sound protection.
AXIAL-FLOW AND CENTRIFUGAL FANS FOR POWER PLANT APPLICATION
The various designs and sizes of TLT heavy duty fans are used in power plants. The decision for the application of TLT-Turbo axial fans for coal fired boilers as well in mono-units up to 850MW (only one primary, one forced draft and one induced draft axial flow fan each per boiler unit) has been fundamentally influenced by the high availability and reliability.
TLT-Turbo were also pioneers in the development of the first Flue Gas Desulphurizing (FGD) axial flow fans on the wet, saturated clean gas side behind the scrubber.TLT- Turbo are actively involved in the international cooperation in the CO2 capture process.
INDUSTRIAL FANS AND BLOWERS
Centrifugal fans and axial impulse-type fans are ideal for all industrial applications. Optionally hard-faced for abrasive, dust-laden media or in stainless or rubberized versions for use with corrosive gaseous fluids with peripheral speeds up to 270m/s.
FANS AND AIR-HANDLING COMPONENTS FOR THE TECHNICAL BUILDING EQUIPMENT
Our air-handling component range includes axial and centrifugal fans for building smoke exhaust and ventilation systems, air heaters, and heat recuperation components for heating equipment.
COMPLETE TUNNEL VENTILATION SYSTEMS AND JET FANS
TLT is specialized in ventilation and smoke extraction.
TLT supplies fans for all applications in the field of road and rail tunnels including jet fans, axial fans, and overpressure fans for escape tunnels with the associated accessories for a safe and economic operation.
Our fans are made in Germany and certified in accordance to EN 12101-3.
TURNKEY AERODYNAMIC AND CLIMATIC WIND TUNNELS
Wind tunnels that need continuous ventilation can be equipped with fans and compressors for velocities up to approximately Mach 2. TLT climatic wind tunnels are capable of handling air speeds from about 10km/h to 220km/h and air temperatures from -40°C to 60ºC, and up to 90% relative humidity.
SERVICES
Our services:
Assembly and installation services
Start-up and commissioning
Inspection and maintenance
Fabrication and supply of spare parts
Planning and implementation of inspection and repairs
Fault analysis and troubleshooting
Equipment diagnostics
Plant optimization and upgrades
Sound damping
Non-destructive testing of materials
SUMMARY
Due to our extensive experience customers can rely on our execution competence and high quality standards. TLT-Turbo fans are proven under the harshest and most difficult service conditions, all over the world.
Efficient and modern manufacturing facilities as well as excellent trained employees assure highest quality. Our processes, products and our personnel are continuously improved to the advantage of our clients.