At ECE-COGEMACOUSTIC we produce ventilation studies, design suitable solutions and manufacture ventilation equipment, notably axial fans for use in underground mines, tunnelling and other underground works. Dust collectors also form part of our core products, which can be either dry (filters) or wet (water pulverisation) types. We also offer other services to customers in order to assist them in the successful ventilation of their projects.
ECE-COGEMACOUSTIC is certified to manufacture explosion-proof ATEX IM2-type ventilation equipment, for use in coal and gaseous mines.
Axial fans and ventilation equipment
ECE-COGEMACOUSTIC standard axial fans are capable of supplying an airflow rate of 2m³/s – 230m³/s (11,000cfm – 500,000cfm) at a pressure rise of 250Pa – 7,000Pa (1in – 28in wg). The fan can be comprised of one, two or three stages. Various levels of sound attenuation can be provided, enabling customers to find the right balance between budget and environmental requirements.
The mounting of auxiliary components such as inlet bells, outlet cones or duct storage cartridges is facilitated by the modular and normalised design of the components (ISO 6580-1981(F)).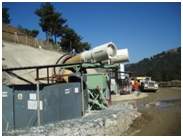 Efemtukuru Gold Mine in Turkey.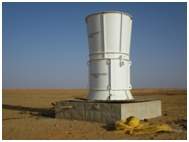 Main fan of Akouta Uranium Mine in Niger.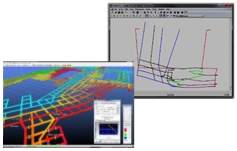 Mine ventilation simulation tools.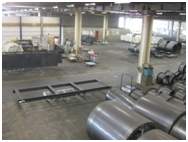 Spacious manufacturing area.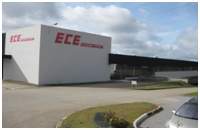 Factory in Limoges, France.
A wide range of ventilation characteristics for a given nominal diameter of fan are attained through the use of the optimisation of the impeller hub diameter in conjunction with the number and length of the blades. The blades are easily adjusted once the fan is at a standstill.
Dust, generated by excavation works in enclosed areas, must be captured at its source in order to prevent its dispersion inside the underground network. This is the role of the ECE-COGEMACOUSTIC scrubbers. Our range offers units with airflow capacity of 3m³/s to 25m³/s.
All of the ventilation equipment can be controlled by various types of electrical cabinets, which are designed and manufactured in-house.
Ventilation solutions design
ECE-COGEMACOUSTIC designs tailor-made ventilation solutions for each project. This begins with the analysis and understanding of a project's parameters. Five languages are spoken in our engineering department: Arabic, French, English, Italian and Spanish. The department makes use of two well-known 3D computer applications, VnetPC Pro and Advanced Ventsim, for the design and simulation of mining ventilation. The department also organises special training courses for the customers' engineers in the art of ventilation and the application of international standards – SIA 196, BS 6164 and AFTES GT27.
Fan and ventilation system manufacture
After a solution has been approved by the customer, it is transferred to the production department. The product conception is optimised to suit the project's individual requirements. Integrated European parts with high electrical efficiency and technical excellence ensure the high reliability of our products. Each step of the production processes, which is carried out by our fully skilled technicians and operators on modern CNC machinery, is controlled by our quality assurance department. State-of-the-art technology is used to integrate instruments and measurement devices in order to provide real-time monitoring and control of the ventilation equipment. Energy saving is always at the heart of our thinking and preoccupations.
Our new spacious factory is located in Limoges, some 400km south of the French capital Paris. The factory is five minutes from the A20 highway, which makes the dispatching of goods to the nearest ports or airports for international export simple. Our close relationship with several forwarders allows us to rapidly deliver ventilation equipment to our customers all over the world.
For all your ventilation requirements, contact us using the form or details below.