Three names have lead the tunnelling and mining industry worldwide for more than 45 years: TEREX|SCHAEFF for the development and manufacturing of tunnelling and special machines; ITC for consulting & sale of tunnel heading machines and Webster-Schaeff for roadheaders and cutting units. To meet your requirements, the TEREX|SCHAEFF Group specialises in design, manufacture, sale and servicing of tunnelling machines, roadheaders, rotary cutters, and special customized machines for tunnelling and mining worldwide. We are your partner for heading in soft to medium-hard rock formations as well as building special solutions for more unusual applications.
Tunnel heading and loading machines
The ITC type machines are used in most conventional tunnelling tasks: excavating and heading in soft to medium-hard ground conditions as well as loading of blasted rock, using modular type of attachments to suit the ground conditions and cross-section size.
Equipped with a diesel and or electric motor, the 4 machines models from 20t to 45t are highly mobile. They are powered by diesel for transport to the tunnel face then using the zero-emission electric motor for working. Excavated material is then conveyed to the rear of the ITC machine by means of an integrated onboard conveyor system.
Standard boom tools such as buckets, hammer / bucket combinations, mucking out tools and hydraulic cutting units are all available; particularly the patented rock breaker mounting which ensures the highest hammer efficiency.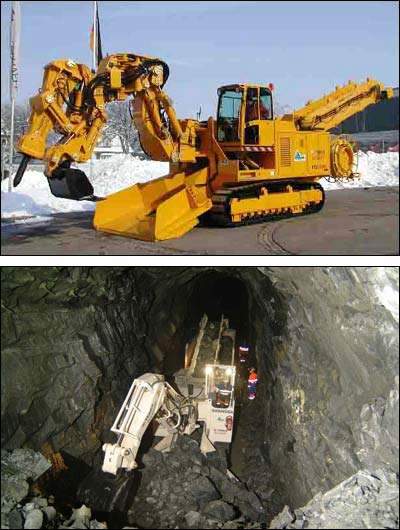 Tunnelheader ITC320-V45 and highspeed mucker ITC312 - superloader.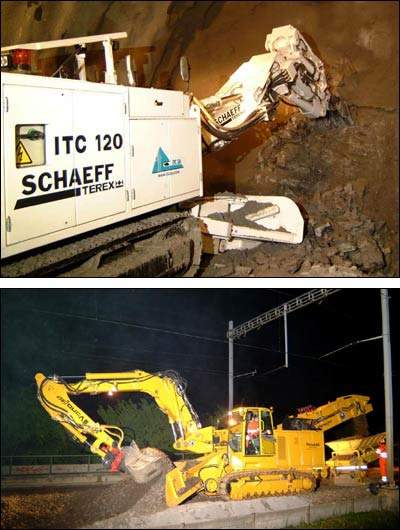 Tunnelheader ITC120-F2 and rapid balast loading machine ITC312-VL.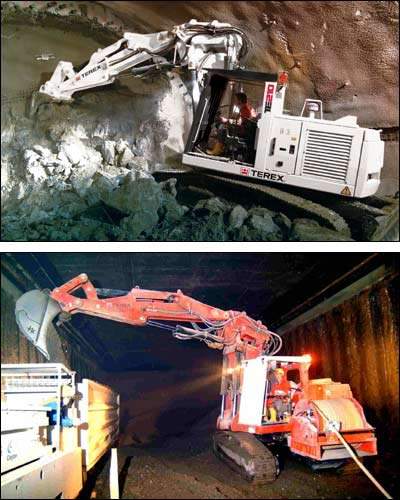 The tunnel excavator TE210 is available in both diesel and electric versions.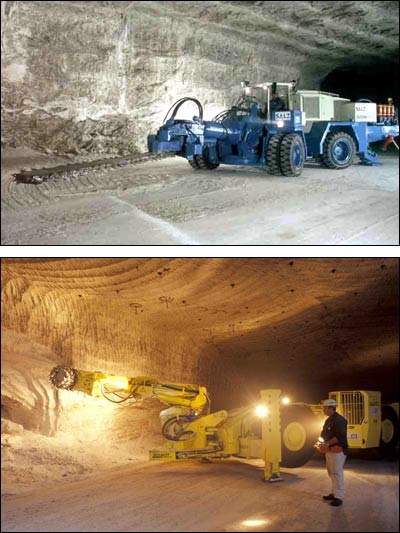 Slot cutter SFM200 and roof scaler SF120 machines for salt and potash mines.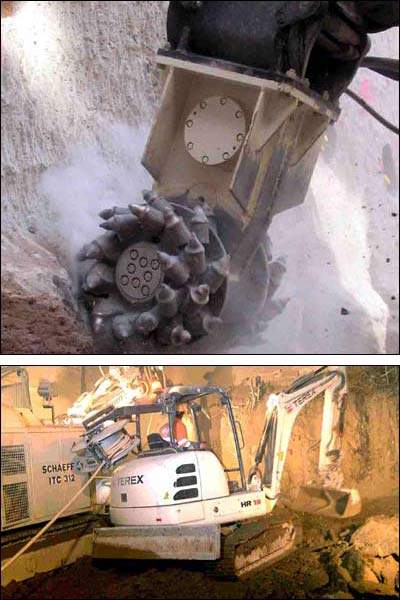 Rotary cutter for rock and concrete grinding, and compact excavator TC48 with electric drive.
Tunnel excavators
The compact 28t tunnelling excavator model TE 210 with its 360° swing range is especially suited for small and medium sized cross sections and can be ordered with either a powerful 165kW diesel or a electric drive with cable reel. The machine's tight swing radius enables it to deploy in ultra-tight spaces; its robust tunnel excavation boom permits the mounting of a wide selection of tools.
Rapid balast loading machines
TEREX-ITC also offers the powerful ballast loading machine Schaeff-ITC 312-VL for the reconstruction of railway track foundations. This machine is suitable for short single track and multi-track lines, and has also proven very useful with rail lines that must be in operation during reconstruction.
Excavation, loading and conveyancing takes place without impairing the neighbouring lines, as reconstruction is within the confines of the track and as a result the old ballast and subbase can be excavated and transfered into the bunker shuttle wagon behind the machine.
The crawler unit permits the usual working operations on the railbed on-site. An additional rail-borne chassis allows the haulage on the tracks in the trainset formation.
Transverse cutting units
Hydraulic transverse cutting units, suitable for excavators from 2t to 60t, are the result of over 50 years experience and our cutting know-how. TEREX offers an extensive range of six models with power outputs from 18kW to 150kW, each with a selection of interchangeable cutting head drums. Rotary cutters offer the ideal alternative for a wide selection of cutting applications in a range of diverse materials such as masonry, concrete, frozen soil, rock, or other hard formations.
Special machines and boom equipment
TEREX supplies standard machinery modified acc. to customer specifications or builds complete new units resp. also supplies single add-on components specific to your application. In this way we have, over the years, produced numerous custom machines for major global civil and mining contractors, for example equipment used in pipeline excavation, shaft sinking and tunnelling with shields, such as:
Electric excavators and wheel loaders fitted with a special attachments
Slot cutting and roof scaling machines for the rock salt mining operations
Electric crawler excavators for compressed air heading
Electric wheel loaders for special applications
Shaft sinking and caisson excavators