Side Dump Industries (SDI) provides tough, dependable and long-lasting side dump trailers to the mining industry. With our range of side dump trailers you won't have to worry about reliability, repairs or safety.
Side dump technology
SDI developed the revolutionary side dump technology used in the worldwide mining industry today, with most of our competitors still manufacturing their trailers based on our early design. While we're proud of our design, our engineers have never stopped improving upon that original concept, advancing the capabilities of the side dump and the quality of the SDI side dump trailer. Simply put, we are the people who made the side dump work and continue to make it better.
Hauling and dumping mining trailers
SDI trailers take the work out of hauling and dumping nearly any load imaginable. The side dump's revolutionary design was first engineered by the innovative minds at SDI and is far superior to other methods as it allows you to dump loads farther, faster, and cleaner.
Aside from the ingenuity that went into the design, SDI builds the highest standards of durability, reliability and capacity into every side dump model. These trailers go the extra mile, and they just don't quit. That means no downtime, less hassle and more profits in your pockets.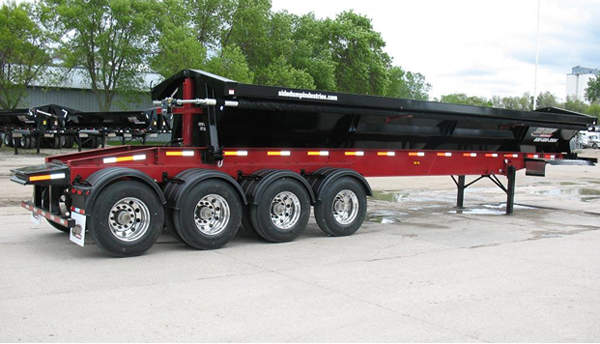 Quad axle Side Dump Industries trailer.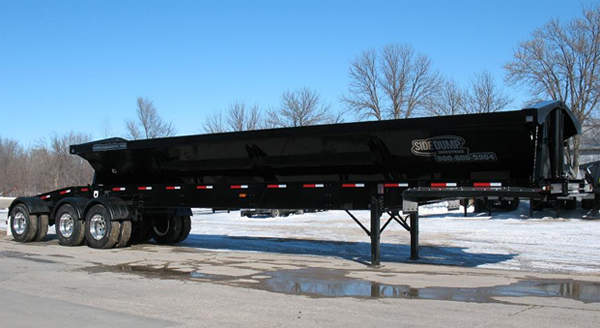 Super-tri axle Side Dump Industries trailer.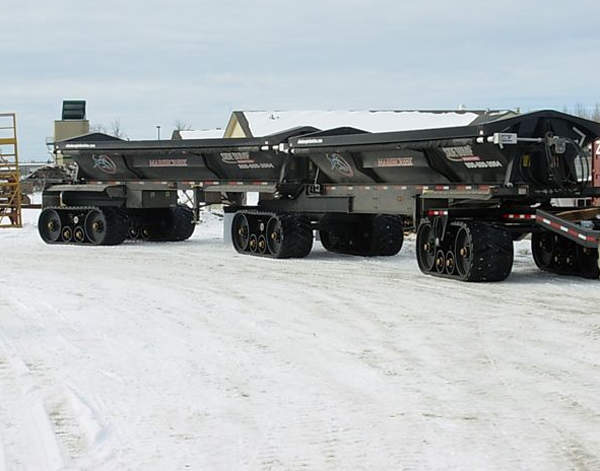 Custom Side Dump Industries trailers.
Side dump mining trailers and converter dollies
SDI manufactures tandem-axle, tri-axle, quad-axle, and five or six-axle side dump mining trailers and converter dollies tough enough to handle whatever you need to haul. SDI can also build any trailer to your exact specifications and needs.
Standard specifications of our side dump trailers are:
Removable kingpin
New self-centering saddle design
Fabricated 100K/110XF DOMEX steel frame
2S4M or 4S2M WABCO ABS valve
11R22.5 tires on white steel 10 bolt disc-type wheels
Bolt-on aluminum fenders with rubber bump edge (front)
Minimizer poly fenders (rear)
Heavy-duty bolt-on push block and under ride bumper (unless equipped with pintle)
Sealed seven-way wiring harness
Rubber mounted LED lights
6mm thick 100K / 110XF DOMEX steel tub
5½in (with 3in rod) high-pressure hydraulic cylinders
½in high-pressure (3,000psi) hose plumbing
25,000lb axles with parallel spindles
Ridewell air ride suspension system or hutch CH9700 spring suspension
Fast-releasing side dump trailers
SDI's side dump trailers boast a variety of features. Loads release faster from a straight side and better dump angle of 50° – the most of any side dump trailer manufactured. The 50° dump angle means less material sticking in the tub, ensuring your load comes out quicker and leaves a cleaner tub.
The strongest points on a trailer frame are where the frame is supported. SDI's design and tub material means a tougher frame and the ability to use the suspension you prefer, all while maintaining its stability.
SDI's unique bolted construction means you can repair a part in the field instead of taking the trailer to a shop. Therefore there's no welding, grinding or painting required.
Super-tough side dump trailers
SDI has the lowest centre of gravity available on the market, meaning better stability on the road or on the job.
The trailers' synthetic grease-filled hubs extend the bearing life and virtually eliminate wheel seal failure and downtime. These hub caps protect your spindles and bearings from debris and damage on the job.
A side dump's tub must be strong, yet flexible enough to allow for bending and twisting without cracking. SDI's tubs and frames are exclusively constructed of super tough, yet malleable, Domex-100 steel for more durability and longer life.
As single-stage cylinders cost less to maintain or replace than telescopic cylinders, SDI's cylinders on the end of the body can be greased and maintained easily, both in the shop or in the field.