Morooka offers unique solutions to the distinctive and challenging problems faced in the mining, construction and utility industries.
A Morooka Crawler Carrier can be used to deliver employees, tools, equipment, attachments, production material and just about anything else you need to a jobsite. They can also be used as a haul truck for dumping.
Most of the tools and attachments you currently mount, or want to mount, on to truck frames and truckbeds can be adapted and mounted on to a Morooka Carrier. Your company can save the expenses associated with building roads for wheeled vehicles, the downtime related to digging out stuck vehicles and the cost of using more expensive, heavier and slower steel tracked equipment to get workers and tools to a nearly unreachable location.
Crawler carriers for inaccessible locations
If you have locations which are inaccessible for parts of the day or the year, you may be able to extend your work day or work season by using Morooka Crawler Carriers to get workers and tools to those isolated and remote locations. The Morooka hydraulic system consists of two piston pumps and one gear pump, and it can often be adapted to operate hydraulic attachments without adding additional hydraulic pumps.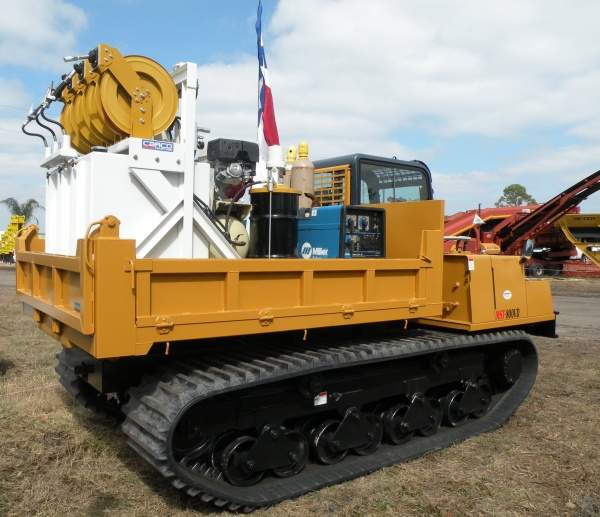 The Morooka 800VD and 800VDL carriers maneuver in tight spaces and offer a 4.8t payload.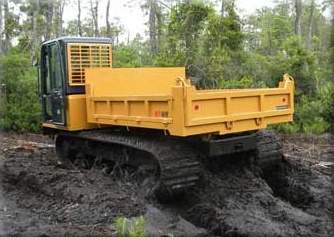 The low ground pressure means the carriers can function on soft or weak ground.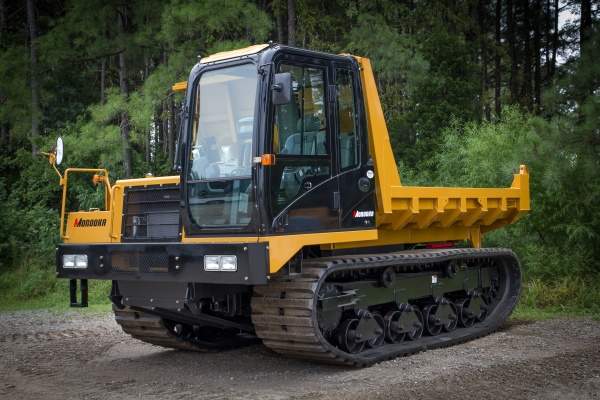 The 1500, 2200 and 3000 models have a more spacious and air-conditioned cab.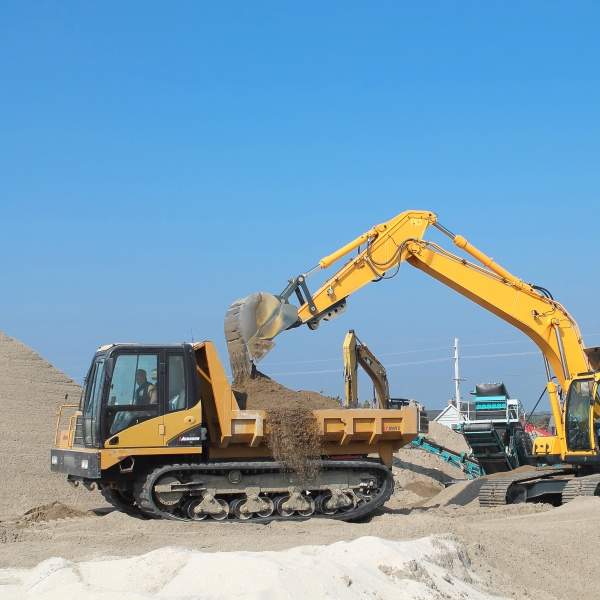 The shock-absorbing undercarriage provides stability in even the toughest conditions.
Each day Morooka's customers use their Crawler Carriers to find innovative ways to solve their unique problems. If you have problems to solve and feel that Morooka Crawler Carriers may offer solutions, then we would like to help.
Morooka Crawler Carriers are working on every continent, carrying thousands of different attachments and working in the most varied environmental conditions imaginable. If you would like to discuss more about the applications for Morooka Crawler Carriers please contact us using the form or contact information listed below.
Low ground pressure footprint
Morooka Crawler Carriers have a lower ground pressure footprint than wheeled haulers, so they can work faster, more safely and cause less damage to the environment than other types of equipment. They are ideal for use on soft or weak ground conditions.
A Crawler Carrier may allow operators to transport equipment to locations without the need to build roads, significantly reducing the impact on the surrounding environment.
Durable rubber tracks
The rubber tracks on Morooka Crawler Carriers combine the characteristics of tire equipped vehicles, which are designed for speed and ride, with the traction of a steel track with very low ground pressure.
The Morooka rubber tracks are the result of more than 55 years of development between Bridgestone and Morooka.
Hydrostatic transmission drive system
The hydrostatic transmission allows for economical use of engine power. All steering maneuvers can be executed from a pair of simple control levers. The HST system completely eliminates the need for a clutch and gear controls, making the Morooka Carrier highly maneuverable.
The hydrostatic transmission offers infinite speeds with no shifting. Every speed is a working speed in low range. Gear transmissions have fewer working ranges in challenging conditions because the working range is determined by the torque and gearing. Morooka's hydrostatic transmission makes it easy for any operator to control and requires little time to train a new operator.
Easy to maintain crawler carriers
The Morooka Carrier's main components, engine, hydraulic pumps, drive motors and steering levers are easily accessible, allowing for reliability and convenient maintenance.
Morooka models MST 800VD, MST 1500VD, MST2200VD and MST3000VD are powered with Caterpillar engines, whereas Morooka models MST 300VD and MST 600VD are Kubota powered.
Shock-absorbing undercarriage
The floating bogie-wheel undercarriage on all Morooka machines is always in contact with the ground and absorbs the shock that occurs from running on uneven surfaces. This unique undercarriage allows for a smooth ride with less vibration, which reduces driver fatigue and increases productivity on-site.