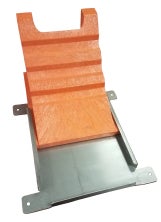 Miner Elastomer Products is excited to announce special pricing when you bundle our EPM0111600 or EPM0111800 with our new wheel chock brackets.
This bundling package allows you to save instantly on our dependable and durable chocks. By bundling a pair of our EPM0111600, you will save $10.06 over the cost of buying the chock and bracket separately and you will save even more when you buy a pair of our EPM0111800's.
These new brackets allow the user to slide the chock in and out of the bracket for ease-of-use and they easily mount onto any vehicle. Last of all, these brackets securely hold the chock in place during transportation.
MEPC's™ wheel chocks are known for their dependability and durability. Our chocks can survive an accidental run over and do not ruin your vehicle's tires. Other chocks on the market shatter or crack during an accidental run over and can even damage your vehicle's tires.
Miner Elastomer Products chocks are also durable due to their lightweight and user-friendly design. Both the EPM0111600 and EPM0111800 wheel chocks weigh approximately 5lb each and are ergonomically designed with an integrated handle on the back. Our chocks also have inset sides to give the user multiple ways to easily remove the chock from the tire.
To order our EPM0111600 wheel chock kit, please reference part number EPM0111600K; and for the EPM0111800, please use part number EPM0111800K.
Miner Elastomer Products (MEPC®) is excited to be a part of the first-ever virtual SME...