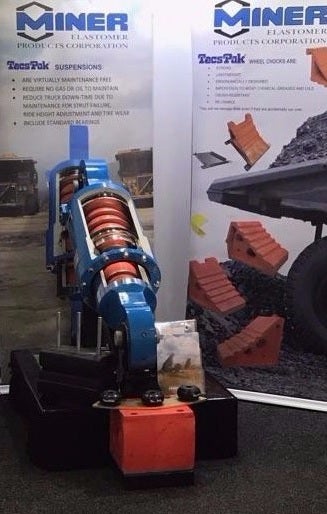 Miner Elastomer Products Corporation™ is gearing up for our international mining shows scheduled for this year.
We are excited to be attending the Asia-Pacific's International Mining Exhibition (AIMEX) in Sydney, Australia and PERUMIN in Arequipa, Peru. Both of these shows are going to be great opportunities to connect with mining professionals around the world.
The first show that we will be attending is the AIMEX show in Sydney, Australia. MEPC will be exhibiting our dependable and durable TecsPak® products at booth number 3720-6. At this show, we will be showcasing our haul truck suspension. These suspensions are 'maintenance' free and help reduce your fleet's maintenance costs. We will also be exhibiting our genuine OEM shovel components as well. Our shovel components product line range from bucket door bumpers to boom bumpers and are known for their dependability and durability in the mining industry. Last of all, Miner Elastomer will be showcasing our wheel chocks at this show. These wheel chocks are unique to the mining industry and can actually survive an accidental run over by an 830E Hitachi haul truck.
MEPC will also be attending PERUMIN in September. We will be partnering with one of our local distributors and will have personnel on site to answer any questions that you may have about our mining products. You will also be able to see our smaller haul truck suspension cutaway in person as well. Once again, this is a great opportunity to find out how our suspensions work and how they can save you time and money when it comes to your haul truck's maintenance.
Miner Elastomer Products (MEPC®) is excited to be a part of the first-ever virtual SME...