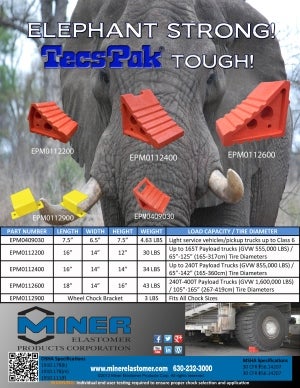 Miner Elastomer Products Corporation is proud to introduce our new 2000 Series wheel chocks and mounting brackets. So when you buy five of any one part number wheel chock, you will receive a sixth wheel chock absolutely free while supplies last.
Our strong, lightweight and crush-resistant chocks are specifically designed for over-the-road trucks and mining haul truck applications. They will not damage tyres even if they are run over! Made with our tough TecsPak® material, our wheel chocks are suited for all types of environments and are virtually indestructible!
Check out how tough our TecsPak® wheel chocks really are: http://www.youtube.com/watch?v=G76ELi5zMlk
All TecsPak® Wheel Chocks are made from high-visibility orange TecsPak® material.
Offer also applies to wheel chock mounting brackets.
Offer ends September 1, 2013, and applies to orders placed before September 1, 2013, while supplies last.
Customer is responsible for all shipping and handling.
Orders can be placed through Carol Carlson: 630-232-3129 Fax: 630-232-3172 ccarlson@minerelastomer.com.
Miner Elastomer Products (MEPC®) is excited to be a part of the first-ever virtual SME...