Mine Support Products
Underground Support Systems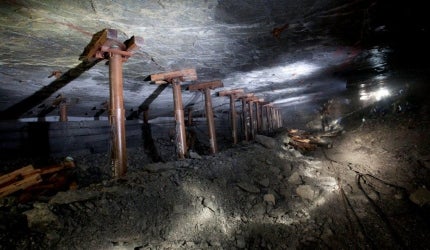 Mine Support Products (MSP) is a manufacturer of underground support systems for the mining industry. The company has been developing and manufacturing products for deep-level mining clients for the last two decades, and is co-owned by heavy engineering company DCD and steel tube and pipe giant Robor.
MSP specialises in supplying deep-level gold, platinum and coal mines from its facility in Duncanville, South Africa. Its lead product is a roof-support system that is exported all over the world, including to Africa, Australia, the UK and the US.
MSP also has a 50% shareholding in CDMMC, a company that manufactures and supplies mining supports for the Chinese market.
Deep-level mining roof support system
Mine Support Products' flagship product is Rocprop, an all-steel elongated support system designed to maintain load-bearing characteristics in both static and dynamic load conditions.
Our original version, MK1, was developed for tabular ore bodies with mining widths of up to 6m in deep-level gold mines. The system provides constant resistance to keep key blocks in place, ensuring the integrity of the hanging roof is protected during blasting.
Rocprop was designed to be easy to transport and install, with no restriction on ventilation. Each prop is small and provides significant versatility, which has led to the adoption of Rocprop in soft rock conditions.
The system is very popular for coal mining as it provides a workable solution for systematic roadway and belt drive support, as well as longwall moves. Rocprop reduces material handling costs significantly, speeds up installation and means preload is immediately effective.
The MK1 Rocprop is available in 20t and 40t load-bearing variations at sizes ranging from 0.9m to 6m. MSP also produces high-capacity units for coal mining.
Cost-effective roof supports for small mining operations
Smaller operations have the option of using the Rocprop MK2, a mini version of the original design that offers a cost-effective solution for support systems up to 2.1m. The MK2 is available as a 20t load-bearing version only.
Support system for hard rock mining
Rocprop is a popular support system for high closure and seismic mining environments due its impressive load-bearing characteristics. The system is commonly used in deep-level gold mines between mining heights of 1.1m and 4.5m.
Soft rock mining support system applications
There are numerous uses for Rocprop in soft rock mining environments, many of which save downtime and increase safety. These include:
Longwall moves (shield recovery)
Belt drive support
Brow support
Systematic roadway support
Tailgate and headgate support
Barrier line support
Vent wall construction
Temporary supports for hardrock mining
As well as long-term support solutions, MSP also manufactures temporary support units for hard rock mining. This product, the Rocbolt, is a hydraulically set anchoring device. When inserted into rock and pressurised to 30MPa, it expands to create a locking effect.
Rocbolt is ideal for temporary tunnel supports and stope hangingwall support.
Cooling unit for remote mining areas
Maintaining a workable temperature is a constant challenge in mining environments, particularly where chilled water is not available. MSP in conjunction with M-Tech Industrial, manufactures and markets the patented Enerflow underground air cooling unit (ACU) in response to this issue.
This mobile ACU maintains temperatures between 26°C and 28°C by drawing hot air in, cycling it through an air evaporator and mine ventilation fan and feeding it out, cooled, to the environment.
The small 100kW Enerflow unit is designed to fit into a mine cage and weighs less than 2t.
Mining support accessories
MSP also designs and manufactures a range of accessories for mining support systems. These include:
Headboards: load spreaders designed to increase the hangingwall area coverage
Footplates: load spreaders used in soft rock areas to prevent the Rocprop punching into the footwall
Cone setting tools: designed to hammer in the yielding mechanism
MSP production, research and development
Mine Support Products is always looking to innovate on existing product lines and develop new mining solutions. We achieve this through our vibrant research and development programme, which focuses on providing custom solutions and new products.
Our products are manufactured in our facility in Duncanville, Vereeniging, South Africa. This 5,500m² site is located only 45km from Johannesburg, giving MSP easy access to road, rail, air and sea-based infrastructure.
MSP awards and accreditation
MSP takes pride in the quality of its products, and has won numerous awards for safety, excellence and technological innovation. These include:
NOSCAR award for safety, health and the environment
NOSA 5 Star accreditation
SEIFSA award
Mechanical Engineering Society Innovation award for the Rocprop
Mine Support Products is also ISO 9001 certified.
If you would like to know more about our range of products and services, please contact us using the details below.
Mine Support Products Images
Mine Support Products (Pty) Ltd