Salter Cyclones specialises in the removal of fine solids utilising hydrocyclones and multi-gravity separation. Personnel have more than 150 years of collective worldwide expertise in the minerals processing industry.
The equipment and technologies are all based on achieving powerful and precise separations in practical, operator-friendly and economic systems.
The company is based in Cheltenham near exit 11 on the M5, just over an hour's drive from Bristol and Birmingham airports and one and a half hours from Heathrow.
Hydrocyclones and Hydrocyclone assemblies
Salter Cyclones offers new hydrocyclone designs from 10mm to 10in that accommodate a wide range of flow rates and provide precise control of cut points and other performance criteria and are used in minerals production across a wide range of ores.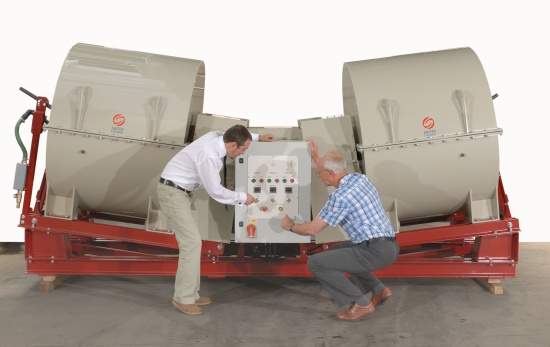 Salter Cyclones' Multi-Gravity Separator SCMG2.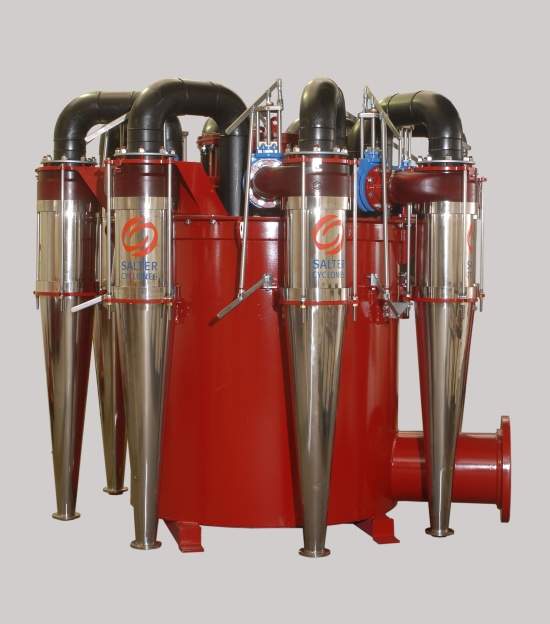 An 8-way 10in Hydrocyclone radial.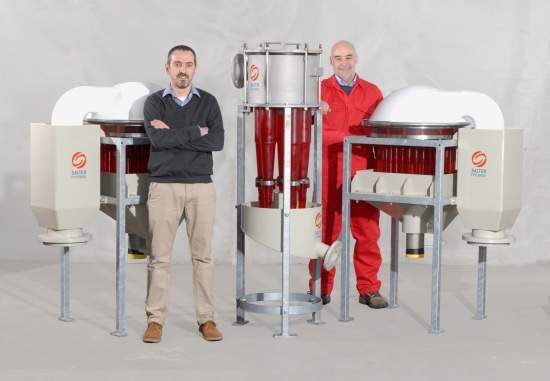 Two 76-way, 1in Hydrocyclone mushroom assemblies and a five-way, 3in Hydrocyclone assembly.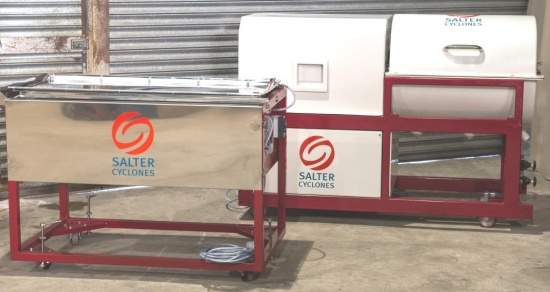 The Salter Cyclones SCMG1 Multi-Gravity Separator and Laboratory Mineral Separator.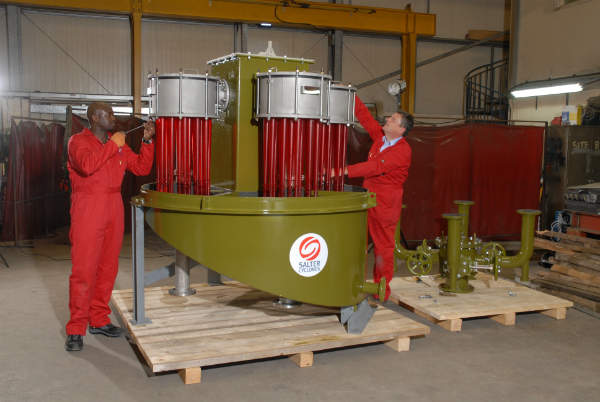 Radial of four, 24-way, 2in Hydrocyclone canisters.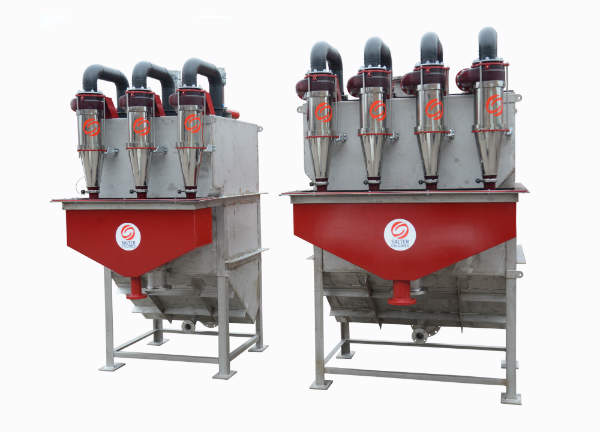 10in Hydrocyclone SMART Systems.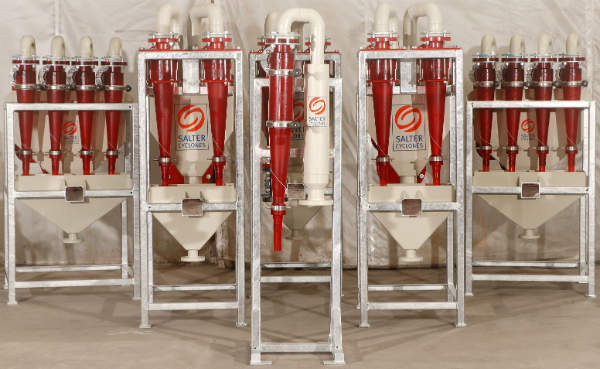 4in and 5in Hydrocyclone 'in-line' Assemblies.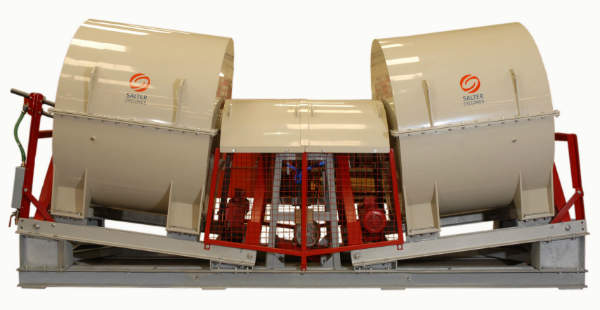 Salter Cyclones' Multi-Gravity Separator SCMG3.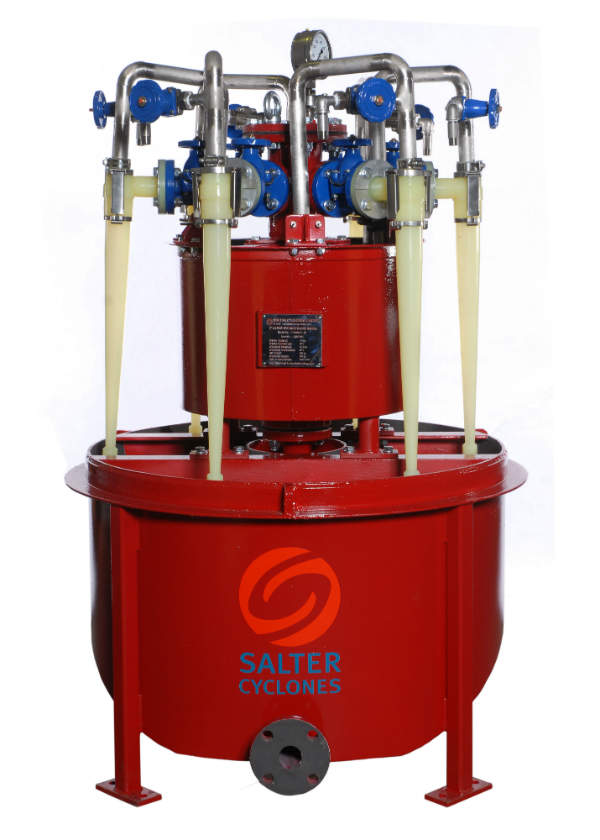 6-way radial fitted with high-temperature 2in Hydrocyclones.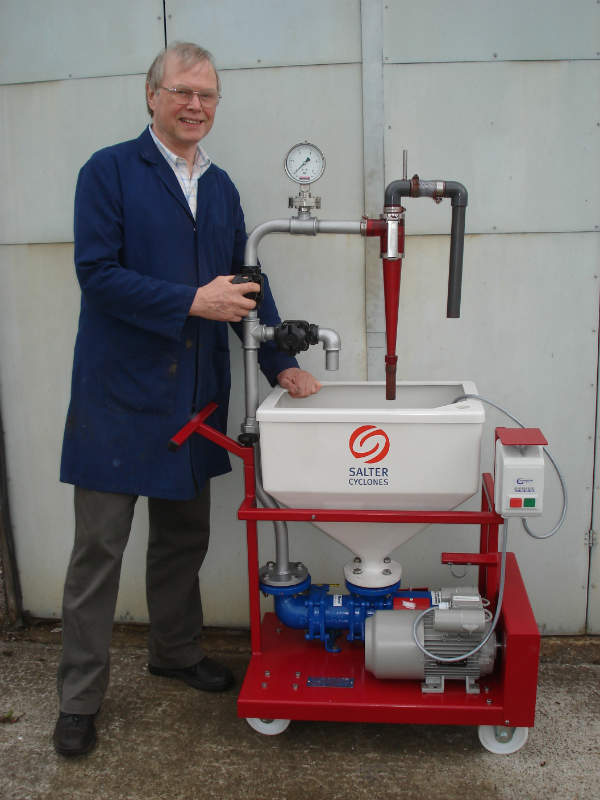 Salter Cyclones' SCTR1 Hydrocyclone Test Rig.
These solid-liquid hydrocyclones are available with different sizes of vortex finders and spigot. They are manufactured from high wear-resistant polyurethane, suitable for operating temperatures up to 130°C, or where there is a specific need, ceramic and steel materials.
Typical applications include any wet processing where classification (separating particles of different size / nature), desanding, desliming (removal of fines) or clarification (removal of solids), thickening or dewatering is required. Examples are sand and mica from raw kaolin slurry or production of high grade filler and coating clays for the paper industry.
Salter hydrocyclones can be packaged in a range of highly compact, lightweight and cost effective assemblies. The added advantage to the operator of choosing Salter assemblies is the ease of access to perform maintenance.
Multi-Gravity Separators for mineral recovery
Salter Cyclones Multi-Gravity Separators (MGS) recover and upgrade heavy minerals that are otherwise lost to tailings. These separators are peerless for sub-100 micron fine materials.
This technology is unique in that it enables the recovery and selective concentration of ultra-fine minerals at multiple G forces, unlike centrifuges, jigs or spirals.
Salter Cyclones' MGS units have an operating principle similar to a powerful, compact, shaking table. The traditional horizontal separating surface of a shaking table is wrapped in a conical drum, which when rapidly rotated, develops an enhanced gravitational field, pushing down the lower size limit for economic separations of the finest mineral particles.
The company's MGSs are available in three sizes, from the SCMG1 laboratory / pilot unit to the large capacity SCMG3.
Laboratory Mineral Separator for heavy fluid analysis
A Laboratory Mineral Separator is part of the range of laboratory test-equipment available through Salter Cyclones.
This equipment allows operators to establish the quantity, quality and degree of liberation of valuable material contained in low-grade, very fine samples (typically ore samples or tailings and middlings streams from mineral processing plants).
This Salter Cyclones separator is selective at very small specific gravity differences, producing a match for full heavy liquid analysis without the health hazards and requirement for skilled personnel associated with that technique. The Laboratory Mineral Separator extends the capability down to particle sizes too small for heavy liquid work.
The Laboratory Mineral Separator extends this capability down to particle sizes too small for heavy liquid work. It is available with a 'V' profile tray with 'end-knock' and a flat tray. The 'V' profile is used for higher S G ranges and larger particle sizes, whereas the flat tray is capable of making very efficient separations of samples finer than 100 microns.
Testing facilities for mineral processing
Salter Cyclones has a fully operational laboratory and test facilities offering full investigative and performance verification services, which are carried out under actual process conditions.
Alternatively, some test equipment is available for hire on a monthly basis for undertaking work onsite, either by the client or by one of Salter Cyclones' experienced engineers.
Spares and Servicing
Salter Cyclones operates an active and supportive spares and service function and is committed to providing a full spares service throughout the design life of a process package.
The company's hydrocyclones have a long wear life and assemblies have been specifically designed to run continuously, only requiring maintenance during annual shutdowns.
Spare parts can be retrofitted into existing installations, including Mozley installations. Although equipment is easy to install, engineers are available to supervise installation and carry out commissioning as the customer requires.
Detailed installation, operating, and maintenance manuals are supplied with equipment and engineers are always available to help with any queries or talk through any issues during installation and commissioning.
Salter Cyclones' engineers are able to supply training to cover installation and maintenance aspects of the equipment either at the UK facilities or at the customer's site.