ErtelAlsop's EA-series filter presses are among the most efficient and cost-effective means of liquid / solid separation for solution filtration or sludge volume reduction.  Our presses are sized from 102mm to 1,500mm with press capacities ranging from 1ft³ to over 350ft³.
ErtelAlsop filter presses for mining
Engineered and manufactured in the US
Six year unconditional warranty on press frames
The largest selection of filter plates and filter cloth
Full service laboratories in Kingston, NY
Assistance to optimize productivity and/or reduce your cycle times
Rental lab presses available to perform on site testing
Technical sales representatives are strategically placed to service you
Filter presses designed for performance
At ErtelAlsop we design and manufacture our filter presses to meet your specific needs. Our engineers will work with you to design and manufacture the optimum piece of equipment or system, with a specific focus on quality, productivity improvement, cycle optimizaation, cost reduction and safety.
Our filter presses include fast-acting hydraulic systems, uniform fill manifolds, safety lanyards, reverse core blow capabilities, and a wide range of options including a variety of construction materials and coatings, thorough wash capabilities, and PLC-controlled automation for drip trays, plate shifting, cloth washing and many other features.
Laboratory and pilot scale filter presses
Sizing of full production filter presses often require laboratory pilot testing to evaluate the filtration characteristics of your slurry. These tests are also valuable tools for selecting filter media, evaluating chemical conditioning when required, and troubleshooting current dewatering issues.
203mm PP plates, SS frame and drip tray, hand hydraulic pump closure, sanitary tri-clover head connections.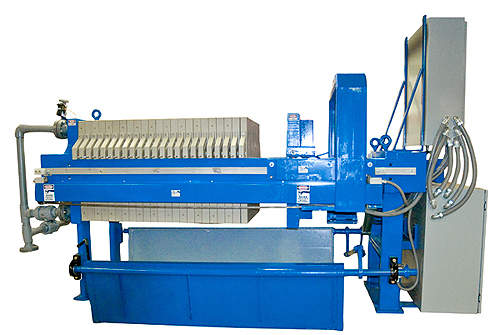 800mm PP plates, A36 CS frame, automatic plate shifter, CS lined with PP bombay drip tray, safety lanyards, uniform fill CPVC manifold with auto actuation, PLC controller, electric hydraulic closure.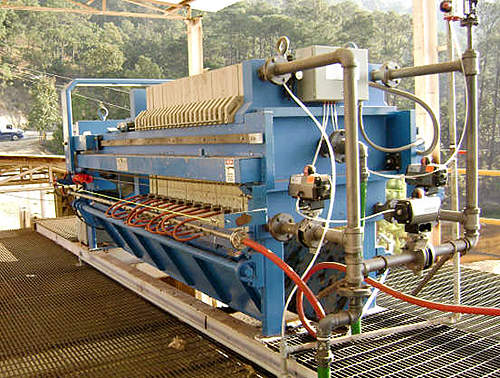 1,000mm PP membrane squeeze plates, C1018 CS frame, safety lanyards, automatic actuation and controller, electric hydraulic closure, automatic CS plate shifter, CS bombay drip tray, 316 SS removable expansion spacer.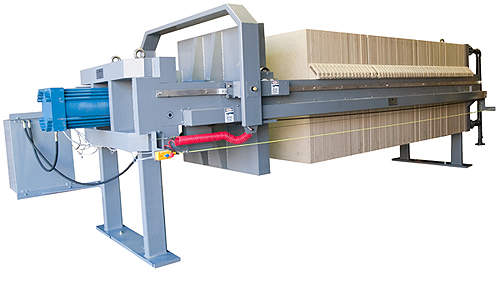 1,500mm PP plates, CS frame, safety lanyards, air / oil hydraulic power unit with automatic controller, semi-automatic CS plate shifter.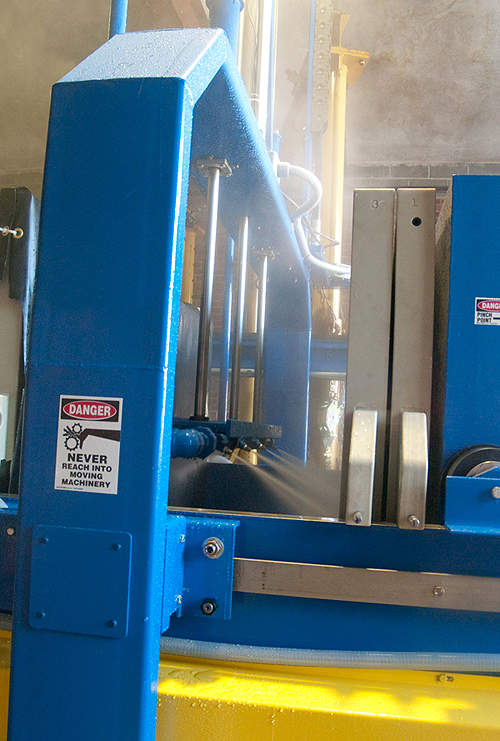 1,500mm PP plates, CS semi-automatic plate shifter, semi-automatic filter media cloth washer.
ErtelAlsop's lab filter press may be used for cake recovery, low solids recovery from precipitations (such as Merrill-Crowe Process) or clarification. The plates are designed to also accommodate cake washing, if required.
ErtelAlsop laboratory and pilot filter presses can be used for lab analysis and/or small batch production. These units are available for sale or rental.
Filter press standard features
High strength carbon steel skeleton
304 stainless steel side bar wear strips
Schedule 80 PVC head connections
Four corner discharge porting
Caulk & gasketed recessed polypropylene plates
32mm cake thickness
Manual hydraulic closure system
Chemically resistant painted framework
Six year framework warranty
Filter press optional features:
Stainless, aluminum, carbon steel, FRP or CPVC head connections
Semi-automatic or automatic bombay doors
Feed pumps: air operated diaphragm (AOD)
Automatic pump controller
Blanking plate
Thorough wash capability
Expansion capability
Alternating discharge (1B & 3B)
Automatic air / oil hydraulic closure system
Electric hydraulic closure with PLC controls
Uniform fill manifold
Cloth washers
Cake washing
Cake carts or chutes
Plate shifter
Leg extensions
Elevated platforms
Safety gates
Safety lanyard
Safety light curtain
Splash curtains
Cake thickness from 20mm – 50mm
Membrane water squeeze system
Filter press plates
Plates of every design- Recessed Chamber, Plate and Frame and Membrane Squeeze, are available in all sizes. Plates can be gasketed or non-gasketed, center or corner feed, and constructed in polypropylene, PVDF, stainless steel, Polypropylene Membrane on Polypropylene plates or other materials.
Filter press media
At ErtelAlsop the type of filter media chosen is based on your specific operating conditions, the performance required by the filtering media, and criteria given to us by you and/or by sample processing we do in our lab of your slurry.
Filter media is constructed from woven and nonwoven materials, and comes in a variety of different materials including:
Polypropylene
Polyester
Nylon
Teflon
Cotton
Filter press closing mechanisms
With 100 PSI and 225 PSI designs, ErtelAlsop has a closing mechanism that will fit your needs. From manual operation with an air/oil hydraulic closing system to a semi or fully automatic electric hydraulic system with PLC controls, ErtelAlsop presses are simple to use and require little training time.
Filter press plate shifter
ErtelAlsop's mechanical plate shifters move individual plates along a stainless steal wear strip allowing rapid discharge of the dewatered cake between the plates. Plate shifters are available in semi-automatic or full automation.
Filter press media washers
Care and maintenance of the filter media is a very important factor influencing the performance of the filter press. The filter media is the initial barrier that separates solids from liquid; therefore, the filter cloth must remain porous to provide high filtration rates.
An automatic media washing system can be added to any ErtelAlsop plate shifter system. Washing the media at regular intervals not only improves the filter presses performance but prolongs the working life of the media as well.