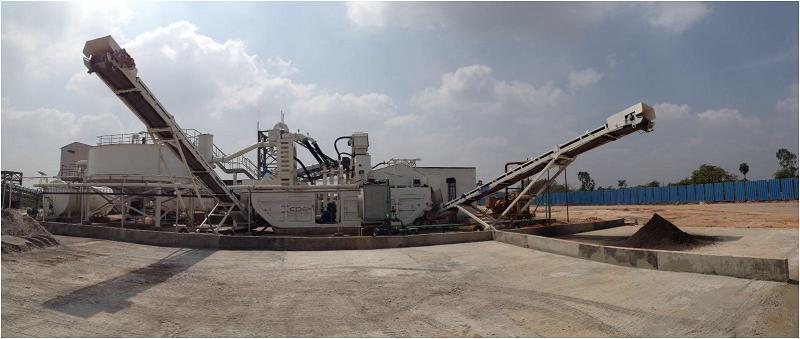 India is blessed with a huge reserve of Lignite in the states of Gujarat, Rajasthan and Tamil Nadu. GMDC in Gujarat and Neyveli Lignite Corporation in Tamil Nadu are the two major mining companies in India producing Lignite.
During mining / excavation a lot of overburden material is generated, which is has the property of silica sand but requires processing to achieve the desired quality specifications. The overburdens of Lignite deposits were stocked in the mines over many years, as economical process to recover valuable materials from them were not available. CDE technology has now made it possible to convert these wastes into valuable products.
The overburden material, which is essentially unprocessed sand, can be improved to make clean and washed silica sand, which has uses in many applications, such as the glass, foundry and construction industries.
In the year 2012, CDE supplied a silica sand processing plant to a world leader in the glass industry operating in the Jhagadia industrial estate, near the Rajpardih area, Gujarat. Post successful implementation of the first major silica sand plant in Rajpardih, CDE Asia supplied and installed a few small capacity basic washing plants in the same area to process Lignite overburden to produce useable quality sand. Understanding the potential to upgrade the Lignite overburden material, an investor from the Rajpardih area decided to put up a silica sand processing plant to produce sand for both foundry and glass applications.
CDE Asia designed, supplied and installed the MicroGrader range of silica sand washing plants, with Fines Screen to wash and screen sand at 600microns. The washed and sized sand was then further cleaned in two stages. A hydrocyclone system was used to remove clay to produce washed, sized and clean sand, ready for the market. As an environmentally responsible company, the CDE washing plant comes with a water recycling system as standard to recycle more than 90% of process water.
CDE Asia recently completed the commissioning of another 50t/h silica sand washing plant for similar applications, including Lignite overburden sand processing at Neyveli, Tamil Nadu. The Neyveli silica sand washing plant is the second silica sand processing plant supplied by CDE Asia to the leader in glass manufacturing. It is also features dual pass washing processing with water recovery and recycling system.
The integrated plant consists of a dual pass sand washing and water recovery unit on the same chassis and is fed by a conveyor from a feed hopper and belt feeder arrangement. The basic purpose of the washing system is to generate pre-washed silica sand free from coarse sand and clay. The customer was highly attracted by the compact nature of the plant and the way the equipment was interconnected requiring minimum movement and thus saving in space and power.
CDE Asia is now working with both the customer at Gujarat and at Neyveli to further improve sand quality by beneficiating the sand to reduce the iron content. The test work of the beneficiation is quite encouraging and expected to improve the quality of sand suitable for float glass quality.
CDE is a leading organisation in India and the world, providing a complete solution for silica sand processing from either Lignite overburden sand or silica sand excavated from mines. The advanced washing technology of CDE with technical support is the best choice for any investor looking for best value for money and lowest operating cost per tonne of sand. The complete automatic plant operation reduces the dependency on manual labour and eliminates manual error in operation.
CDE has released a white paper on the mineral washing applications of log-washers.
"We are very proud to own CDE Global's first Combo X70 Mobile Washing Plant in Tanzania", explains Darpan Pindolia, director of Dar es Salaam-based Estim...
Through the presence of business development managers keeping track of trends and local conditions in Africa, CDE Global is able to address the specific sand...