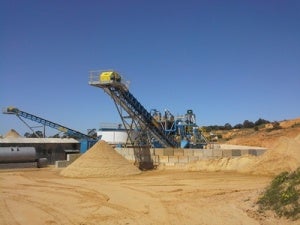 Tuesday 12 November 2013 – Friday 15 November 2013
CDE invites you to our silica sand washing plant open days at Tooperang Quarry, Tooperang, South Australia from 12-15 November.
Registration is now open for #10 in our series of open days which will be held at Tooperang Quarry, Victor Harbour. The site is operated by Tooperang Quarry Pty. who have recently installed a new turnkey CDE silica sand washing plant which includes an M2500 with integrated Counter Flow Classification Unit (CFCU), an EvoWash fines recovery system, an AquaCycle thickener, fine sand screens, attrition cells and spirals.
Register for this event today…
This is a fantastic opportunity to see the latest and newest technology available on the market today for the wet processing of silica sands. This plant features specialist ultra-fine wet screening at 600um and produces dewatered sand products with a moisture content between 10-15%. Glass sands and construction sands are effectively produced from one single unit which features a closed circuit water treatment process, allowing for 90% of the water to be recovered and recycled. Attrition cells and spiral separators are used to remove plastic clays in the process and reduce iron and heavy metal content.
This complete turnkey plant, designed, delivered and installed by CDE, offers the lowest power requirement per ton processed resulting in a low carbon footprint and high productivity. The plant is a modular design so that you have the ability to add and remove other CDE components such as screens, dual sand options etc. at a later date. By participating at the open days you can learn how CDE can increase your profit per ton on new or existing applications.
Please note:
The nearest airport is Adelaide Airport
The site will be open from 9.30am – 4pm
Car parking will be available on site
Please ensure you bring PPE with you on the day
The site address is 119 Quarry Road, Tooperang, South Australia
Please contact CDE to register for this event.