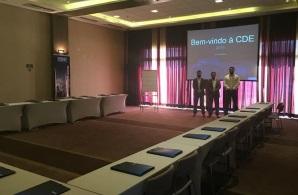 As we have intensified our presence in Latin America throughout recent years and also held demonstration events in Brazil for the last two years, this time we decided to hold customer day events in Brazil in June. The first event took place in Belo Horizonte and the second in São Paulo city.
The events were promoted in order to present the CDE range of products, mainly to the mining, and sand and aggregates sectors. The events were structured as an introductory presentation about the history of CDE and our increasingly strong presence in Latin America, especially in Brazil, followed by our specialists presenting our products portfolio and successful case studies.
The event in Belo Horizonte, held at the Hotel Radisson Blue, had the theme 'Sustainable Mining', which featured a successful case presented by Vallourec, one of our main customers in the mining sector. The company acquired a CDE system in 2013 for the reduction of clay and alumina in their NPO at the Barreiro Plant, Minas Gerais, where the seamless steel tubes are manufactured.
As a result, they had a reduced alumina content and increased iron volume. "I need to highlight that during the commissioning stage we had a great assistance of the CDE technical specialists" Luiz Carlos Vannucci, planning and quality control manager at Vallourec Mining.
The event in Sao Paulo was held at the Golden Tulip Hotel and had the same presentation structure of the event in Belo Horizonte, and it was planned in partnership with ANEPAC ( the National Aggregates Producers Association), which contributed to the meeting of key entrepreneurs from the state of Sao Paulo.
This event also had as a highlight the case study presented by Piramide Group, company based in Sao Paulo which acquired a CDE modular system at the Fair BAUMA 2013.
We are very happy with these events as it reunited existing customers and potential ones, allowed us to understand better some specific demands and also reinforced to us that Latin America is a very important and potential market. We are planning to organise another Customer Day event in Brazil, location to be confirmed soon.
We are also delighted to be exhibiting at the 6th edition of Expomina Peru 2016, one of the main Mining Events in Latin America, from 14 to 16 September 2016.