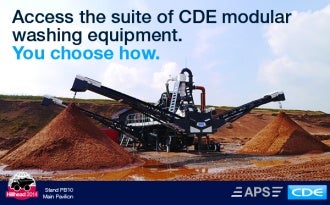 CDE has announced that the Hillhead exhibition will see the launch of a new contract washing offer to the market in partnership with the company's contract washing partners in the UK, Aggregate Processing Solutions (APS).
The partnership between CDE and APS in the UK offers access to the suite of modular washing equipment manufactured by CDE without the requirement for an initial CapEx investment.
Speaking about the new programme CDE general manager in the UK Matt Bunting said: "Our partnership with APS has developed significantly over the last few years in the UK market and we have noticed a growing demand for off-balance sheet investments such as this."
There are a variety of options available to operators through APS including rental, hire to buy and price per tonne contracts.
APS's John Dunne explains: "We can also structure our contracts to allow for an option to buy the equipment at defined periods throughout the contract."
"This is a popular option as it allows operators to prove the viability of a plant with built in flexibility which allows them to move to a purchase once the individual project circumstances dictate that this is the most cost-effective option."
It is the modular nature of the equipment on offer from CDE that facilitates this approach to projects with a variety of mobile and skid-mounted machines on offer.
"Our equipment range has been constructed with a number of design themes at the very core, rapid deployment, minimal footprint, transfer point technology and quick, easy and safe access for maintenance," Bunting added.
"This ensures that a new CDE washing plant will be up and running and delivering a return on your investment very quickly."
The range of equipment on offer includes the EvoWash sand washing plant, M2500 mobile washing plant, AggMax and RotoMax logwashers, AquaCycle thickener and both a centrifuge and filter press product. The CDE and APS partnership has seen a number of projects installed in the UK over the last few years on a variety of materials from sand and gravel to construction and demolition waste.
"The M2500, AggMax and AquaCycle combination has been very popular in recent years as it offers a complete processing solution with a feed arrangement, aggregate screening and scrubbing, sand washing and primary stage water treatment with a very compact footprint a quick set-up time" added Dunne.
Representatives from CDE and APS will be at Hillhead 2014 on stand PB10 in the main pavilion.
---
Image: There are a variety of options available to operators through APS including rental, hire to buy and price per tonne contracts. Photo: courtesy of CDE.