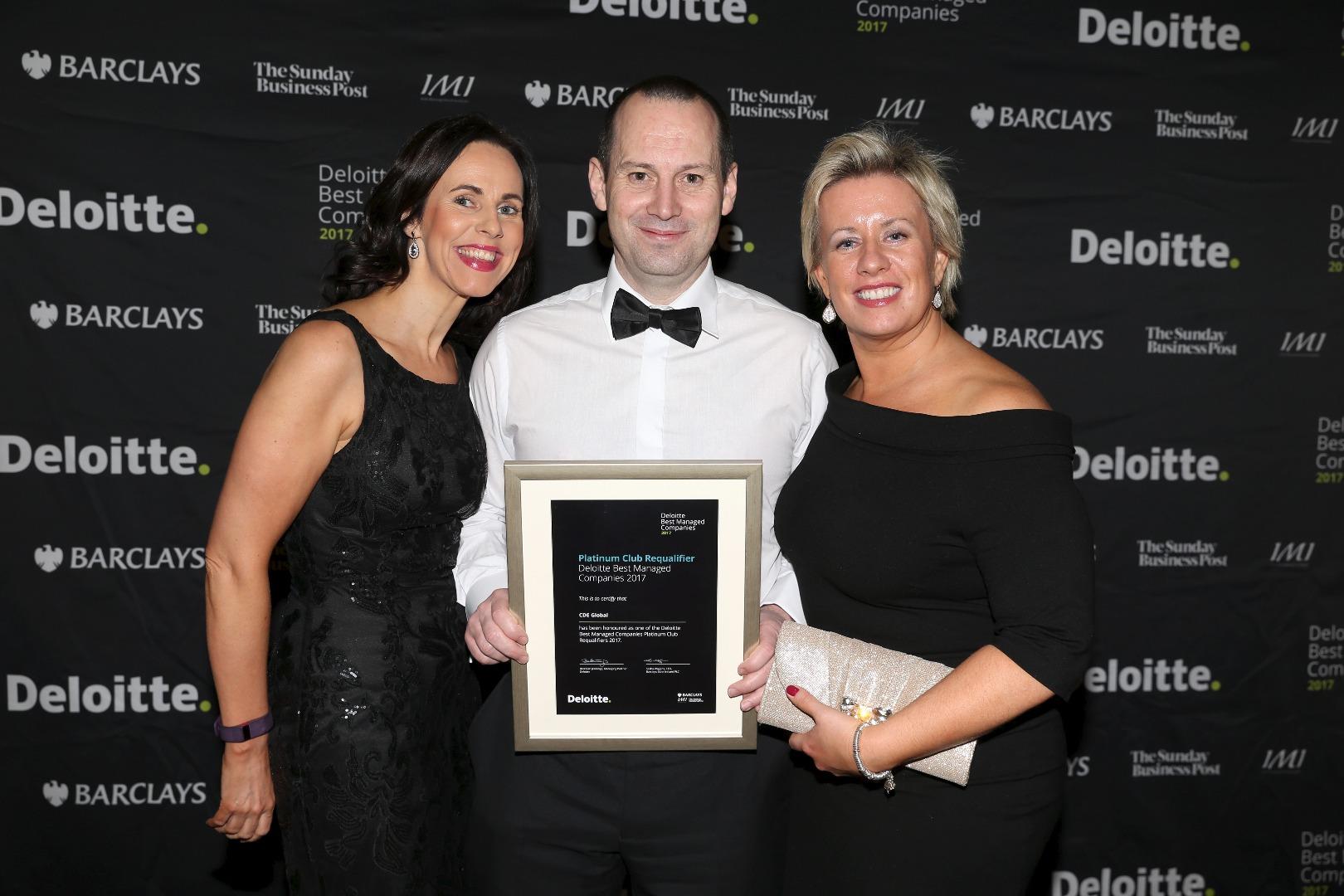 CDE was recently confirmed as a Deloitte Best Managed company for the tenth year at the gala awards ceremony in Dublin. The ceremony was attended by more than 900 professionals from the Irish business community.
CDE has achieved Best Managed Company status every year since the awards started in Ireland in 2008 and is one of the only eight companies in both Northern Ireland and the Republic of Ireland to be recognised every year for ten years in a row.
CDE has been fast growing overseas with projects commissioned and installed in 90 countries around the globe and this resulted in a significant growth in sales in recent years.
Commenting on the award, CDE managing director Brendan McGurgan said: "We are delighted to have won the Deloitte Best Managed Company status for the tenth year. This award reinforces our motivated team working together in a high level of excellence and ethics to deliver innovative projects and achieve our strategic goals, always keeping the CDE values at the core of what we do. We put our people first so consequently they put our customers first making each of our projects unique and this allows our business to be recognised at prestigious awards such as this."
The CDE team has grown significantly over the last 12 months with the addition of 30 new people in 2017. The team is composed of professionals from Northern Ireland and many other countries and the multicultural environment makes CDE a motivating place to work and this has been attracting talents from all over the world.
The company has ambitious expansion plans in eight regions around the globe and this includes a new headquarters project in Northern Ireland. The new headquarters will facilitate the further growth that the company expects to achieve in the years ahead according to McGurgan.
He adds: "We are entering the most significant period in the history of CDE as we continue to build our global presence. The approach we have taken in recent years has allowed us to establish the strong foundations in our key strategic markets that will ensure we are able to continue to meet our ambitious growth plans while maintaining the levels of innovation and engineering excellence upon which the CDE brand is built."
In addition to the plans for the new headquarters in Northern Ireland, CDE has also established offices in Brazil, Australia, India and the US to better serve the Americas, Australasia and Asia's markets and these will continue to grow over the next few years.
CDE operates across five sectors; C&D Waste Recycling, Sand & Aggregates, Industrial Sands, Mining and Environmental. The company has been increasing its experts in each of those sectors in order to best deliver customised projects to attend the customers' specific requirements. They delivered the world's largest wet processing plant for C&D Waste Recycling in Stavanger, Norway in 2015 and since then they have gained focus for their C&D waste solutions expertise especially in Europe and the US.
The Deloitte Best Managed Companies programme has been promoting and recognising excellence in Irish/Northern Irish owned and managed companies since 2008. The awards originated in Canada where they were first held in 1993 and now the programme is also run in Ireland, The Netherlands and Mexico. It is the only awards scheme on the island of Ireland that considers a business' performance from every perspective.
Earlier on the awards day, some speakers, including David Carson, Deloitte's lead partner, took the opportunity to share their advices on how the companies should trace some strategies in the Irish market. He also highlighted how Ireland and North Ireland can be attractive places for businesses development and new companies establishment given its unique potential market characteristics and workforce.
Commenting on this year's awards, Deloitte partner Richard Howard said: "Ireland's position as a small, open economy presents challenges and opportunities in the current environment of unprecedented uncertainty. In spite of the challenges presented by foreign exchange volatility and rising protectionism, the 'Best Managed' companies have grown and they are continuing to demonstrate their resilience."
CDE has released a white paper on the mineral washing applications of log-washers.
"We are very proud to own CDE Global's first Combo X70 Mobile Washing Plant in Tanzania", explains Darpan Pindolia, director of Dar es Salaam-based Estim...
Through the presence of business development managers keeping track of trends and local conditions in Africa, CDE Global is able to address the specific sand...