Trolex has specialised in the design and manufacture of sensors and systems for heavy industry and hazardous areas for over 40 years. We are at the forefront of safety monitoring for the mining and tunnelling industries and our ongoing development programme ensures we maintain our reputation for innovation and cost effective solutions.
Our aim is to provide our customers with the complete solution to their monitoring and control needs. Sensors for the detection and monitoring of gas, air flow, temperature, vibration and pressure, together with a complete range of controllers and SCADA, allow us to package bespoke systems engineered to the customers requirements.
GAS DETECTION SENSORS
We supply a range of fixed and portable toxic and flammable gas sensors using infra red, electrochemical and catalytic combustion techniques for the detection of methane, carbon monoxide, oxygen, carbon dioxide, nitrogen dioxide, nitric oxide, sulphur dioxide, hydrogen sulphide and higher hydrocarbons.
Specifically designed for use in underground installations they provide the end user with monitoring which offers high stability and reliability together with ease of maintenance. Replaceable pre-calibrated gas sensing heads can be changed in seconds eliminating the need for local gas calibration facilities.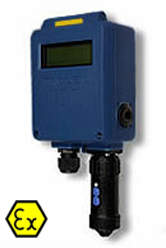 The TX6373 / TX6383 toxic and flammable gas sensor / transmitter provide safety protection.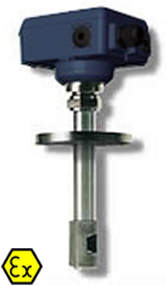 The TX5920 series programmable vortex flow sensor / transmitter provides microprocessor controlled flow measurement of gases.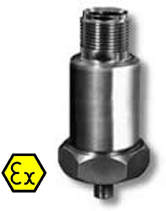 TX5630 series vibration sensors are high accuracy sensors with AC frequency output signal for precision vibration measurement.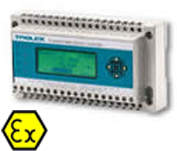 Programmable Sensor Controller TX9042 provides complete monitoring and control together with data acquisition for local area or machine monitoring.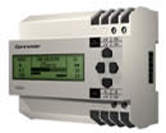 Commander System TX2100 I/O command and control system for sensors, control devices and alarms.
AIR FLOW / VENTILATION MONITORING SENSORS
Our airflow / ventilation monitoring sensors use an analogue flow sensor for velocity and volumetric measurement in ventilation ducts, roadways and tunnels. They feature a self-cleaning vortex sensing head and can operate as low as 0.5m/s. Available in various mounting formats and intrinsically safe options, the air flow / ventilation monitoring sensors have no moving parts, simple push-button scaling, a calibration function facility and choice of analogue output.
VIBRATION SENSORS FOR MACHINE CONDITION MONITORING
The vibration sensors for machine condition monitoring provide accurate monitoring of bearings on fans, motors, pumps and gearboxes with velocity or acceleration measurement. The vibration sensors have fully conditioned 4mA to 20mA analogue output signal or unconditioned mV/g output. They are solid, robust and compact and supplied with armoured cable and a simple M8 mounting stud. Intrinsically safe versions are available.
CONTROL AND DISPLAY MONITORING UNITS
A versatile range of control and monitoring units completes Trolex's sensor capability. We offer trip amplifiers, sensor controllers and bus expandable I/O systems as part of the total package.
Programmable Trip Amplifier TX9030 and TX9130 – total versatility in a single unit with direct fingertip programming of a wide selection of functions for output control and display.
Single analogue input module
Dual relay output
Large LCD display showing level and engineering units
Set-point time delays
Latch or auto-reset relay functions
Peak and low level reading memory
Programmable Sensor Controller TX9044 and TX9042 – complete monitoring and control together with data acquisition for local area or machine monitoring. Any combination of gas, flow or other sensor inputs can be configured. Data communications allow information to be transferred locally or over a wider network.
Up to eight analogue sensor inputs or 16 digital
Four assignable relay outputs with set point selection, time delays and hysteresis selection
Simultaneous display of all inputs
Signal bar graph display and engineering units
Data logging
RS232/RS485 datacomms
Signal fault alarm
Commander TX2100 – a bus expandable command and control system incorporating modular I/O interfaces for simple gathering of local large scale distributed networks linking to SCADA.
Bus expandable to 128 channels of I/O
Each terminal module accepts up to eight I/O cards
Sensor input values
Control output status
Data history
Channels can be configured without interruption of the system
As part of the 'Total Package', Trolex provides a wide selection of Ex power supplies and battery back up systems for use in mining and tunnelling.