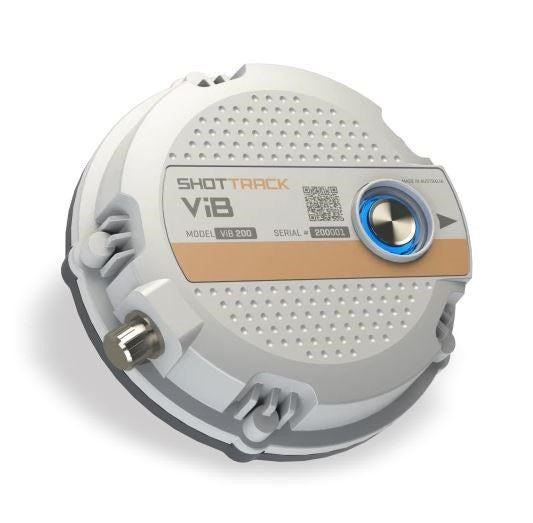 ShotTrack are proud to release The ShotTrack ViB.
The ShotTrack is a fully self-contained vibration monitor designed for a broad range of testing.
With accelerometers ranging from 25g to 6,000g, selectable sample rate up to 32,000s/s, GPS Pulse per second embedded time stamp and up to 1000m remote wireless control and download, the ViB covers most of your vibration monitoring requirements.
 Overview
ShotTrack have developed a series of new vibration monitors designed to address the needs of users who require a cost effective time synchronized vibration monitoring solution.
Position and timing is determined using a GPS receiver. Providing there is a GPS fix, the triggered events are time stamped to UTC time and date and a one second marker (accurate to +/-50ns RMS) is recorded along with the vibration information.
This embedded time signal is displayed on output graphs and reports. The last PPS Marker captured indicates the exact second recorded in the event data, so the precise timing can be measured.
Features
Small, portable package
Fully self-contained
25g to 6,000g accelerometer range
Up to 32,000s/s Bandwidth 6 KHz
Bluetooth connectivity up to1km
GPS, with PPS timestamp
Software package
Rugged, IP 67, High shock resistance
External power supply
Solid state memory
Only charging cable
Purpose-built software
Standard Dyno-Bolt mounting
3 tab – additional base plate
Benefits
Quick and easy deployment
No need for data acquisition units
Far—Near field testing capabilities
Capture key data
Control units remotely
Accurate time synchronization
Analyse and export data into reports
Survival in the toughest conditions
For permanent fixtures
High vibration tolerant circuitry
Eliminates common weaknesses
For easy setup, analysis and reports
Easy deployment and retrieval
Alternative coupling options
Request a quote/ make an enquiry today through our enquiry box on this page.