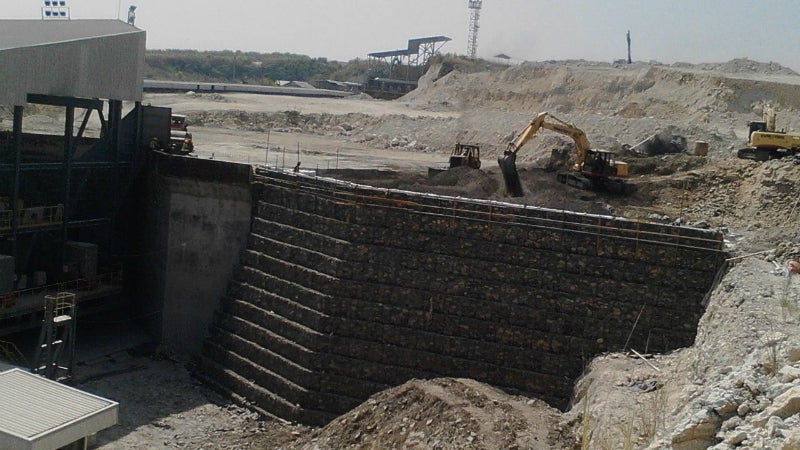 Indonesia's second-largest cement producer, PT Indocement, wanted to extend its factory in the South of Jakarta. The new retaining structure would be connected to the existing concrete vertical crusher wall.
The total soil height to be retained was approximately 14m. The area is characterised by high seismicity and horizontal accelerations of up to 0.23g. These challenges had to be considered in the design process, in addition to that of slope stability which is faced when modifying slope angles beyond their natural angle of repose.
Another constraint of the project was the maximum available space behind the new retaining structure which was equal to 13m.
The client first considered a gabion mass gravity retaining wall made. However, being 14m high, this did not meet the client's requirements for construction program.
Addressing these project requirements, Maccaferri proposed a hybrid reinforced soil wall combining the Terramesh® System in conjunction with MacGrid® WG polymeric geogrids. The Terramesh® would provide the fascia elements and secondary soil reinforcement, and MacGrid WG the primary soil reinforcement. These hybrid structures offer greater cost efficiency than traditional mono-product soil reinforcement systems when used in tall and / or high surcharge load structures.
The solution was designed using the MacSTARS W 4.0 software, optimising the geogrid strengths and spacing. Global and internal stability checks were performed.
The modular Terramesh units were used to form the rock faced reinforced soil wall. The system features a gabion fascia element with an integral mesh geogrid tail. The units are fabricated from heavily GalMac® galvanized and polymer coated steel wire to provide a long design life. The fascia component of the Terramesh unit was filled with suitable gabion stone fill. Structural backfill was then placed upon the soil reinforcement geogrids and compacted.
The MacGrid WG geogrids are laid horizontally at the appropriate levels and then also structural backfill placed upon them. Used in conjunction with the soil, geogrids enable the soil to perform better than it would in its unreinforced state due to their high tensile strength, low strain and good interaction with the soil. They enable soils to accommodate greater loads and stand at steeper angles.
Terramesh hybrid reinforced soil slopes and structures are ideal when constructed on soils which have poor bearing capacity because they can accommodate differential settlement far better than more rigid solutions. This is also a great benefit in seismic zones where these systems have been proven to withstand seismic activity far better than more rigid retaining structures.
The 150kN/m MacGrid WG is a woven planar geogrid manufactured from high tenacity PET yarns coated with PVC in order to maximise its durability.
Geogrid reinforcements maximise the opportunity to reuse site-won materials as backfill to a reinforced slope. This saves on the export and import of materials from site, embracing sustainability and reducing polluting truck movements.
Construction of the reinforced soil wall took approximately two months to complete.
Maccaferri UK and Ireland technical manager Nicola Brusa is to be a guest speaker at...