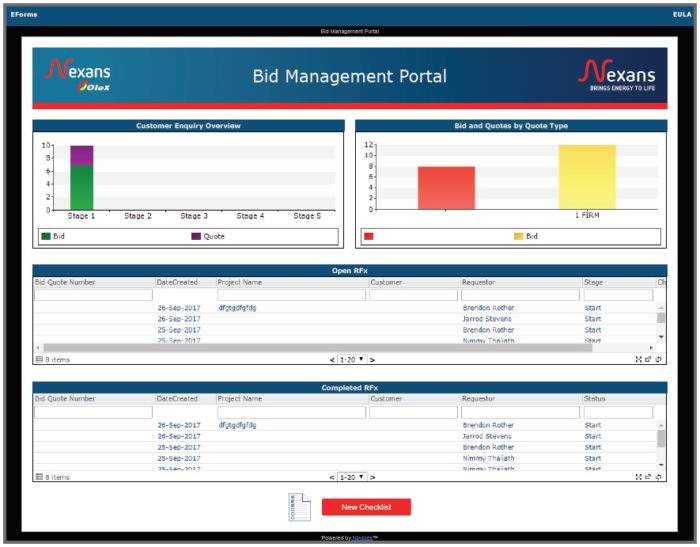 Nexans Olex is one of Australia's largest manufacturers of electrical cables with more than 75 years of experience, servicing the Australian markets in the building and construction, infrastructure, energy resources, renewable energy and electricity supply industries.
Nexans Olex
Industry: Manufacturing
Founded: 1940
Location: Melbourne, Victoria
Size: 500+
Solution Type: Custom Quotation Management System
Challenge:
Currently, Nexans Olex sourcing of cables is managed in Australia. Previously it was managed by two teams, one in Australia and one in China. They used MS Access as their database. Problems arose with synchronising the two instances when required, as they were dependant on multiple manual processes.
They were looking for Cloud-based database software, which could be used by the two teams, to manage their quotes more easily. Nexans Olex determined that there was a need for a specialised Quote Management System to act as a repository, and to keep track of the RFQ's coming through with reporting and automated reminder capabilities. The database needed to be robust and suitable to effectively maintain the data captured.
Solution:
The system facilitated the quotation process by Sales, creating a request for sourcing which is then taken up by the Sales team. Sales reviews the requirements, checks historic pricing and maps the codes with their current SAP system (manually)
The final output from the system is a quote using the group margin calculation, which can be used by the sales team to deliver a final quote to Nexans Olex clients
A live dashboard provides instant visibility into the status of all current quotes, the approvals review stages, along with some alerts and handy tabular reports with search options
Benefits:
Nexans Olex received a web-based quote management system which automates various processes. Some are extremely complicated and involved with sourcing a request, comparing historic prices, preparing landing costs and finally turning out a quote using a group margin calculation.
Is This Your Workplace?
"We have a paper heavy process with a number of different participants."
"Staff members often waste time looking for forms, reports and related documents."
"There's a lot of manual duplication of data and multiple spreadsheets."
"Our processes have outgrown the use of spreadsheets."
"Our SharePoint solutions are driving us nuts."
"We have an old database application that is no longer fitting our needs."
"Our old enterprise system is too expensive to replace and we are exploring ways to use data better."
Drawbacks of Traditional Custom Solutions:
It requires a hefty upfront investment
It can be risky – you don't always get what you expected
There is no user community to interact with
You can't return the software if you aren't satisfied
Changes can be costly and problematic
Slow to accommodate changing business needs
You Dream It, We Create It
Nimblex is an easy to use, Australian made web based platform, with a unique built-in configuration tool that renders as flexible as playdough. This unique 'drag & drop' configuration tool dramatically reduces the costs involved in creating a custom solution.
We Don't Code – We Configure
We have taken the concept of configuration to the next level, giving you:
Solutions that can be created without coding
Unprecedented customisation
Greater affordability and lower risk
Quick delivery
Improved efficiency
The ability to configure your own solutions in the future
Features such as workflow, business rules, dashboard reporting, audit trails, automated communication, document creation, etc.
Improved standardisation and automation of processes
Faster digitisation and deployment of mobile devices
We Can Offer You:
Compliance management solutions
KPI Dashboard solutions
Unique operational solutions
Job-specific CRMs
Application management systems
Rebate solutions
Asset management