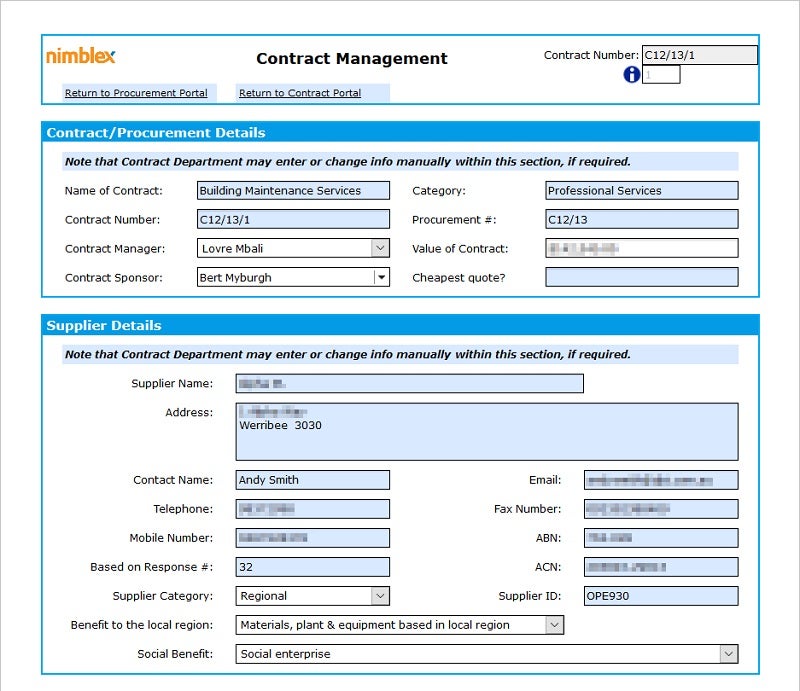 Nimblex is a highly flexible, web-based software platform. We create, configure and operate management solutions the way you like to work. Features include a configurable user interface, user accounts, permissions, a calculation engine, workflow and task scheduler.
Our standard Contract Management system allows you to achieve strong compliance requirements, while permitting you to shape and change the solution to suit your business. Start with a simple contract register or implement the full compliance package. The Nimblex solution allows you to establish contracts, with all staff being walked through the required activities. Managing contracts is easier with automated reminders for key dates, upcoming expiry dates will be highlighted on your home screen. You can manage, measure and track vendor performance, as well as making sure your WHS/OHS obligations are met. Closing a Contract and the final handover of a project is easier with automated reminders for warranty tracking and final completion payments.
Our off-the-shelf Procurement system allows you to control every aspect of your project. Nimblex will help you to capture, analyse and make decisions about single projects or a portfolio of projects. The initiation phase will walk staff through the process step by step. Upon completion procurements will be submitted for approval, advertising will begin. We can help you advertise by integrating with your eProcure portal, using our standard integration to initiate a tender, and pull down responses at the touch of a button, or integrating with your Tender Portal. Managing responses and awarding the contract is easier, procurement staff is able to enter responses as they arrive, or automatically download from TenderSearch, or other systems. At the cut-off date, evaluations will begin. Panelists may enter each score, or the aggregate scores will be entered by the Chair, multiple scoring rounds are supported by our solution. Once the evaluation is complete, one or more Contracts may be awarded.
You can use our standard model, or customise your own contract and procurement system.
Nimblex has provided Solutions for API and Drillwest, within the mining and drilling Industry.
For more information, please contact the company via the enquiries form.