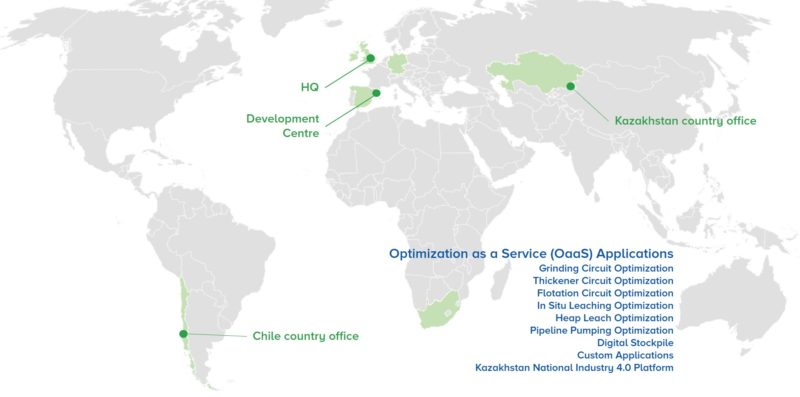 Intellisense.io provides a real-time decision making technology platform that uses next generation technologies such as Artificial Intelligence (AI) and Internet of Things (IoT) to deliver step change in productivity and efficiency across the Industrial sector.
The technology platform delivers a portfolio of Optimization as a service (OaaS) applications targeting the Mine-to-Market value chain of the Mining Industry with focus on individual process optimization and overall value chain optimization resulting in making the vision of 'Autonomous Operations' a reality.
The platform and applications are delivered through a 'No CapEx' business model, resulting in lower upfront cost and aligning value delivery to annual subscription of the technology.
Intellisense.io aims to enhance operational profitability in the mining sector by improving efficiency.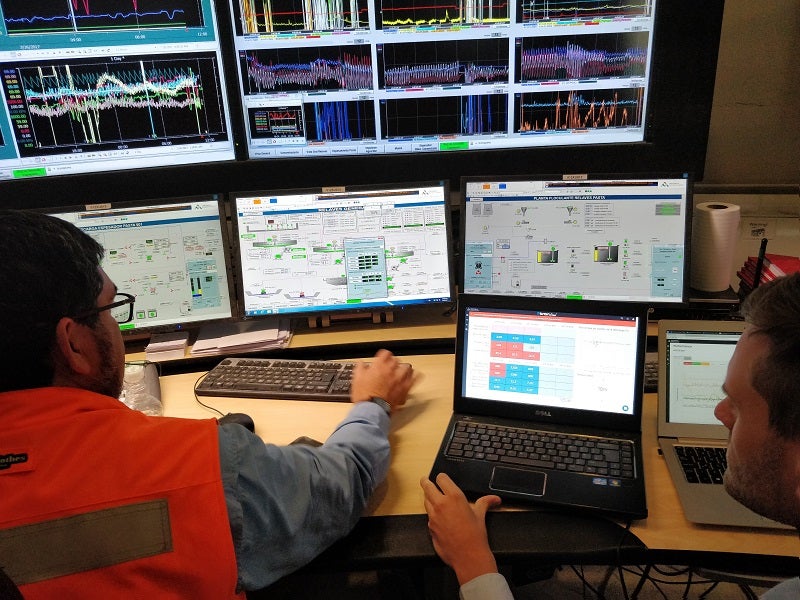 Our solutions are designed to optimise mining operations.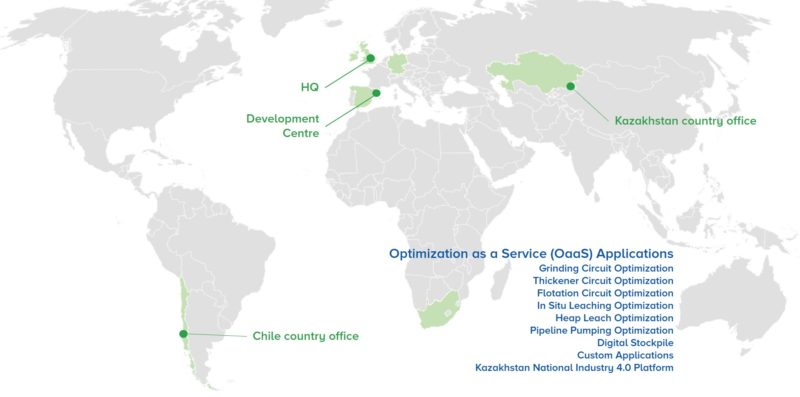 We are based in the UK, with facilities in Spain, Chile and Kazakhstan.
Operating across Latin America and Central Asia for base and precious metal operations, Intellisense.io is based in Cambridge, UK, with an engineering development center in Barcelona, Spain, complemented by field offices at Santiago, Chile, and Almaty, Kazakhstan.
Optimization as a Service (OaaS) Applications Software for the Mining Sector

The IntelliSense.io Mining Applications focus on enabling continuous process optimization in an autonomous mode by predicting process performance, simulating a range of optimization scenarios and finally delivering recommendations directly to the underlying control system or operators through a user friendly software.
The underlying technology and algorithms are continuously updated in real-time to factor in ore changes, material hardness and any system upgrades.
The IntelliSense.io technology for the Mining Industry comprises of the following:
brains.app: real-time decision-making platform
brains.vos: virtual operations simulator
OaaS Applications: Digital Plant, Digital Mine and Markets
Grinding Circuit Optimization Application
With deeper mines come increases in ore hardness, decreases in grade, and larger variations in material properties. Optimized management of the grinding circuit has become more critical to maintain in order to increase throughput, minimize specific energy consumption and sustain grinding effectiveness.
Our clients wanted to increase throughput as a result of declining ore grades, non-optimal mill control set points and a lack of knowledge of incoming material resulting in frequent overloads, which decreases overall production.
The IntelliSense.io Grinding Optimization Application delivers a digital twin of the semi-autogenous grinding (SAG) mill, which serves as a simulation environment to optimize operations without disrupting production.
A material model categorizes and tracks material from geological models through transportation and blending. Individual models produce hundreds of new metrics through virtual sensors eliminating the need for expensive physical sensors and also providing real time information. Machine learning predicts mill performance at least ten minutes ahead, identifying potential overload events and recommends the optimum bearing pressure thresholds
Financial metrics are integrated to the Optimizer design, enabling short term decisions to be made considering both financial and operational criterions.
Stability Solutions for Tailings Dams
Continuous operations can be increased by improving stability of target operational metrics and reducing unplanned thickener isolation events, resulting in increased throughput. Efficient operation of thickeners is critical to ensuring stability in the tailings dam and the extraction of process water.
The IntelliSense.io Thickener Circuit Optimization Application stabilizes the operation by reducing variability of the bed pressure, rake torque and clear water height. The application uses machine learning to advise operators when to adjust flow rates and flocculant dosages in order to stabilize the rake torque, increase underflow solids percentages and prevent isolations of the thickener.
Stockpile Block Model Development
Managing stockpiles stacking and reclaim based on an accurate understanding of materials in the stockpile is critical for mine planning and downstream plant processing.
The IntelliSense.io Stockpile Application creates a digital twin of the stockpile and enables creation of a block model of the stockpile that is integrated to Mine Planning Systems.
Pipeline Pumping Optimization Application
Long distance pipelines consume high energy for pumping water from sea level and the need to run an energy-optimized pumping schedule is vital to delivering value.
The IntelliSense.io Pipeline Pumping Optimization Application creates a digital twin of the pipeline. It also produces an energy optimized pump on/off schedule for each pumping station based on predicted water volume delivered, and the condition of the pump. This results in a 50% reduction in the number of pump on/off switches while delivering pump energy savings.
Industrial AI Applications Ecosystem
The underlying IntelliSense.io platform is made available to third-party application developers and Mining (Industrial) enterprises with in-house data analytics teams. The availability of Open APIs and SDKs allow third-party models to be uploaded to the platform and delivered as part of custom applications.
IntelliSense.io is committed to building an open standards based Industrial ecosystem that is Cloud-host agnostic, model agnostic and encourages wider adoption of data-based decision making principles through individual OaaS applications that can be developed by third-party application developers and Enterprise IT / Data analytics teams.
Our joint venture in Kazakhstan with the Government is an example of this ecosystem development, where our platform has been localized and made part of the country's Industry 4.0 Digitalization program. The IntelliSense.io platform is now supporting Digitalization projects across Kazakhstan's Primary Industries such as Mining, Oil & Gas among others and also been made available to third-party application developers to create new applications that are relevant for the local market.