FluidIntel is a technology-driven company focused on delivering hydrocarbon management solutions to businesses across the globe.
Servicing the mining sector, FluidIntel has been delivering innovative, result-oriented solutions for some of the world's leading companies for more than 16 years.
Boasting a highly qualified and internationally mobile team of consultants, designers and engineers, FluidIntel is well-equipped to provide intelligent solutions that help businesses realise cost savings, maximise efficiency and ensure hydrocarbon and fluid security.
FluidIntel is headquartered in Sydney and trusted by the world's top mining companies. The company works internationally to deliver innovative fluid management solutions.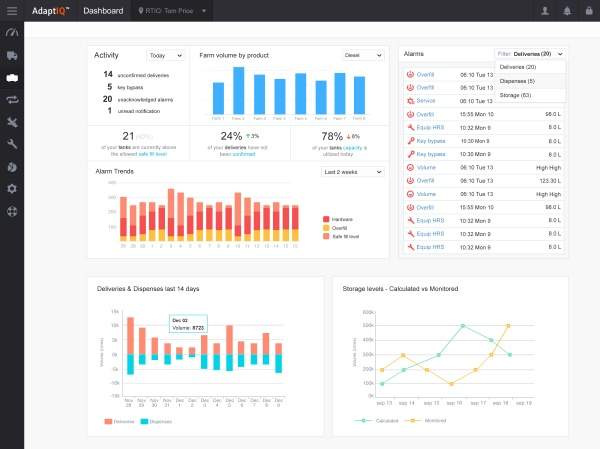 AdaptFMS uses AdaptIQ, an internet-based software that allows clients access to fuel management data via the internet anytime, anywhere.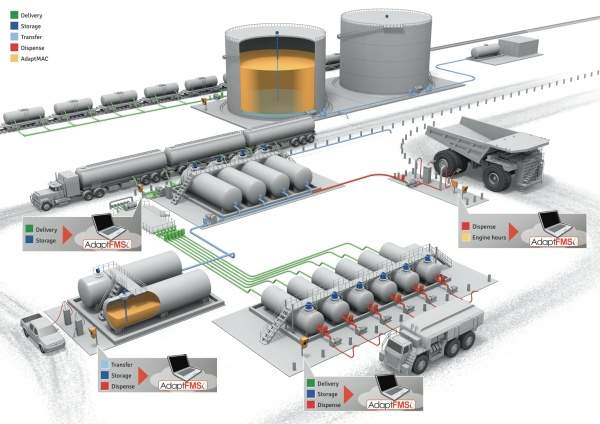 As AdaptFMS is internet-based, FluidIntel can offer unrivalled remote client support for changing settings, running health checks and ensuring trouble-free operation.
The AdaptMAC is primarily used for the control and authorisation of dispensing and transfer of fluids, monitoring storage levels or performing a delivery to the fuel facility.

FluidIntel provides the development, implementation and maintenance of fuel management systems for the mining industry.
Hydrocarbon and fuel management solutions
Adapt Fuel Management System (AdaptFMS) represents the benchmark in hydrocarbon management solutions. The result of years of groundbreaking innovation and testing, AdaptFMS was developed in consultation with our customers in the mining industry.
AdaptFMS is an enterprise level fuel management system that provides on-site hydrocarbon control and monitoring for the mining sector. By supplying robust field equipment with an innovative web-based application and backed by enterprise database storage, AdaptFMS is a fuel management system that is flexible, handles remote and harsh mining environments, and provides all levels of mining users with the site-wide hydrocarbon data they need.
AdaptFMS provides the mining enterprise with comprehensive fuel and oil management by monitoring and controlling deliveries, transfers, storage and dispensing from a central web application, AdaptIQ.
The system utilises field measurement and control hardware to capture transaction and storage data, which is pushed to AdaptIQ. Fuel and oils are only dispensed to authorised equipment items that are identified by PIN or RFID tag. An additional layer of accountability can be added by requiring user authorisation at the dispensing or delivery point, which is reported as part of the transaction record.
Users can monitor their storage levels, transactions records, alarms and errors via web browser. Reports can be created ad hoc or using pre-defined templates. Data can be exported to third party systems or exported to excel for further analysis. Limited access can be granted to suppliers such as fuel vendors to assist in inventory management. As the software development is driven by both user feedback and technical innovation in the hardware, new features are under constant development.
Manage fluid metering, transfers, dispensing
The Adapt Management and Control unit (AdaptMAC) is built to withstand the harsh conditions encountered on sites and is the central hub that allows for fluid metering, transfer and dispensing. Featuring a touch screen and solid-state construction, AdaptMAC is the in-field access point for authorising users and equipment, reviewing tank levels and recording transaction data.
Authorise and record transaction data
The AdaptIO flow computer connects to the AdaptMAC to authorise, record and display transaction data. It is capable of measuring both non-temperature compensated volumes and compensated volumes by interfacing with multi-channel flow meters and temperature sensors while performing pulse error and meter direction detection.
Hydrocarbon storage tank data
AdaptRTM is the interface between a site's hydrocarbon storage tanks and AdaptIQ. Compatible with a variety of tank gauge instruments, AdaptRTM both captures data on behalf of AdaptIQ and offers local tank level displays.
Monitor hydrocarbon deliveries, transfers, storage and dispensing
FluidIntel's user-friendly AdaptIQ software monitors all hydrocarbon deliveries, transfers, storage and dispensing. All transaction data is pushed directly to our server, meaning there is no need to manually monitor each site. Further, multiple sites can be monitored from within the system and being web-based, AdaptFMS may be accessed online from anywhere, on any device, 24/7; there is no need to download software to your PC.
Track hydrocarbon consumption
By monitoring how much fuel your equipment uses you can pinpoint exactly where your fuel budget is being spent. AdaptFMS allows you to accurately determine burn rates, calculate running costs and make decisions that will contribute to cost savings.
Remote access
Whether you are on-site or sitting in corporate headquarters, AdaptFMS keeps you in the loop. Monitor all energy usage, storage levels and fuel alarms from wherever you are. Automated tank gauging provides up to the minute inventory levels and facilitates comprehensive stock management. The inherent flexibility of AdaptFMS allows FluidIntel to design the system around your existing instrumentation, thereby delivering solutions that are both tailored to your requirements and cost effective.