Slurry pumps are predominantly used in mining and mineral processing industries. Aker Wirth slurry pumps operate at pressures up to 26MPa with a delivery volume up to 1,000m³/h and drive power up to 2,500kW.
Piston pumps – proven reliability
Aker Wirth introduced positive displacement pumps at the beginning of the 1900s when these pumps were initially used in the drilling industry. Within the Aker Wirth range, piston pumps represent the technically ultimately straight-forward solution – and the one requiring the lowest investment cost.
Piston diaphragm pumps – smart saver design
In order to minimize the wear of basic components involved in transporting highly abrasive materials, Aker Wirth developed a piston-diaphragm pump in 1968 that used a diaphragm and an intermediate medium to prevent the transported materials from coming in contact with the pump's pistons and seal components.
High-temperature pumps – the gold standard
High-temperature pumps are used in process engineering and refining when the temperature of the medium being pumped exceeds 130°C. This is the case, for example, in modern gold and nickel refining operations. Here, the slurry has a temperature of 160°C to 210°C.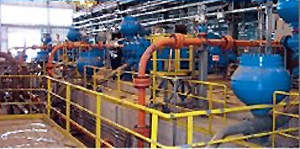 Aker Wirth piston pumps are widely used in the drilling industry, as at the Antamina Copper Zinc Mine in Peru.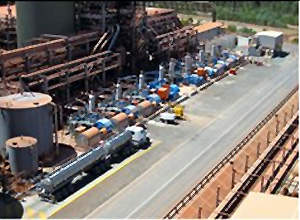 Eight Aker Wirth piston diaphragm pumps were installed at the Comalco Alumina Refinery in Australia.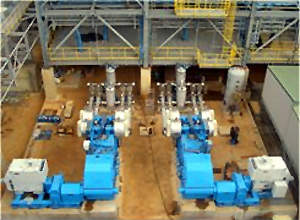 Six Aker Wirth piston diaphragm pumps were delivered for the HPAL Process in the Goro Nickel Project, New Caledonia.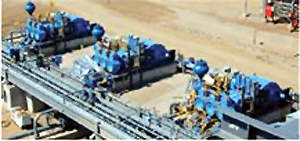 Three piston diaphragm pumps were delivered and commissioned by Aker Wirth for the Pasminco Century Pipeline, Australia.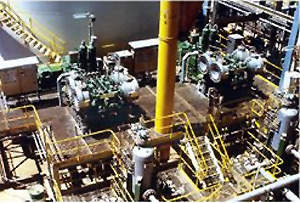 Two Aker Wirth high-temperature pumps operate at the Cawse Nickel Operations in Western Australia.
Aker Wirth piston diaphragm pumps at Pasminco Century pipeline
Aker Wirth delivered and commissioned three piston diaphragm pumps for the Pasminco Century project in Australia. From the Century base metals deposit, where the ore is concentrated, the ore had to be pumped as slurry through 304km of pipeline.
Three Aker Wirth piston diaphragm pumps type TPM 8¾in by 14in were installed at the minesite. Each pump is able to handle a flow rate of 177m³/h at a maximum pressure of 20Mpa. The pumps are driven by 1,300kW electric motors with variable frequency drives.
High-temperature autoclave diaphragm pumps at Cawse Nickel
Aker Wirth delivered and commissioned two piston diaphragm pumps to the Cawse Nickel Operations in Western Australia. The piston diaphragm pumps, DPM 9in by 18in are used in the nickel winning process as feed pumps to pump lateritic nickel ore slurry at a maximum of 185°C into an autoclave. Each pump is designed for a flow rate of 181m³/h, with a discharge pressure of 5Mpa. The electric motor size is 335kW.
For process reasons the hot slurry of 185°C cannot be cooled down and this necessitates pumps incorporating a unique special cooling leg, which enables the slurry in the immediate area of the diaphragm to be cooled down to an acceptable temperature.
Aker Wirth produce the world's largest diaphragm pump
In June 2002, Inco Australia Management Pty. Ltd. of Brisbane, Australia placed an order with Aker Wirth for nine piston diaphragm pumps for the Goro Nickel Project in New Caledonia. The scope of supply Aker Wirth comprises six type DPM 1,250 hot slurry duplex piston diaphragm pumps and three type DPM 1,250 pipeline pumps. Each pump has a discharge flow of 720m³/h, 85bar pressure and a motor capacity of 1,900kW. The pump's total weight amounts to 80,000kg including motor. This implies the world's largest pumps ever built.
Two hot slurry diaphragm pumps each feed a reactor with nickel laterite slurry. The slurry has a temperature of 130°C, later changed to 200°C. The core problem of these applications is that the slurry may not cool down but requires to be fed into the reactor at original temperature.
On the other hand, the diaphragm cannot operate with these high temperatures. In a cooling leg especially developed for hot slurries, this slurry is cooled down in a way to provide only max. 80°C at the diaphragm, but the slurry is not cooled down for the process itself. This follows the technique used at Cawse Nickel first in the late nineties.