Rain for Rent is a leading provider of temporary liquid-handling solutions including pumps, tanks, filtration and spill containment. Projects range from flood relief to construction site dewatering, sewer bypasses and industrial plant turnarounds.
Known for its systems engineering expertise and an ability to tackle complex jobs cost effectively, Rain for Rent provides exceptionally high value to organisations and mines with critical liquid management issues. Family owned and operated since 1934, Rain for Rent serves the US and Canada from over 60 locations.
Pumps for mine applications
Choosing a pump is a vital decision for mines. The goal should be to choose an efficient pump with low maintenance costs. These two qualities together will provide lower overall costs.
Before you can price which pump is the best for your mine you should know a few factors: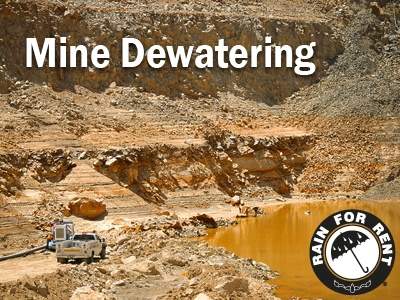 Rain for Rent provides rental equipment for the most effective mine dewatering.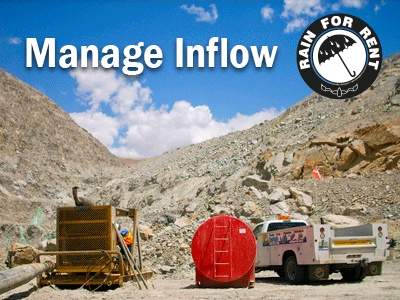 Design a portable back-up pump solution for occasions when your inflow could increase. Rain for Rent is available 24/7 for emergency responses.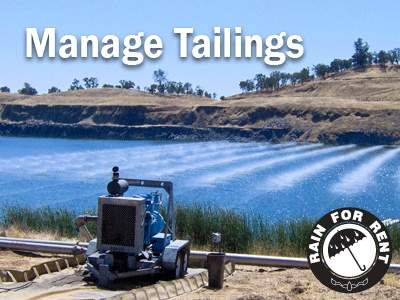 Prolong the life of your equipment with mine filtration or speed evaporation in your tailings pond with our custom engineered solutions.
The 8in suction, 6in discharge HH-160i is a stainless-steel centrifugal pump capable of high flow and high head for versatility in mine applications.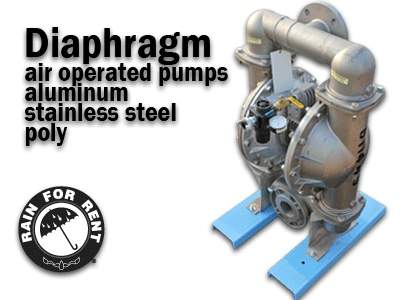 Our stainless-steel, aluminium or poly diaphragm pumps can easily handle a variable flow of large solids and more viscous liquids for every mine application.
Total dynamic head the pump will encounter under normal operations
Desired flow rate
Suction lift
Pumped fluid characteristics (viscosity, temperature, pH level)
Portable centrifugal pumps
Rain for Rent proudly supplies mines with portable centrifugal PowerPrime Pumps. Made in the US, our pumps offer high efficiency, high head and high flow capabilities, and feature low maintenance costs.
Superior solids-handling capabilities make these pumps some of the most effective mine pumps because they perform in a larger variety of mine environments.
Self-priming emergency back-up pumps
Don't let seasonal inflow fluctuations concern you; our pumps will keep working efficiently even if your mine suffers an electrical breakdown, power outage or a sudden increase in mine water inflow. We can plan redundant pumping systems for any unexpected flow increases.
Tailings pond filtration and evaporation systems
Are your tailings ponds filling up faster than expected? Rain for Rent offers a complete line of tailings pond filtration and unique pond evaporation systems.
Additional pump types for mining use
Submersible pumps can play a crucial role when a smaller footprint and underwater pump capabilities are needed. Submersible pumps are available in a variety of sizes and capabilities.
When the fluid you need to pump is a bit thicker than water, Rain for Rent offers air-operated diaphragm pumps to provide continuous pumping with a reduced risk when pumping thick or more intense pH level containing liquids.
Aluminium and HDPE pipe
Rain for Rent has the largest inventory of rental pipe in the nation; we have over 7,000 miles of pipe. Our aluminum pipe is pressure tested and widely considered to be one of the most durable pipes available for rent. We also provide certified fusion technicians for HDPE pipe and have sizes from 3in to 42in pipe available.
Contact Rain for Rent for your mine dewatering needs
Our network of branches allows for rapid deployment for emergency response anywhere, and we are available 24-hours a day at +1 800 742 7246.