GE's multi-stage centrifugal SPS™ surface pumping systems, drives, controls and communication systems are available to the mining, municipal industrial and geothermal (MMIG) industry for use in the following applications:
Seawater or raw water transfer (to mines for processing)
Mine de-watering – open pit, decline and shaft mining
Dust suppression
Water disposal injection
Power fluid pumping for borehole mining, or long wall hydraulic equipment
Boiler feed
Cavern (salt-dome) leaching
Pre-packaged surface pumping units
SPS surface pumps are delivered to the job site pre-assembled and can be used as portable skid-mounted units, trailer-mounted units and as multiple pumps in fixed installations at main pump stations.
Ideally suited for mining and MMIG applications, SPS systems only require suction flange, discharge flange and power hookups upon delivery. The Easily Modified SPS Frame (EMF™) is pre-wired with instrumentation and cabling terminated in a central junction box. This proprietary frame, paired with the versatile, modular design of our pumps, facilitates on-site installation and in-field maintenance with efficient site preparation.
Our SPS pumps are available in gas, electric or diesel-powered models and can handle up to 2,500 US gpm, discharging pressures up to 6,000psi.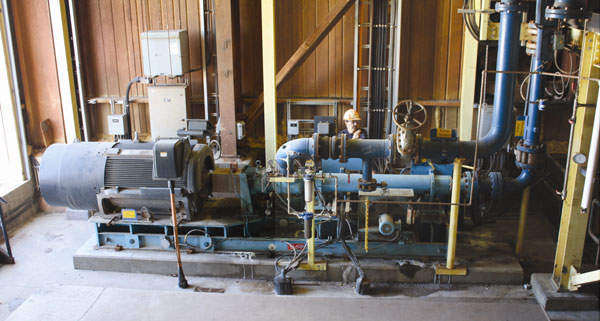 Potash mine - saturated brine application, Canada.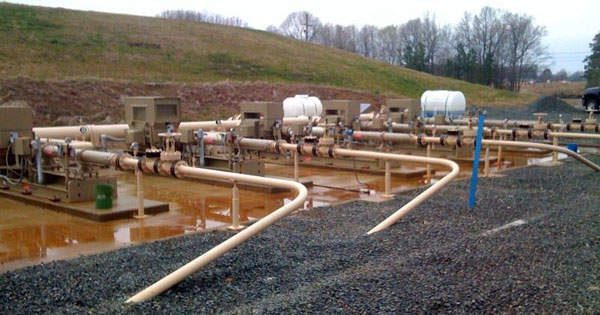 Solution mining - cavern storage brine pumps, US.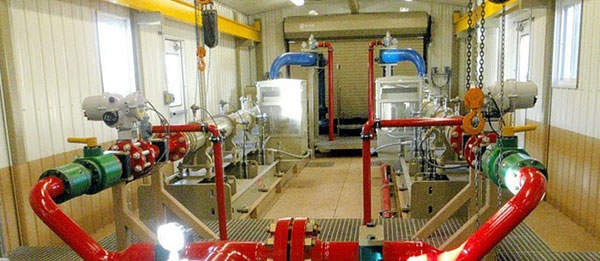 SPS power fluid pumps on borehole mining application at a manganese mine, US.
SPS pumps for mine water management
Mine operators must be able to manage water throughout the operation and quickly alleviate problems as they occur. Effective dewatering utilizing GE's SPS pumps creates dry conditions so that low-strength aquifer sequence materials (sands, gravel, and clays) can be excavated.
Our products are designed to reduce wear and corrosion on equipment, as well as the possibility of pump burn out. They are also designed to produce unsaturated excavated material, which is less costly to transport than heavier saturated materials.
In many mines, the amount of water that must be pumped exceeds the mines' water consumption requirements. In this case, a majority of the excess water is discharged to our surface SPS water pumping systems, re-injected into aquifers, applied to crop land, or piped to power plants.
Pumping systems for cavern leaching
In salt dome leaching processes, our SPS pumps are frequently used to circulate water to absorb the salt content. A large underground cavern is formed after the salt has been leached and the brine water is removed.
GE's SPS pumps are also used to re-inject liquids and liquefied gases such as oil, natural gas, light hydrogen gas or even hazardous waste into the empty caverns for storage.
Pump controls, condition monitoring and diagnostic systems
GE offers a wide variety of automation and surface control equipment to help you increase the reliability and efficiency of your surface pumping systems.
Vector™ VII variable speed drives (VSD) are compatible with SPS™ pumping systems and include an intuitive operator interface, application specific software and expanded communications capability.
Available in ratings from 104kVA-1,515kVA, these drives include a full-color graphical interface to provide motor speed, current as well as overload and underload settings. Controlled starts, auto restarts, delays as well as programmable security codes and digital lockout features are available with the Vector VII VSD to provide added equipment protection.
The Apollo™ intelligent control system is a standardized machine control and monitoring interface, designed to improve the effectiveness of your reliability / maintenance program by continually monitoring your pump system's health and automatically notifying you of changes or conditions that require intervention.
Apollo includes pre-loaded pump curves and a full-color graphical display, allowing you to quickly assess equipment status information and easily develop customized programming.
Remote monitoring and control of pump operation is possible for sites located anywhere in the world using SCADA systems connected via Ethernet, cellular modems, radio or satellite communication systems.
Certified pumps for the mining industry
GE SPS units are manufactured to ISO 9001 quality standards and are tested to meet API RP 11S2 regulations. Depending on final destination and area of operation, units can be manufactured to meet most international standards, including ABS, DNV, CE and Atex.