APS
Remote-Control Wireless Technology, and Dewatering and Recovery Systems

Address
48 Round Bottom Road,
Morgantown,
WV 26508,
Other,
United States of America
Phone
Allegheny Process Systems (APS) distributes remote-control wireless systems. Applications for our wireless solutions range from simple automated pump control to wireless tactical airfield lighting control to remote temperature monitoring. Anything that can be switched (i.e. on/off and forwards/backwards) or anything that can send and receive data can do so wirelessly.
Custom-designed wireless switches for pumps
APS provides custom-designed remote-control wireless switches for pumps including Denver, Thomas, Sala, Orion and Metso slurry pumps; 1hp-1,600hp submersible pumps, available in stainless steel; centrifugal pumps; horizontal centrifugal pumps; progressive cavity pumps, macerators and control systems; heavy-duty submersible pumps with agitators; and mine-duty submersible pumps with agitators.
Custom remote-control wireless switches for mines
APS also provides custom-designed remote-control wireless switches for the following products:
Wire and urethane screening products
Wireless radio-frequency remote control and telemetry devices
Large and small pivot pins
Premium rubber and rubber-lined hose
Cyclones and concentrator tables
Cyclones, spirals, in-line screens
High-tech electro-magnetic water treatment
Flame-applied hard coatings
Power transmissions and bearings
Bulk conveyor equipment and components
Custom-engineered components
Direct or reducer drive mixers
Organic plant nutrients made from coal
High-frequency dewatering screens
Mine remote-control wireless systems and services
Our services and products for mining-application remote-control wireless systems include: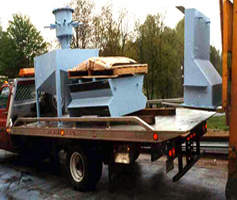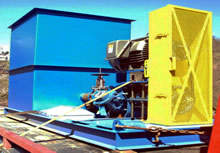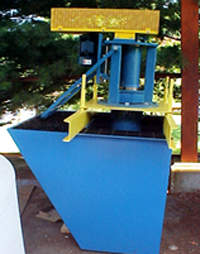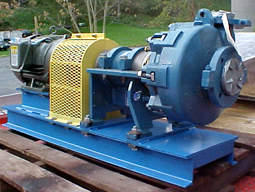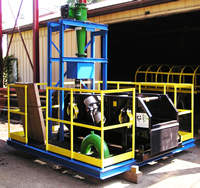 Engineering design
Project oversight
Inventory control services
Custom-design process solutions
Automated pump raft
Fine coal dewatering
Sump pump module
Custom bucket elevators
Underground dewatering systems
Pond coal recovery
Pond coal dewatering
Cyclo-sieve for underground dewatering
Pump repair
Ceramic-enhanced parts
Pump replacement parts
Inventory of replacement parts
Skid-mounted slurry pump / sump
When a sand operator needed to transport sand slurry to remote storage area, APS designed and built a slurry pump / sump on a skid to collect the sand slurry and pump it to its destination.
Sump / pump / cyclone system for solids removal
For a plastic recycle plant with dirty water discharge, APS designed a sump / pump / cyclone system to remove fine solids from the sewer.
Bases and guards for heavy-duty pumps
APS fabricated a base and guard for a direct-coupled heavy-duty pump to move the metal powder slurry from a powder plant's atomizer. 
Coalmine run-off recovery system
APS designed and fabricated a system to recover coalmine run-off before it entered a pond and product was lost, thus providing more sellable product and reducing pond maintenance costs.
Rafts for access to pond pumps
APS has designed and fabricated a man and tool raft for access to pond pumps.
Particle recovery, dewatering and storage system
APS has designed a recovery, de-watering and storage tube system to recover ultra-fine particles for a metal powder plant.
Pump wear-prevention washer
For underground mine water contaminated with fine particles that caused excessive pump wear, APS provides a mini-washer which recovers coal to products and protects pumps and equipment from wear.
Mine water/solids separation system
A customer was experiencing high rates of equipment replacement at their truck wash due to wear caused by solids in the recovered water. APS designed a separation system to provide the truck wash with clean water and send the waste to a settling pond.
Automated digger pump and raft for pond cleaning
For a sediment pond filled with coal fines that needed quick and continuous cleaning, APS designed and fabricated an automated digger pump and raft system.
Effluent-return sump and pump system
APS' effluent-return sump and pump system reduces magnetite loss in coal-preparation plants.
Custom-designed bucket elevator
Custom-designed bucket elevators prevent coarse coal spillage in underground coal mine by lifting coal straight to the product belt.
At APS, our first priority is customer satisfaction. Our mission is the use of highest-quality products and innovative engineering to provide cost-effective solutions to process problems for our mining and industrial customers.
AP Services, Inc.
48 Round Bottom Road
Morgantown
WV 26508
Other
United States of America



Telephone Number




Fax Number




Email Address