Mondial has a strong culture of client service, and its management team, consultants and employees have been performing a range of enterprise and related risk management projects for local and international clients since 1995.
Risk management for mining projects
Our risk management methodologies have been developed over many years of experience and are typically custom-designed for each and every client, based on their individual requirements and levels of risk management maturity at the time of our involvement.
We follow international best practice and align our enterprise risk management (ERM) approaches with the requirements of the ISO 31 000:2009 framework on risk management; and/or the Australian-New Zealand standard on risk management – ASINZS4360:2004.
With over 50 years of combined experience amongst our senior staff, we are confident in our ability to design and implement business relevant solutions.

Mondial strives to adapt a fit-to-purpose application of risk management rather than a standard off-the-shelf application.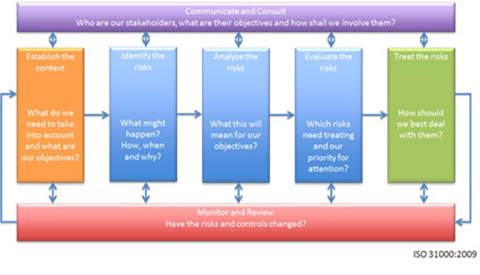 Mondial ERM services are all primarily premised on the ISO 31000 methodology.
Research has shown that companies that invest time and effort in planning for an unforeseen and potentially disastrous event could expect an improvement in share price performance of up to 15%.
Enterprise risk management (ERM)
Enterprise risk management (ERM) has evolved into a more holistic process of identifying, analysing and managing all risks that may impact on an organisation achieving its objectives. ERM is the result of the search by organisations for a model that provides them with a sustainable and competitive advantage.
ERM, which is now accepted globally, enables any organisation to add shareholder and stakeholder value by early identification of both threats and opportunities and to manage these to the organisation's best advantage.
Risk management services for the mining industry
Mondial provides a range of services to its clients to assist them on the road towards risk management maturity. These include:
Design and development of a risk management framework and system
'Rent a risk manager'- outsourcing of internal risk management functions
Compilation of various risk reporting requirements, templates and risk reporting mechanisms
Performance of gap analyses (current status vs. international benchmarks for industry sector)
Identifying and analysing operational, process and strategic risks
Providing specialist ERM training
Undertaking of risk-based due diligence exercises and independent programme assurance
Consulting with the client at the risk, audit committees or board level on the requirements of King III and its practical implementation, as well as serving as independent committee members
Facilitation of risk bow ties exercises
Development and delivery of risk-based audit plans and audit processes, as well as conducting such audits
Provide specialist advice on project risk management during all phases of capital projects and acquisitions
Managing a selection and evaluation process as well as gap analysis of governance, risk and compliance software solutions according to customer specific needs
Providing specialist advice on the application of the ISO 31000 Risk Management Standard
Training for enterprise risk management
Mondial is in a position to provide training in ERM and all aspects related thereto. Courses are either of a generic nature or are developed and amended to suit the needs of a specific client. Some of our generic courses include:
Basic ERM course on an e-learning platform
Risk management for non-risk managers
ERM high-level introduction for risk practitioners and related functions
ERM facilitating a risk assessment
Risk-based control reviews and design
How to apply and introduce risk bowties as a risk management tool
Risk-based auditing and the functioning of risk and audit committees
Control self-assessments, a means of validating controls employed to treat risks
Fundamentals of risk assessments
Incident and accident investigation: the why, where, who, how and when of learning from incidents and near misses
Governance, risk management and compliance
Any tailor-made risk related training strategy and risk skill transfer programme or programmes that your organisation may require
Specialist mining project risk management
Mondial can provide specialist advice on project risk management during all phases of capital projects and acquisitions.
One of the fundamentals of effective project management is the identification and management of risks. We identify the risks associated with the design and construction prior to the start of any project. These risks are highlighted and monitored closely throughout the duration of the project.
Ongoing assessment of further risks remains one of our key functions to ensure that the correct management decisions are made to safeguard the projects timeline and budget.