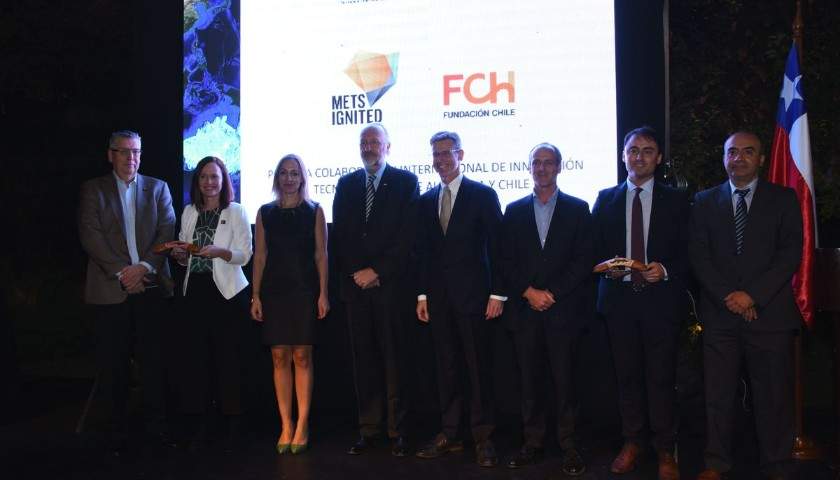 International exchange programme METStech Passport has been widely celebrated at EXPOMIN in Chile, with METS Ignited and partners receiving an award for the programme.
METS Ignited in partnership with the Australian Trade and Investment Commission (Austrade) and Fundacion Chile's Open Innovation programme, Expande, officially opened the program at the mining exhibition and congress on Friday 27 April.
At the opening was Australian Ambassador to Chile, Robert Fergusson, Fundacion Chile New Business Development and Sustainability Manager Andres Pesce, Austrade Minister Counsellor for Trade Shannon Powell, METS Ignited CEO Ric Gros and Expande Executive Director, Enrique Molina.
METStech Passport seeks to promote the cross-collaboration of ideas to meet similar challenges, build on each countries' experience and promote collaboration between two innovation powerhouses, METS Ignited and Expande.
Australian mining equipment, technology and services (METS) scale-ups will undertake a two-week immersion in Chile during the second half of 2018, establishing direct contact with industry in order to promote technological collaboration and knowledge-sharing.
The program is looking for solution-focused METS companies solving challenges in exploration, sensing, digitisation, data analytics, and mining footprint. Participants should have a proven record of local market sales, a client database and a willingness to generate cross-border alliances and collaboration agreements.
METS Ignited CEO Ric Gros congratulated our industry partners on the success of the METStech Passport and encouraged Australian METS companies to apply.
"METS Ignited is committed to harvesting more ways to collaboratively support the METS sector and help them meet common challenges, creating more and better solutions for the mining ecosystem. This, to us, is a huge first step that will allow us to continue finding more commercial opportunities and strengthening our sector, with innovation as its growth engine," he said.
Mr Gros said he was proud to receive an award recognising the program's innovative and collaborative model from Chile's mining minister and Australian authorities during Australian Night at the Australian Embassy Residence.
Fundacion Chile's New Business Development and Sustainability Manager Andres Pesce said removing barriers to collaboration with markets such as Australia, which shares similar challenges, was essential for developing Chile's mining and METS industries.
Austrade's Minister Counsellor for Trade for Andean LATAM Shannon Powell said the METStech Passport was the second tech-innovation exchange program between Australia and Latin America, designed to ignite cross collaboration.
Expande Executive Director Enrique Molina said the METStech Passport was the first step toward a long-term connection with our international partners that would permit the opening of new markets and a better future for the global mining industry.
Fast facts:
The passport initiative is an exchange programme to help Australian and Chilean mining suppliers gain international exposure, cross-pollinate ideas and facilitate international expansion
Applications open soon for solution-focused METS companies solving challenges in exploration, sensing, digitisation, data analytics, and the mining footprint.
As the world's largest global copper producer, Chile is a key growth area for Australian METS companies