Kelley Trucking is an infrastructural construction company, specialising in mine stripping, ore and tailing extraction and handling, portable screening and crushing, site reclamation, pond construction, reservoir and dam construction, access road construction, runway construction and earthworks.
Kelley has more than 35 years of experience in heavy construction, hauling and mine related services. Our experience and expertise have made us an industry leader in the North American Rocky Mountain region. Our customer relations are fostered through a team approach to project planning, construction and close out.
Earthmoving, hauling, screening and crushing equipment
Kelley Trucking has an extensive fleet of earthmoving, hauling, screening and crushing equipment that is impeccably maintained. This fleet includes Cat 657, 627, 631, 633 and 623 scrapers; Cat 740 articulated haul trucks; Cat D10, D9, D8, and D6 dozers, Cat 375, 365 350, 345, and 330 excavators; Cat 980 and 966 loaders; Cat 14 and 163 motor graders; Cat 631 and 621 water wagons; and a complete truck fleet of tandems and tractor-trailers for hauling dirt aggregates and rock.
Mine access, earthworks and infrastructure
Kelley Trucking's services include site access through the pioneering and construction of access roads, site development through pit stripping, pond construction and overburden removal, production through ore extraction, portable screening and crushing; and pit reclamation through tailing consolidation, capping and topsoil replacement.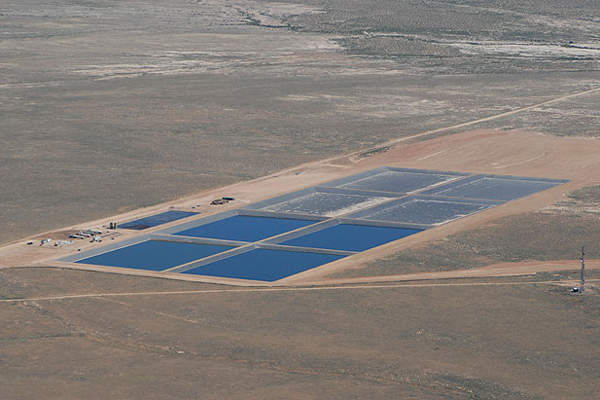 Fully constructed evaporation ponds are filled with production water from natural gas drilling operations at the Danish Flats Produced Water Ponds project located in Cisco, Utah (2007).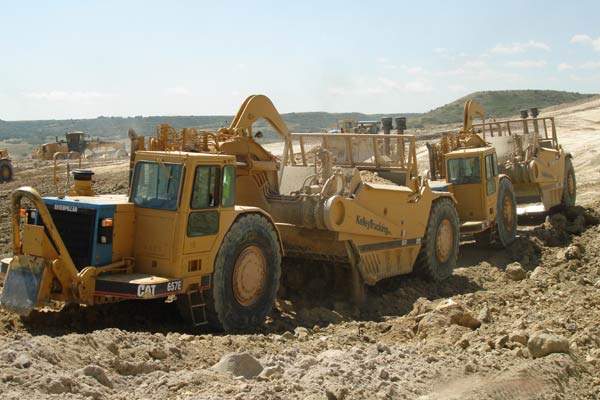 A pair of Cat 657E scrapers are used to excavate sandstone to be processed into fill material during the construction of the Rueter-Hess Dam and Reservoir project in Parker, Colorado (2009).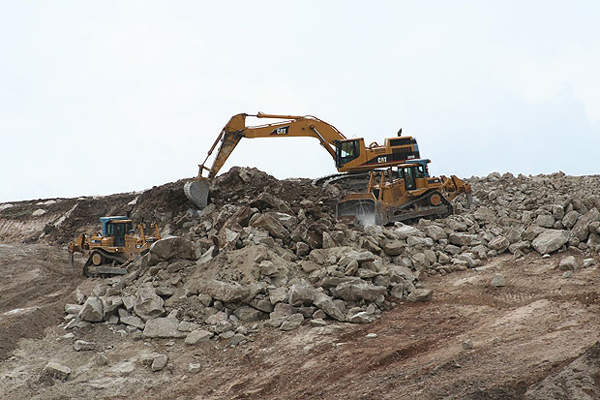 A Cat 375 excavator and two Cat D10 dozers mucking shot rock after a production blast on the Colorado DOT Hogback Parking Lot project in Morrison, Colorado (2008).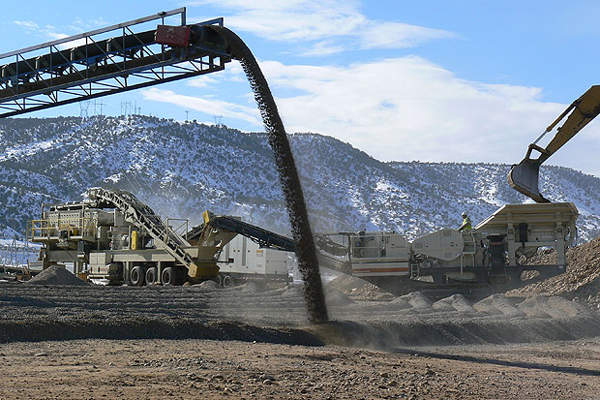 Portable crushers are being used to produce sub-base and base-course materials to be used on the Garfield County Airport project in Rifle, Colorado (2010).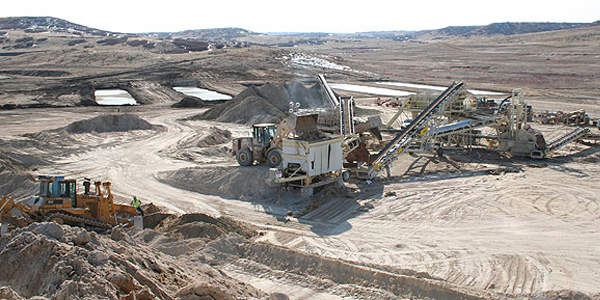 Portable screen plants producing washed concrete sand and graded drain gravel for use in the chimney and blanket drains on the Rueter-Hess Dam and Reservoir project in Parker, Colorado (2010).
These services allow our customers to start their projects efficiently, to maximize material production, and ensure that reclamation is completed in a timely and cost-effective manner.
Earthmoving equipment for mass excavation
Kelley Trucking's fleet of earthmoving equipment has been structured specifically for mass excavation projects, including stripping and overburden removal from new and active mine sites. Our entire equipment fleet is continuously maintained in top condition, which ensures less down time and more productivity.
CAT scrapers
Our fleet of Cat 657E scrapers can move more than twice the volume of material in less time than an equal number of smaller series scrapers. Fewer machines needed to do the same job can provide many benefits, including less down-time, fewer employee-related issues, faster mobilization and demobilization. These factors make the Cat 657's perfect for large volume mass excavation projects.
Cat 631 push scrapers are well suited for mass excavation projects that involve bank or stockpiled materials of a larger material size such as pit run or shot rock.
Cat 627G scrapers can be used for a host of mass excavation operations but are most useful in pit stripping and site reclamation.