Ironbark Heritage and Environment (IHE) is an innovative and dynamic heritage management and archaeological consultancy firm that specialises in indigenous and historical archaeology. We provide cost-effective and ethical solutions and services across a wide range of industries. IHE has offices in Western Australia, South Australia, NSW, the ACT and Victoria with expertise in providing a full range of archaeological and cultural heritage management services to organisations operating in the mining and resources, environmental planning, infrastructure, development, land management and tourism sectors.
IHE can specifically design and implement projects that complement the needs of businesses, organisations and individuals operating in:
Mining and natural resources
Urban and infrastructure development
Aboriginal communities
Commonwealth, state and local government
Environmental planning and management
Town planning
Land development
Community groups
At IHE, we understand that cultural and heritage issues can be complicated and time-consuming. That's why we work closely with our clients to offer a thorough and cost-effective approach to meet their heritage assessment requirements.
Site surveys and assessment
Field-based site surveys and significance assessments that form part of a comprehensive heritage impact project are our core business. Our services include: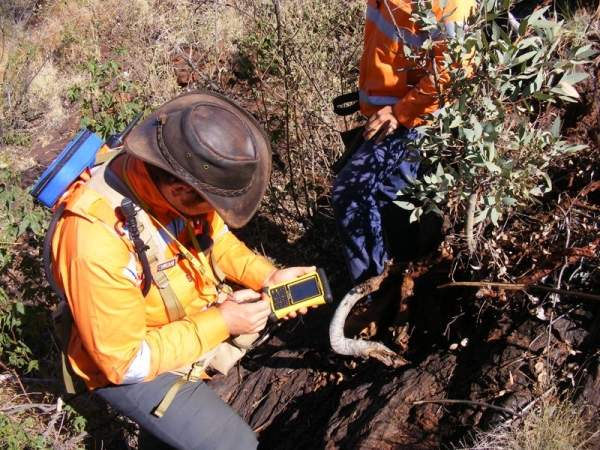 An IHE archaeologist captures field data with a Trimble and ESRI ArcPad in Pilbara, Western Australia.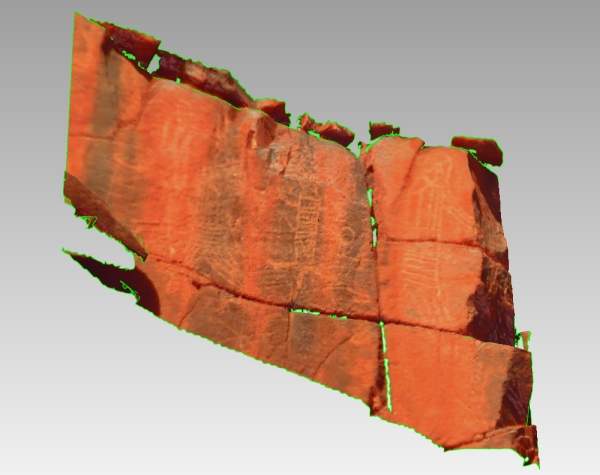 A laser scan of a panel of Wanna Munna Aboriginal rock art from Pilbara, Western Australia.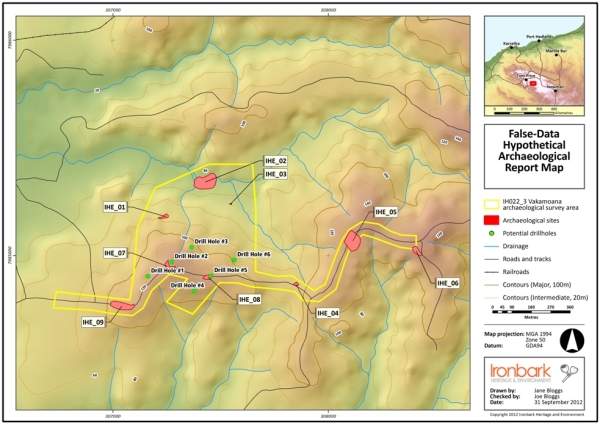 IHE conducts an archaeological salvage excavation on an Aboriginal site in NSW, Australia.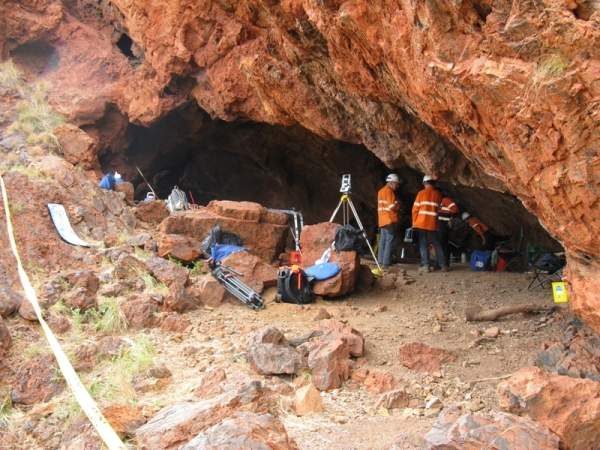 An example of an archaeological survey map for a survey report.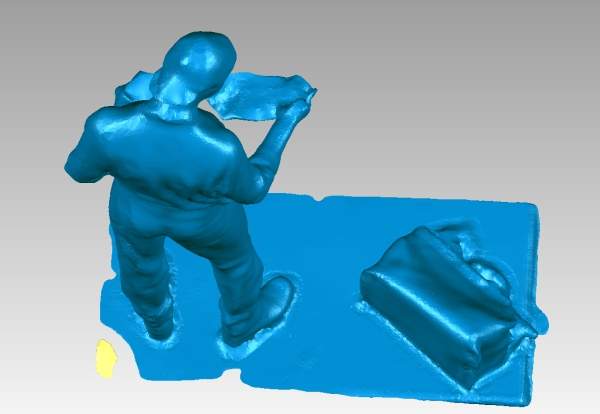 IHE conducts an archaeological excavation at a prehistoric aboriginal rock shelter habitation site in Pilbara, NSW.
We turned our 3D laser scan surveying tools onto the surveyor (a statue) in Perth, WA.
Desktop assessments
Surveys for indigenous and historic heritage sites in green fields developments
Regional heritage surveys
Site identification and recording
Site significance assessment
Site condition assessment
Comprehensive reporting
The development of site specific and/or landscape scale heritage management recommendations
Management recommendations
Design and implementation of site monitoring programs
All field data is digitally captured and integrated into our GIS database software. All Aboriginal heritage survey reports are prepared to the standards prescribed by the relevant State or Commonwealth legislation, and include the production of:
Aboriginal Heritage Survey Reports (WA and SA)
Cultural Heritage Management Plans (CHMPs ) and Due Diligence Reports(Victoria)
Aboriginal Cultural Heritage Assessment Reports (ACHARs – NSW) and Due Diligence Studies (NSW)
Aboriginal Heritage Survey Reports and Conservation Management Plans (CMPs) (ACT)
GIS services
Our dedicated in-house GIS team provides advanced technological solutions for all data-mapping needs. Utilising the GIS capabilities of clients' information such as survey boundaries, location of known or proposed infrastructure and other environmental features we are able to tailor survey areas and survey strategies to be the most accurate and cost effective, based on the variables encountered. IHEs custom programming code allows in-field digital recording of data onto hand-held devices. This allows for immediate transfer of data on arrival to the office and provides clients fast turnaround requests and near real-time information updates. We are therefore able to provide clients with personalised information and reports specific to their requirements.
We are also able to offer clients additional GIS services including data interrogation, analysis and development of tailored recording/strategies.
Our GIS capabilities include:
Site recording and data capture using GPS enabled hand-held PCs
Custom form creation
Automated site description generation
GIS analysis
Spatial analysis and modelling
Map digitisation
Cartography and map design
Subsurface testing and excavation
For survey areas that require more thorough investigation, IHE's archaeological team possesses a wide range of experience in excavations ranging from basic sub-surface testing programs through to extensive salvage excavations. We are experienced in the development and implementation of subsurface testing projects using both hand and mechanical excavation techniques. IHE archaeologists have excavated indigenous and historic sites across Australia as well as various international research programs abroad in North America, Europe, the Middle East, South-East Asia and Polynesia.
IHE has in-house expertise to undertake the analysis of all excavated materials including stone artefacts, bone, organics and to produce professional reports on the results of excavations. Where particular expertise is required, IHE has an extensive list of leading experts to undertake more specific analyses.
Throughout any excavation, IHE ensures all procedures and reports follow the legislative and permit requirements of the relevant government authority, in addition to stakeholder and the local community expectations. All professional reports concerning the excavation are completed in a timely manner adhering to the stipulations of the relevant government authority, clients' requirements, community expectations and Aboriginal stakeholder interests.
3D laser scanning
Our state-of-the-art FARO Focus 3D laser scanner provides IHE with a unique ability in heritage management to undertake 3D scans of heritage sites and larger objects. The scanner is capable of taking more than 900,000 laser measurement points a second, which creates a three-dimensional representation in significant clarity and detail. All point cloud data can be converted into rotatable Adobe PDFs, images and floor plans.
By using a combination of FaroScene and GeoMagic software for post-scanning processing, we are able to provide clients with especially-detailed information for recording, conservation and monitoring purposes, no matter the field or environment.
Heritage and Aboriginal legislation
Our staff have a comprehensive knowledge of the legislative provisions associated with Aboriginal and historic heritage management in Australia, and we can provide our clients with detailed and authoritative heritage advice.