Gemecs is a medium-sized geological company that delivers geological consulting services to the mining industry. We specialise in geological resource modelling, exploration management, database services and Gemcom Minex™ software training and support.
Our team of consultants have experience with a large range of commodities in Southern Africa, including coal, platinum group metals, manganese, chrome and uranium.
Mine exploration and geological consulting services
Gemecs offers specialist consulting services in the fields of mineral exploration, geological modelling, resource and reserve evaluation, and project feasibility studies.
Gemecs provides expertise to its clients, through a number of strategic alliances with professionals from both industry and academia, in areas such as ore genesis, geostatistics, mining engineering, valuation, project finance, rock engineering, due diligence studies, geological audits and reviews.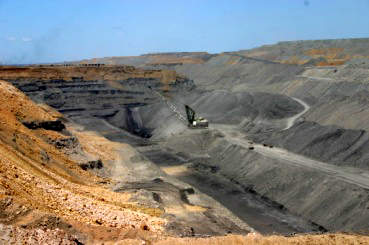 Opencast strip mining in Witbank coal field, South Africa.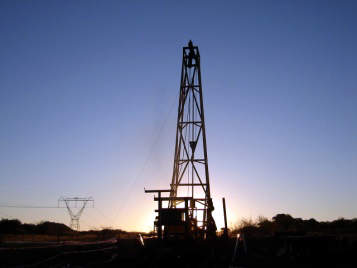 Exploration drilling for platinum in the Bushveld complex, South Africa.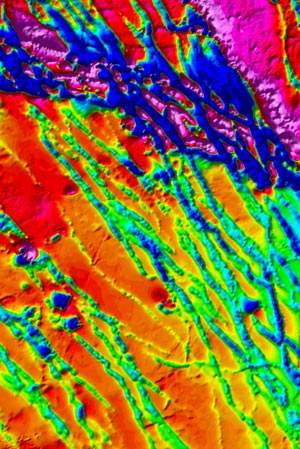 An aeromagnetic image for target generation.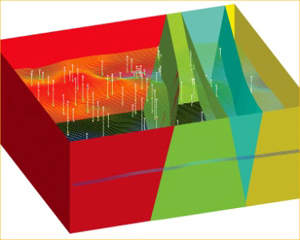 A fault model created with Gemcom Minex™ geological engineering software.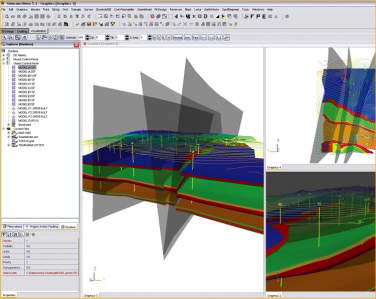 3D seam models with Gemcom Minex™ mine engineering software.
Mine exploration management services
Gemecs will plan, manage and supervise your mine exploration activities. This includes field liaison with surface owners and other specialists, core logging, sampling services and data capture.
Borehole-database management services
Gemecs will setup and design a borehole database to suit your needs, and import and standardise your current spreadsheet data to the geological database.
Analytical lab data is also checked and verified using specialised routines, to ensure a clean, validated database. Graphical output logs are designed according to your needs and are produced as PDF files for secure storage. Gemecs also performs audits on existing borehole databases.
Geological coal resource modelling
Gemecs specialises in coal resource modelling. We will create a geological model from base principles and deliver a geological model, coal washabilities and products, JORC and SAMREC-compliant resource statements are provided and competent persons report to the client. Together with our mining engineering partners, we are able to deliver a full feasibility study.
Although we specialise in coal modelling, we have the expertise and experience to also model other layered ore bodies using Gemcom Minex™ – geology and mine planning tool for coal / stratified deposits.
Mineral-potential prospect permit studies
Gemecs perform desktop studies to evaluate mineral potential on prospect permits, as well as indicative resource estimations. We also have the capability to assist with prospect permit applications and renewals, as well as provide expert advice on mineral rights issues.
Audits and due diligence studies
Gemecs is available to perform resource-compliant audits and due diligence studies.
Geological and mining engineering software training and support
Gemecs provides training and support to users of the Gemcom Minex™ suite of geological and mining engineering software throughout South Africa. We use the Gemcom Minex™ software system for all our computer-based studies and consulting work.
Gemcom Minex™ provides the best geology and mine planning tools for coal and other stratified deposits, ensuring resources are evaluated accurately and mined efficiently. Minex has been designed to rapidly evaluate large, deep and data-intense deposits such as coal, bauxite and platinum.
Developed in partnership with the mining industry, the software is employed by the world's largest mining companies to model, optimise, design, schedule and rehabilitate even the most complex faulted deposits. As a single, integrated system spanning exploration through production scheduling, data and skills can be readily moved between teams at significant time and cost savings.
Coal quality, core logging and sampling training and support
Gemecs provides training in basic core logging and sampling techniques. Our courses are specifically designed to train young geologists in the basic, practical know-how and best practices of exploration core logging and sampling.
Gemecs has also designed a basic coal quality understanding program for geologists. This course is aimed at geologists unfamiliar with coal qualities, and provides theoretical as well as practical training.