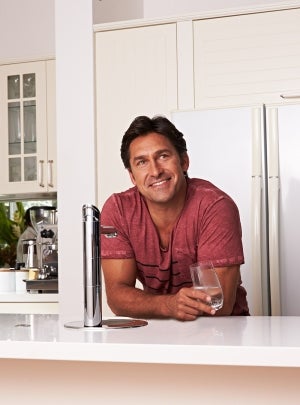 The internationally recognised Australian designer, Jamie Durie, has signed on as international ambassador for Zip HydroTap, the Australian-designed, Australian-made under-bench instant boiling, chilled and sparkling water system now marketed in Australia, the UK and 65 other countries.
Jamie is widely recognised around the world as an outstanding award-winning landscape designer, but he is also a highly successful interior designer, product designer, author and television personality, appearing regularly in top rating TV shows with large audiences in Australia, New Zealand, the UK and the US.
He is also a passionate environmentalist, and one motivation for his future involvement with Zip HydroTap is the fact that it is particularly energy efficient in delivering boiling or chilled or sparkling filtered water at home or at work.
Zip Industries is an Australian owned company that introduced the world's first small instant boiling water heaters some thirty years ago. Today millions of people around the world use Zip instant boiling water each day, and the market for Zip HydroTap is growing internationally at an ever-increasing rate.
In 2012, the first Zip HydroTap dispensing sparkling chilled filtered drinking water as well as boiling and still chilled filtered water was introduced in Australia and the UK, and has been received with great enthusiasm by architects, interior designers, kitchen designers and home owners everywhere.
At the same time, Zip also has introduced a new standard in water filtration to cater for a growing demand for better tasting drinking water without reliance on expensive bottled water. Each new Zip HydroTap is equipped with 0.2μ filtration, which not only eliminates chlorine taste and odour but also filters out contaminants as tiny as 1/5000th of a millimetre, including the parasites Cryptosporidium and Giardia.
We are absolutely delighted to have Jamie Durie join us in spreading the word about our many product innovations among prospective Zip HydroTap owners everywhere.
Zip supplies Australian-designed and manufactured instant boiling water appliances to more than 70 countries worldwide.Last...