Explorex provides heavy duty purpose-built caravans for commercial use in a range of markets, including the mining industry. We build customised caravans for clients requiring heavy duty accommodation. If you require such accommodation for your business, Explorex is your first choice.
Heavy duty purpose-built caravans
Explorex heavy duty purpose-built caravans are built to a proven design, which includes a fully galvanised steel frame and chassis, making them suitable for tough, off-road use. Computer-generated design ensures the highest level of quality, which can be customised as required.
Heavy duty four-person caravan accommodation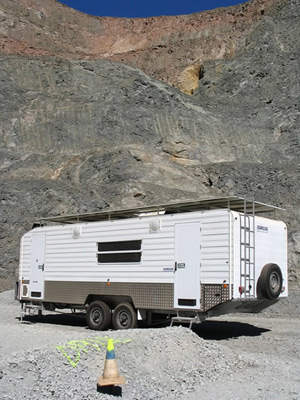 Explorex builds customised caravans for clients in the mining industry, who require heavy duty accommodation.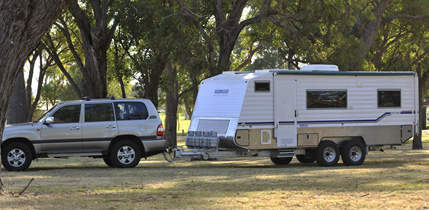 Explorex heavy duty purpose-built caravans are suitable for tough, off-road use.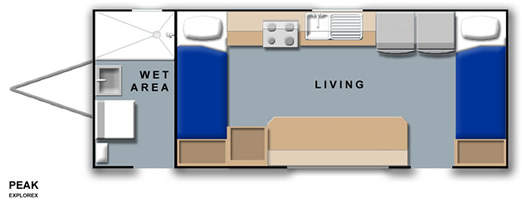 The Explorer Peak caravan accommodates four people and has a full-size kitchen and a separate wet area.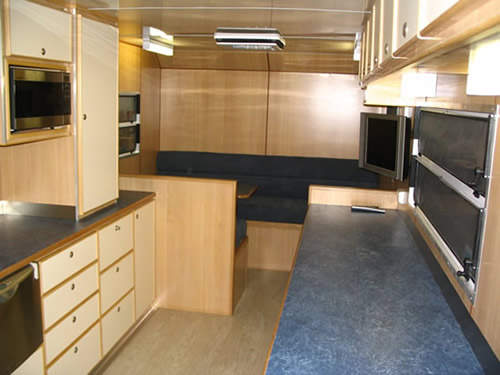 Explorex caravans have cabinets made from marine ply and finished in English oak with hardwood edges.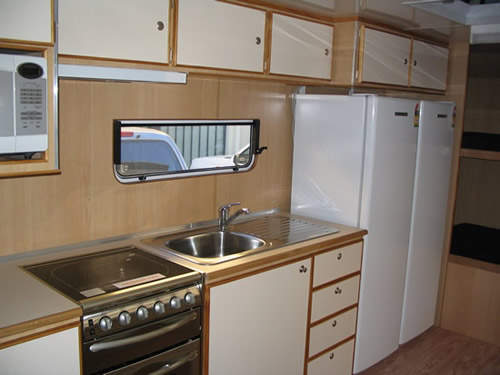 The Explorex caravan has high-quality appliances including a stainless-steel full size upright fridge and freezer, a microwave, and a four-burner gas stove with a grill and oven.
Explorex heavy duty caravans comfortably accommodate four people as well as a full-size kitchen and a separate wet area. The internal fittings provide a practical use of space, create an enjoyable living area and are securely fitted to the steel frame. Lots of storage is provided, making them ideal for extended trips.
The wet area is fully waterproofed and independent from the living areas. This includes a shower, basin, and commercial quality washing machine. A high-clearance 4t suspension handles tough conditions and four-wheel electric brakes are standard. The clearance is aided by a cutaway back design, with a heavy under-floor steel plate to handle the knocks. External walls are reinforced at the front and sides with aluminium checker plate for stone chip protection.
The caravans' wheels are 16in split rims on your choice of stud pattern. Explorex caravans weigh in at under 2.5t so they can be towed by a utility vehicle. A full length Kenlow annexe extends the outdoor living area and packs conveniently into the under-floor storage area at the rear of the van.
High-quality heavy duty caravans
Explorex caravans provide durability because of a wide selection of high-quality materials. Cabinets are built of marine ply and are finished in English oak with hardwood edges. The quality finishes are complemented by stainless-steel appliances, a matching full-size upright fridge and freezer, a microwave and a four-burner gas stove with a grill and oven.
Air-conditioned caravans with LED lights
Explorex caravans are fitted with a Dometic air conditioner, with the hardtop roof design giving extra shade and providing the greatest possible cooling effect. The travelling lights are LED crystal displays, which require no maintenance.
High-quality caravan fittings
Explorex caravans' quality fittings are used in the wet area, with a Bosch instant hot water system and Whirlpool heavy duty washing machine. A 240V Davey water pump provides reliable, instant water pressure. Two gas bottles are fitted as standard.
Heavy duty 6.2m caravan
The Explorex 6.2m Peak style caravan has a chassis, a 4t Tandem rocker suspension, five-stud Landcruiser split rims with 235 / 75R16 tyres, 2t-rated axle, electric brakes, alko-drop leg stands, rear and front drop-down stands, drop leg handle and a 3,500kg-rated 50mm ball hitch. Its internal features include:
All cabinets of 12mm ply with solid timer edging in American oak
All locks push-type hafele locks with positive closing latch
Fisher and Paykel 270l upright fridge
Fisher and Paykel 210l upright freezer
Smev stove with oven and grill
Electrolux range hood built into cupboards
Sharp 32l microwave oven
Full size 920mm single-bowl sink with flick mixer
Bunk beds
Pantry unit
Steel basket storage unit under table with eight crates included
Commercial quality armalon floor coverings
Its external features include 12 Hella LED travelling lights, an aluminium checker, 600mm plate cladding for the front and sides of van, Camec doors and windows, 9kg gas bottles, an air-command heavy duty air conditioner, and a four seasons hatch.
High-quality caravan wet-area appliances
The Explorex Peak wet area includes a full size 1,200mm x 900mm shower, a laundry trough (400mm x 500mm) with a flick mixer, a Whirlpool commercial quality 7kg top-loading washer (6ALBR), Rinnai 17 instant gas hot water service, and an Onga 1100 pressure pump.
Optional caravan features
Explorex can offer a range of optional features for its Peak caravan model. This includes a full roll-out awning to the side of the van, fully compatible walls for awning, a slide-out Sovereign Alpha BBQ (inside a stainless-steel locker), a Honda EU20 generator power supply, a satellite decoder, dish, smartcard and wiring, solar panels, upgrade to 3,500kg Treg hitch and coupling, a Waeco inverter, and a Dometic space-saving washing machine.