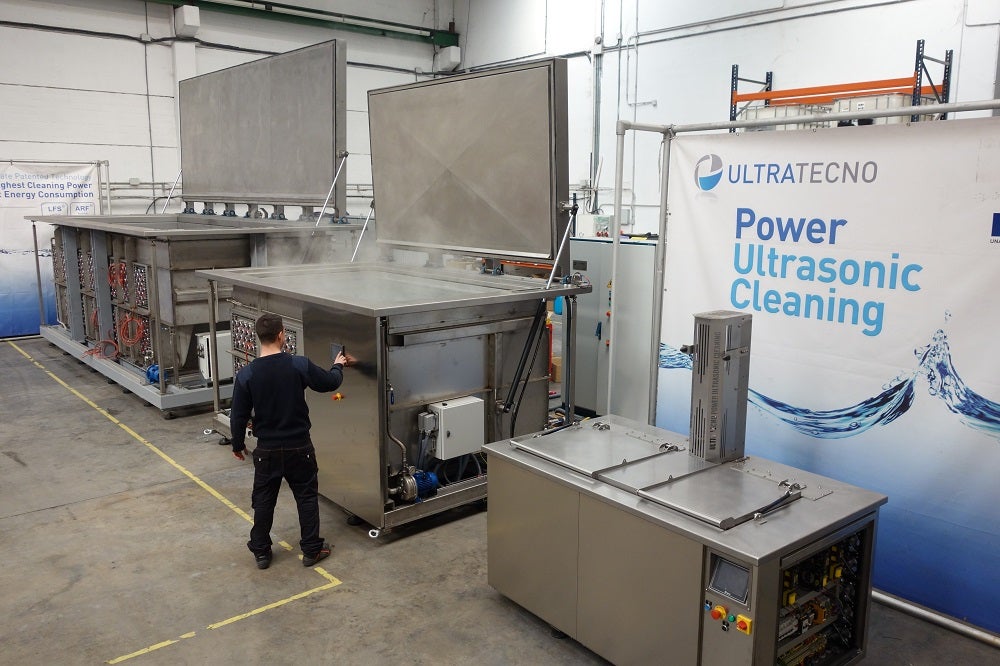 If so, it's time to try out CleenSonic UltraTecno technology. The UltraTecno industrial range is extremely powerful and effective for cleaning industrial parts and machinery.
Benefits of the UltraTecno Industrial Sonic Cleaner
Are you interested in learning more about the UltraTecno industrial sonic cleaner range? Here are some of the big benefits of UltraTecno technology.
Efficient cavitation: Our UltraTecno cleaners are fitted with powerful transducers, which send high-frequency vibrations through a tank filled with cleaning solution. These vibrations produce tiny bubbles which impact your tools or machinery and implode upon contact. These implosions create a forceful effect, known as cavitation, that effectively removes contaminants from your parts. Our cavitation process is the most efficient on the market.
Effective micro cleaning: The bubbles that the transducer vibrations create in the cleaning solution are so small that they can effectively clean even the smallest nooks and crannies of your parts. Typically, even hard-to-clean areas like grooves and gears can get a thorough scrub with UltraTecno technology.
Heavy-duty construction: When you buy an industrial ultrasonic parts cleaner, you need it to live up to its 'industrial' tag. UltraTecno machines do just that. We build our machines from oversized stainless steel that is 55% thicker than what most of our competitors use. This construction method enables our machines to last for a long time—even under extreme conditions.
Tips regarding your industrial ultrasonic cleaner
If you are looking for an industrial ultrasonic cleaner for sale and are considering the UltraTecno range, consider these tips to help you get more value out of your purchase.
Compare energy efficiency: When you are comparing different industrial cleaners, don't forget about energy efficiency. At CleenSonic, we don't sacrifice efficiency for strength or performance. Our UltraTecno range is tagged with the UltraTecno Green Label. Our machines cut running costs by up to 45% compared to most other cleaners on the market. Our buyers have saved up to $192,000 in lifetime expenses thanks to this efficiency.
Determine your capacity requirements: Which parts, instruments, or machinery components will you be using your ultrasonic cleaner to clean? At CleenSonic, our UltraTecno range runs from 100-litre units to 4,500-litre units, so understanding your capacity needs will make it easier for you to find the right unit with our guidance.
Know that custom options are available: Can't find a cleaner in our range that meets your needs? Instead of shopping elsewhere, get in touch with us to ask about our custom ultrasonic machines. We can work with you to build something that meets your needs for capacity, sizing and dimensions, ultrasound output, and other essentials.