ArcelorMittal is the world's leading steel company, operating in 60 countries with about 260,000 employees worldwide.
Guided by a philosophy to produce safe, sustainable steel, it is the leading supplier of quality steel products in all major markets, including automotive, construction, household appliances and packaging, with leading R&D and technology, as well as sizeable captive materials and outstanding distribution networks.
Premium steel solutions for the construction of mining buildings and infrastructures
The distribution branch of ArcelorMittal Group has built its leadership on anticipation, innovation and satisfaction of international market requirements, offering its customers the full extent of the ArcelorMittal range and giving them access to steel's infinite capabilities.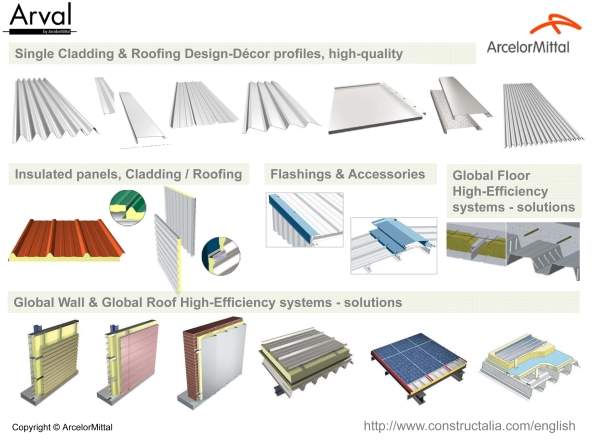 AMDS SA provides a wide range of steel systems and solutions useful for the skeleton and the envelope of buildings.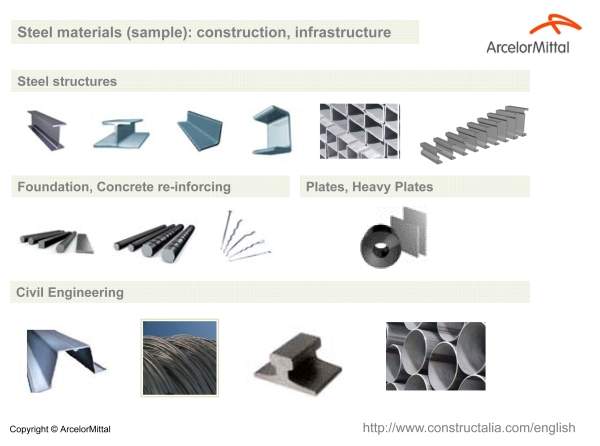 AMDS SA also distributes a range of steel materials for infrastructures and civil works.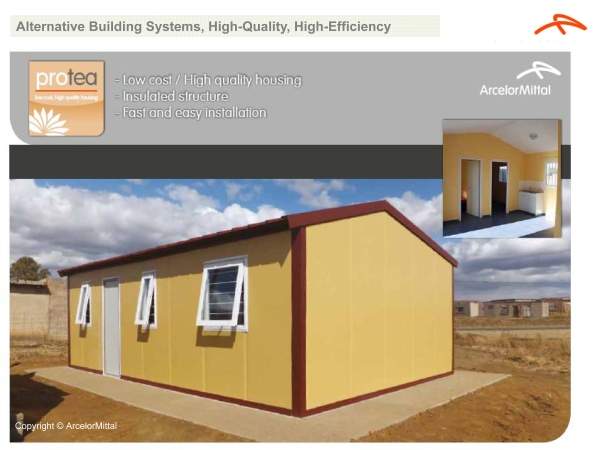 AMDS SA's Alternative Building System provides mining companies with high-quality and economical accommodations for workers.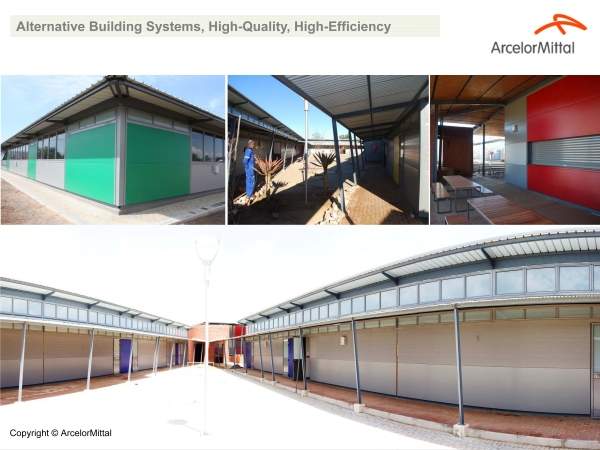 AMDS SA's Alternative Building System is also flexible for multiple applications, such as offices, dispensaries, shops, inside the mining village.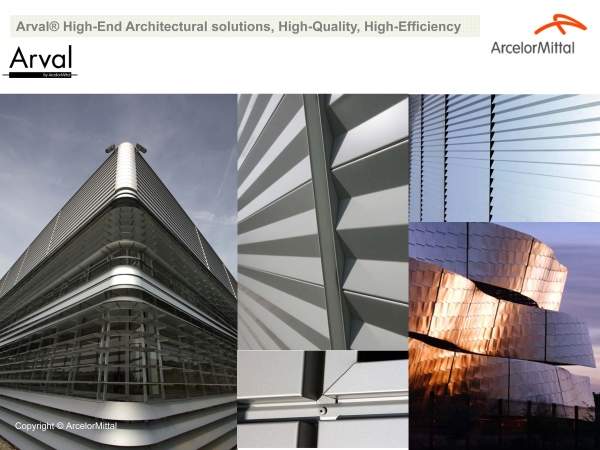 AMDS SA also offer high-end steel solutions for technically complicated architectural designs.
ArcelorMittal Distribution Solutions South Africa (AMDS SA) is a leading provider for top innovative and efficient steel materials, dedicated to the construction sector, in Africa. AMDS SA operates in the downstream of the steel industry, by providing steel commodities and pre-manufactured components to construction professionals.
Its wide range is composed of components, systems and solutions focused on the skeleton (structure, composite floor, partition) and the envelope (roofing, façade, cladding) of any type of building (industrial, residential, commercial or other tertiary). AMDS SA is also active in the supply of steel materials and solutions for civil engineering and infrastructure construction (reinforcing and underground works, structure, pipes, etc).
High-efficiency systems for mining buildings
The high level of expertise and technology of AMDS SA, enables the company to provide premium solutions, combining impacts (mechanical resistant, environment, acoustic, aesthetic, fire resistant, thermal insulation) and requirements (function, standards, design, comfort) of the building and the infrastructure.
Especially in the mining sector, the companies involved need to put in place adequate structures and infrastructure to accommodate and ensure the quality of life and work of their on-site employees.
Steel insulated panels for pre-fabricated buildings
AMDS SA's Alternative Building System is a perfect solution for the fast and safe construction of temporary and permanent structures in the mining environment.
The principle resides in the use of high-quality steel insulated panels as roof-wall cladding for large buildings, or as a self-bearing system for small buildings. The overall components are completely pre-engineered in accordance with requirements, pre-fabricated in factories, packed as modular kits and delivered on-site with all connection accessories, ready to be quickly and easily assembled.
The competitiveness of AMDS SA resides in its leadership, its ability and its reliability to deliver this innovative technology and a premium service, creating high value and benefits for clients (investors, final users) and for all construction professionals appointed on the contract (architects, quantity surveyors (QS), engineers and global contractors).
Premium service adding value and benefits to the construction supply chain
Based on its long-term experience, AMDS SA has developed a business model including a full supply and consulting offer, maximising the good coordination of all players of the supply chain and the success of the projects.
At the earliest stage of the project, we engage in discussions with the investor and assist its architect and technicians (engineers, QS, planners) during the design and engineering phase. It is an opportunity for them to understand the high flexibility of steel (compared to other materials), the large quantity of colours and the high-mixture of components that creates a harmony of materials and the self-efficiency of the final products.
The building is modularised and pre-engineered. Then, our high-quality constructive systems are manufactured in our factories, in the correct dimensions, in accordance with the design and quantity requirements, and are safely packed and delivered to the construction site. Finally, we provide technical assistance to the construction company, on-site and on requirements, including training and advice on construction.
In case of urbanism programmes, we can also assist technically, in the dismantling of the building and the displacement to another site. We also offer efficient solutions for renovation programmes. Most of our products are delivered with a 10 year guarantee.
Benefits of AMDS SA's Alternative Building Systems
The Alternative Building System of AMDS SA procures benefits and added-value to investors (green technology, quality, long term investment, secured asset), architects, engineers and planners (flexibility, logic, continuous innovation), construction companies (training, easy logistic, cost-effectiveness, easy and fast construction process) and the final users (aesthetic, comfort, health, safety), with a long-term vision of building for a sustainable future.
For any enquiry, please liaise with our South African office. It will be a pleasure for us to see how we can collaborate with you and make your project a success.