Tüschen & Zimmermann GmbH & Co. KG, based in Lennestadt, Germany, produces coupling and brake systems for underground mining. Rotary shock absorbing tz–couplings engineered with length compensation enable the easy exchange of elastomers without separation of drive components. They are an important part of the "Building Block" principle, allowing adaptability to individual drive units.
The main applications are the drive units of chain scraper conveyors, crushers, belt conveyors, hoists, pumps and other underground machinery. This system is not limited only for direct drive couplings, but allows also the integration of fluid dynamic couplings and their multi purpose applications.
BRAKE AND HOLDING DEVICES
This program is extended by the development of brake and holding devices based on the disc brake principle. Components are used as chain pretension devices in applications such as chain scraper conveyors and plow system drives. tz–brake systems became a standard element for stopping belt conveyors and for controlling the deceleration of belt conveyors and crushers.
Today, tz–components can be used for applications with a total maximum output torque of up to 650,000Nm. Covering a range from 2.2kW to 1,000kW drives, tz–standard components are supplied for the connection of underground motors and gearboxes. Close cooperation with our customers in solving drive and deceleration problems continuously enhances our range of applications.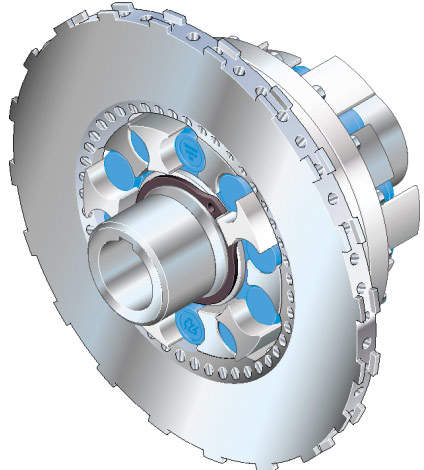 Shaft-coupling type S-SV with length adjustment.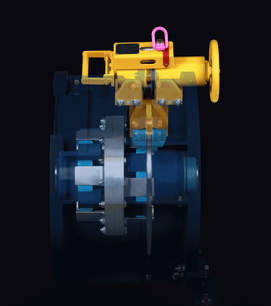 Hand operated tensioning device.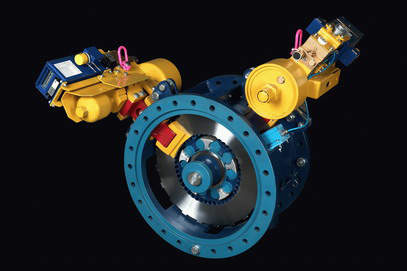 Coupling brake-unit with two electronic controlled brake systems of type GBSIII.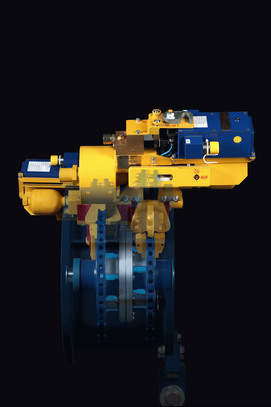 GBSIII a digital controlled brake system for belt conveyors.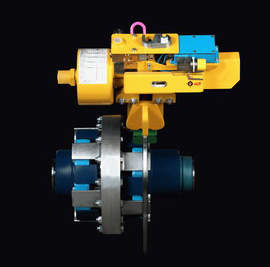 Pneumatic safety brake with integrated automatic wear adjustment and control panel.
ELECTRONICALLY CONTROLLED ACCELERATION AND DECELERATION
tz's electronic controlled systems for carefully and safely accelerating and decelerating conveying devices, have proven their worth in underground use for many years. Continuous development and improvement, using our own test stand, assures high technical know how.
tz supports on long–standing experiences in construction of transmission engineering and interpretation how we are able to produce special manufactures, intensive quality–protection and the know–how of our technical departments. Our company has also an effective quality–management–system according by DIN EN ISO 9001-2000.
COUPLING AND COUPLING BRAKE SYSTEMS, DISC BRAKES AND BRAKE SYSTEMS
An extract of our delivery program:
tz–coupling systems and tz-coupling-brake systems with rotary shock absorbing couplings are designed as a self supporting constructions using flange connections with coupling safety housings for drive units up to 1,000kW
tz-coupling systems and tz-coupling-brake systems with fluid dynamic couplings are designed as self supporting constructions using flange connections with coupling safety housings for drive units up to 1,000kW
Full metal, interally ventilated disc brakes up to 1,200mm in diameter
Flanges and housings up to 1,200mm in diameter
Pneumatic and hydraulic safety brakes with integrated automatic wear adjustment and control panels
Holding devices and easily controllable chain pretension devices for chain scraper conveyors and plow system drives
GBSDBP, the electronic controlled, load-independent brake system for safe and careful deceleration and stopping of belt conveyors and inclining conditions – the distance of run out to a complete stop is adjustable
GABSDBP, the electronic controlled, load-independent acceleration and deceleration system for careful acceleration and stopping of belt conveyors in uphill and level conditions – the system lowers the dynamic belt load during start up – water supply systems for all hydrodynamic functions on this system can be included
Disc brake system for rail mounted vehicles, hoists and belt take-ups