Hilgefort Group
Self Driven Conveyors: the Flexihaul Haulage System and Heavy Equipment for the Mining Industry
The Hilgefort Group is a multidiscipline fabrication company capable of building and erecting a broad range of industrial steel products and steel constructions for the mining and related industries.

Address
Industriestrasse 2,
D-49413 Dinklage,
Germany
Phone
The Hilgefort Group is a multidiscipline fabrication company capable of building and erecting a broad range of industrial steel products and steel constructions for the mining and related industries.
Established 1848 in Dinklage, Germany, the Hilgefort Group has delivered a range of plant equipment, machines and steel constructions to German and international customers, with high quality standards maintained by an experienced workforce.
The Hilgefort Group works in compliance with the highest health and safety regulations and possesses several certificates. Hilgefort manages a global delivery service for its products, regardless of size or weight, from its Dinklage base.
Self-driving haulage system for subsurface mining
The Hilgefort Group has developed a new revolutionary haulage system for subsurface mining called FLEXIHAUL.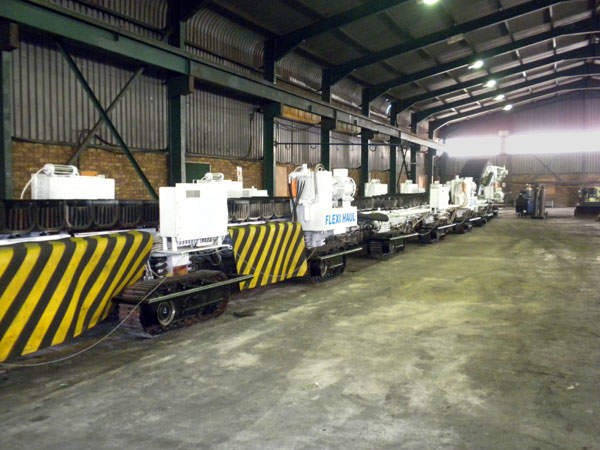 The FLEXIHAUL can be built in short lengths but also for adits of 200m in length. The machine is completely flame-proof.
The off-loading head of the FLEXIHAUL in stage of completion, partly fitted with its troughs.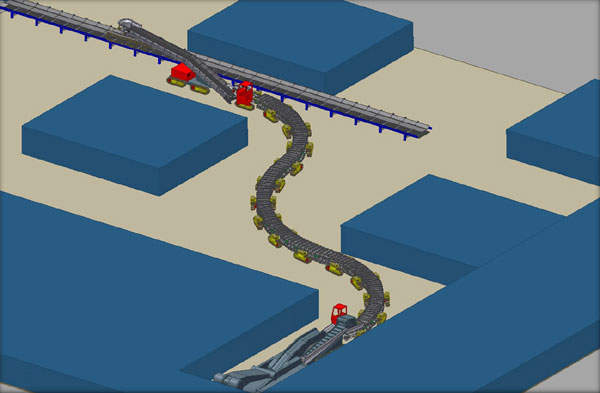 Typical operation scheme of FLEXIHAUL – from the front face curved through the adits to the main conveyor. The FLEXIHAUL system can bend around any curve with a radius of 7m and finds the way back in exactly the same track .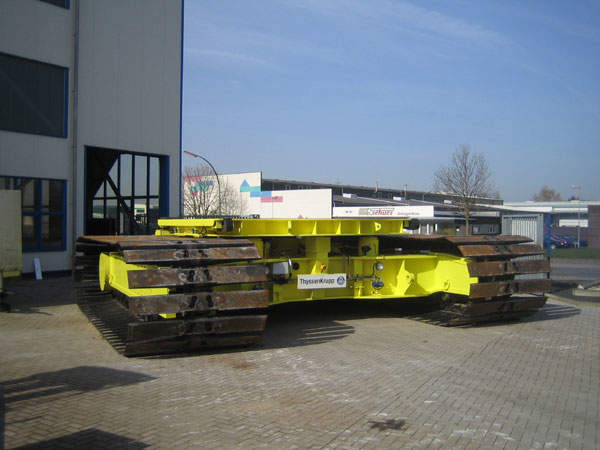 A track-laying transporter built under licence of Thyssen-Krupp.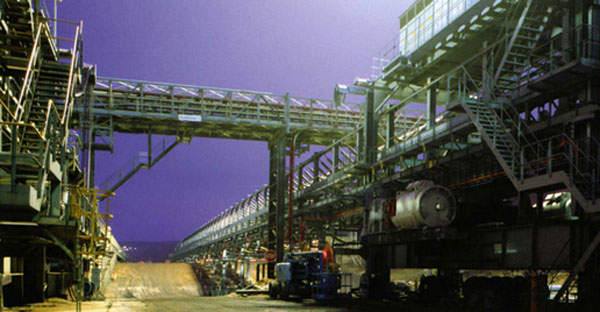 This shift-station has a weight of about 2,000t.
Comprising an endless trough-chain and a multi-chassis track-laying drive system to secure an uninterrupted material flow from the working face to the stationary conveyor, the system closes the gap that has been opened by using haulage cars and non-flexible conveyors.
The mobile and curve-negotiable haulage system is controlled with computing assistance by only one operator. The first chassis module of the FLEXIHAUL is guided into the desired direction and every other chassis follows the module in front of it automatically, guaranteeing a high tracking capability for the whole train.
FLEXIHAUL can follow long and curved tracks both forwards and backwards. The laying flexible chassis could easily cross depressions and bumps as well. Its special design could also move the troughs at high angular degree of attack.
Trough-chain based curved conveyor for continuous material flow
The close connection of a self-driving haulage unit like the FLEXIHAUL to a continuous miner at the front face ensures a continuous flow of the conveyed material. The mining process does not have to be interrupted during a whole shift.
FLEXIHAUL lowers your workforce headcount because only one operator controls the hauling of material, rather than a group of workers driving a fleet of single shuttle-cars. Compared to previous continuous haulage systems, FLEXIHAUL is the only system on the market which combines automated self-driving capability, a curved layout preventing manoeuvring problems in the adits, and single-operator capability.
Most haulage systems use belt conveyors or chains to haul coal or other materials. By using troughs it is advantageous that the material is not broken or pulverised by the conveyor and no material is lost. Every trough is filled with the optimal load and runs on a simple and reliable track system driven by a solid chain.
Versatile materials handling system
FLEXIHAUL is suitable for many different kinds of material because the troughs can carry a wide range of grain sizes.
Unlike a belt or chain conveyor, the friction of the material on the surface of a belt or the metal surface of a chain conveyor does not to be taken into account. Worn-out troughs can be replaced quickly and easily, making repairs and maintainence of the system a breeze for any mine site worker.
Heavy equipment for open cast mining
The Hilgefort Group boasts extensive experience in constructing, building and installing heavy equipment for open cast mining, particularly in the Rhein-Ruhr region.
Previous experience includes supplying a 2,000t shifting head system for a large-scale lignite mine project. This project included the steel construction, fitting out of electrical and hydraulic equipment, as well as complete installation on site.
About 17 belt drive stations – at a weight of 400t each – have also been manufactured and delivered by Hilgefort. Other products have included large track-laying vehicles, which are used to move the drive stations to another site in the mine.
Excavators for mining operations
The Hilgefort Group is also a contractor for the maintenance and overhauling of the very large bucket-wheel excavators in the lignite mines from RWE Power.
The processing of ore and coal comprises storing, hauling and other processes. The Hilgefort Group has manufactured and installed many silos, vertical conveyors, dosing systems, rotary kilns and other products for the metallurgical and cement industries.
Hilgefort GmbH
Industriestrasse 2
D-49413 Dinklage
Germany



Telephone Number




Fax Number




Email Address




Links