Active since 1926, NILOS is your 'one-stop-shop' for conveyor belt maintenance and wear protection, supplying everything you need for the operation and maintenance of a conveyor system. NILOS is known for innovative ongoing research and development of high-quality products and conveyor belt equipment for steel-cord belts and fabric belts. Modern techniques make NILOS a unique brand.
Our supply range includes:
Conveyor belts
Hot and cold splicing materials
Vulcanizing presses
Pulley laggings
Abrasion resistant laggings and linings
We also design and engineer trade-specific tools, such as winches, cord strippers and cutters.
Conveyor belt reconditioning and repair
NILOS provides design, supply, worldwide installation and start-up of conveyor belt repair plants for all belt types and sizes. Highly trained personnel are at your disposal anywhere, at anytime, and will assist you in all aspects of design, construction and operation of conveyor systems.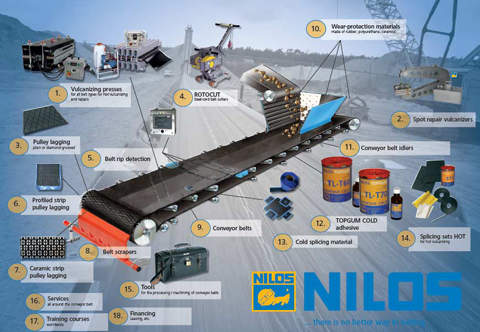 The 'one-stop-shop' for conveyor belt equipment.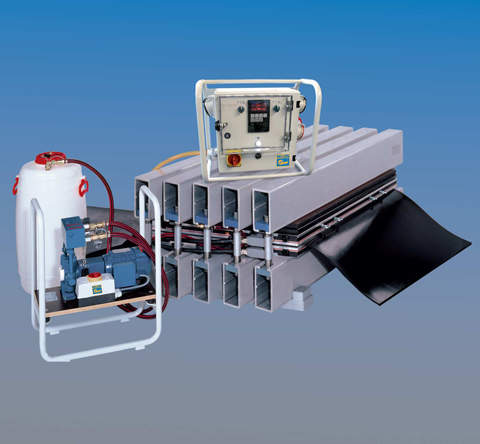 Vulcanizing presses.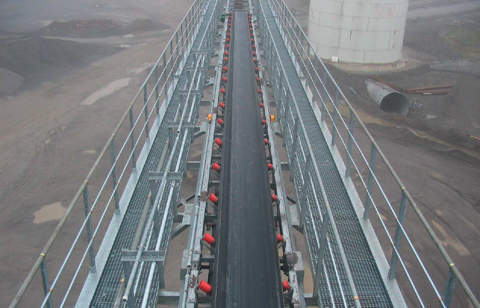 Conveyor belts.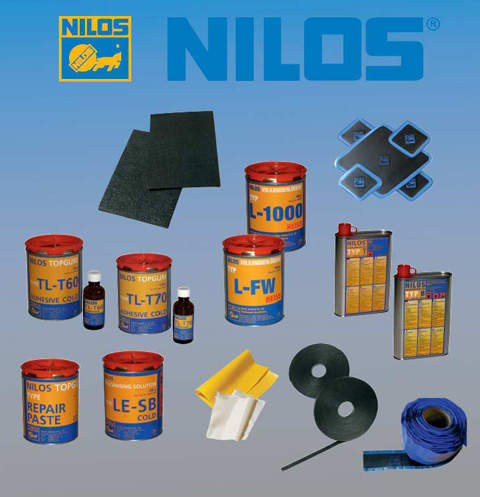 NILOS is known for innovative ongoing research and development of conveyor belt products.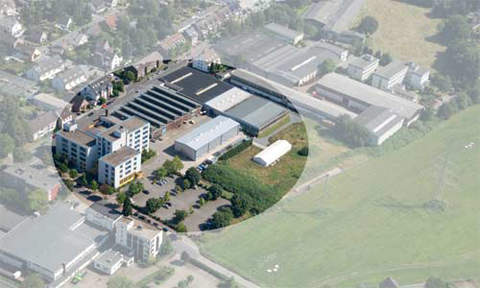 NILOS rubber products for conveyor belts.
NILOS offers competence for stationary splicing, repair and overall refurbishment of damaged or worn belts to its clients. Any operator can achieve control and save time and money as well as absorbing a part of the future cost of rubber price increases.
Conveyor belt machinery and rubber and elastomer materials
Engineering and manufacture of machinery for conveyor belts as well as production of rubber and elastomer materials ensures the quick and well adapted supply and mounting of all products required around the conveyor belt. NILOS also offers a large service capacity, with our products proven in high stress applications.
Conveyor belt training
Since April 2009 NILOS has offered training regarding conveyor belts, on subjects including know-how, know-why, labour protection and prevention of accidents, professional skills, economic thinking and acting.
These courses are not designed to make an employee a conveyor belt splicer, but rather to teach him/her the basic principles in the areas overleaf. The knowledge gained can be implemented into daily working processes.
Preventive maintenance and detection of faults as well as purposeful adjustment will be facilitated. An enduring reliable operation and production flow vial belt conveyors can be safeguarded.
Expert instructions and skilled trainers with many years of experience and high qualifications conduct the theoretical and practical schooling and training courses.
Modules available are:
Module 1: rubber/fabric conveyor belts
Module 2: rubber/steel cord conveyor belts
Module 3: wear protection
Module 4: material operation and guides
Module 5: drives, idler pulleys, belt pulleys and top rollers
Module 6: components around conveyor belts
A member of Ziller Holding
NILOS is a member of Ziller Holding with its headquarters in Hilden, near Düsseldorf, Germany. The division of conveyor belt equipment operates worldwide. We have representatives on every continent.
Worldwide representation
NILOS operates subsidiaries in India (NILOS India), the United Kingdom (NILOS UK), Greece (NILOS Hellas), the Czech Republic (NILOS CS), Iran (NILOS Iran), China (NILOS Shanghai), other Asian countries (NILOS ASIA), and Kazakhstan (NILOS Kazakhstan).
More than 50 representatives supplement our internationally active network. We conduct dedicated in-house training seminars on belt splicing and belt maintenance for all skill levels and vulcanizing press requirements.
For details about our worldwide regional offices, please visit our website listed below.