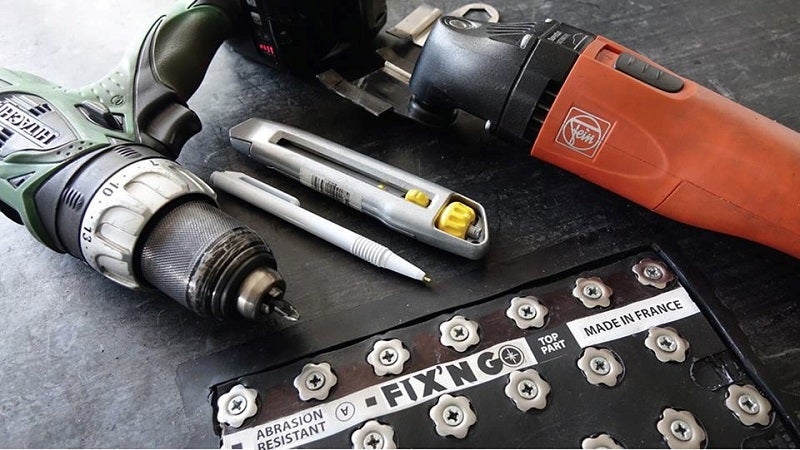 Minet Lacing Technology is excited to announce its newest innovative product line, the Fix' N Go.
This revolutionary product is an easy solution to repair belt rips and tears and embraces the SuperScrew Technology (Vulcanized plies, Vulcanized nuts, Washers and Self-tapping screws) in a grade-one abrasion-resistant material.
It is utilized as a linear rip repair and / or hole patch repair and is available in stainless-steel (316), and comes in two lengths of 2m or 20m. The Fix 'N' Go is now in stock and available to customers.
Fix'N Go is an innovative and unique solution for repairing belt rips and tears.
Because 50mm³ rubber is used, Fix'N Go has a higher abrasion resistance than most conveyor belts used without impacting its flexibility, resistance to elongation and tensile strength.
By repairing the belt with Fix'N Go, the customer gets a quick and long-term permanent solution. There is no need to replace it.
MLT specific screws are self-drilling and self-tapping: they spread the carcass threads without cutting them.
Another advantage of the Fix' N Go is that it does not require a goo or glue compound that has to dry for a couple hours. Eliminating this curing process means your conveyor belt is up and running immediately which dramatically reduces downtime and increases production. Best of all, the Fix' N Go can be used under any weather conditions, including rain, snow, wind, dust or sand. Any splice, any belt, anytime, anywhere.
---
This PR was originally published in Mining People Magazine- A publication Dedicated to Mining and Aggregates Worldwide (August 2017 issue Vol 39 No 5, page 25).
FIX'N GO® is the unique solution to repair, easily and provide a quick and permanent...