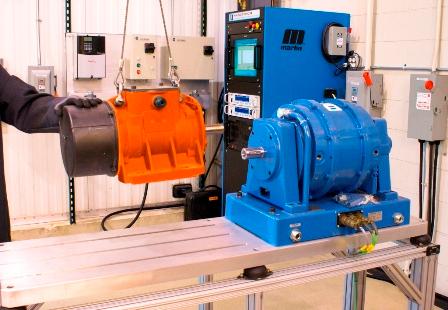 A global leader in bulk material handling has announced that it has begun offering custom-engineered vibration technology for manufacturers of shakers, separators, wash plants and other process equipment that uses vibration tools.
By adding the new capability to its extensive lineup of stock vibrators, Martin Engineering will open up a wide range of new possibilities for equipment designers who have traditionally been forced to engineer their products around existing vibrator models.
The design and engineering will be performed at the company's new 22,600ft² Centre for Innovation, Research and Development (CFI) at the company's headquarters in Neponset, Illinois.
Custom-engineered drives are already being manufactured at Martin Engineering locations in the US and China and, as the business grows, the firm plans to supply them from all eight of its business units around the world.
VP of Operations Robert Nogaj said: "Global manufacturers need to be able to count on worldwide availability of customised solutions like these."
"This approach is part of our evolving global business strategy to tailor solutions for specific customers and applications."
"The target market for these new services is any manufacturer that supplies vibratory equipment of virtually any kind."
"If an OEM has a unique need for a drive that hasn't been, or couldn't be, designed before or if there's a design for a machine that they could not find a drive for, now there's a cost-effective resource for developing them."
Martin Engineering is targeting continuous-duty applications that often require explosion-proof construction and multi-year reliability, backing the products with a three-year warranty, plus three additional years on bearings and electrical parts. A key to the new technology is its global availability, as the company will be able to manufacture custom designs in any of the countries in which the firm does business.
"There are many suppliers who provide off-the-shelf solutions, and we will continue offering conventional vibrators in a wide range of sizes and force outputs," Nogaj continued.
"But for the builders of next-generation equipment, we can now deliver design options that engineers have never had before. Instead of being limited to an off-the-shelf vibrator, manufacturers can specify the exact sizes and parameters they need to suit new and emerging designs."
Nogaj said that custom-engineered vibration is likely to find utility in high-frequency vibratory screens and dewatering screens, as well as other vibratory equipment for the oil and gas, and other industries.
Martin Engineering's is now able to custom-engineer the size and shape of the drives, torque curves, weight and many other features, in both electrical and mechanical units.
"This will allow OEMs to build equipment that hasn't been available in the past," Nogaj continued.
An important component in the decision to offer custom-engineered vibration is Martin Engineering's extensive new research and development capabilities in the CFI. For example, the firm has recently added four massive, spring-mounted 10,000lb test blocks specifically for development and trial of new vibrator designs.
"It will be a huge competitive advantage for manufacturers trying to develop new products, giving them a design freedom that wasn't possible before," said global vibration development manager Brad Pronschinske.
Martin Engineering's new capabilities also include sophisticated dynamometer testing that allows the company to map the shape and values of an electric motor's torque curve.
"The dyno testing helps us analyse existing designs, but it also means that customers can come to us to obtain a specific torque curve," Pronschinske added.
Further supporting Martin Engineering's commitment to the custom engineering concept is an endurance-testing station located outside the CFI, where engineers can evaluate new vibratory drives and screen designs on any of five different shakers. A similar station at the company's China facility also features two shakers.
"The setup at CFI has one shaker design with a four-pole drive unit that can develop as much as 10 Gs of force, helping us to engineer the highest-quality, longest-lasting vibrators in the world," Pronschinske added.
Martin Engineering will offer an extensive range of designs and features for specific applications, including explosion-proof models, vertical shaft units, flange-mounted designs and even low-profile vibrators that can be incorporated as part of a support structure.
Martin Engineering vibrators deliver the highest force to weight ratio of any electric vibrator manufacturer. Its products are supplied with the industry's best warranty and the company's absolutely-no-excuses guarantee.