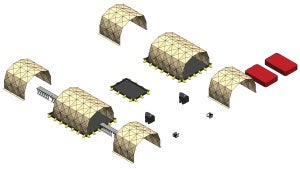 Flexco recently introduced a Portable Air Tensioner System, designed to ensure proper tension will be applied to the cleaner throughout its life.
The system utilizes air or nitrogen to provide constant blade-to-belt pressure for each cleaner, regardless of the age of the blade or tips, ensuring the best cleaning capability. The tensioner also works with fasteners, allowing the blades or tips to quickly move away from the belt when a splice passes.
The Portable Air Tensioner is made from heavy-duty, corrosion-resistant materials and is available for use with many cleaners, ensuring the right fit for each application.
An air tank can be used when site-supplied air or nitrogen is not available. The single or dual tank option provides air for one or two cleaners.
Flexco has announced its plans to exhibit at MINEXPO 2021, held in Las Vegas Sept....